As 2015 gasped its last, we paced Motorcycles Live at the NEC to find out what trends are going full-throttle this year.
From the biggest bikes to the smallest accessories, there's plenty to look out for over the next 12 months...
Retro bikes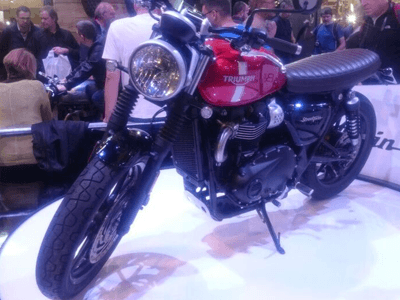 When I bought a Triumph Bonneville in 2011, it seemed the choice of pared-back street bikes with classic styling was a straight shoot-out between the Bonny or a Moto Guzzi V7 (unless, that is, you could source a pre-2008 Kawasaki W650 or stretch to the spanking new W800 which entered the fray the year before).
Now, it seems every manufacturer has found room in the stable for a back-to-basics naked bike, with Ducati's Scrambler being case in point.
These bikes are getting smaller, cheaper and more accessible to newer riders too but not to be outdone, Triumph unveiled its Street Twin at the show.
Even with a 30in inside leg this rider had no trouble flat-footing on Triumph's diminutive new iteration of the Bonneville, but the real surprise is that the marque has eschewed the 300-500cc category that so many other manufacturers are chasing, with the Twin upsizing a touch to a throaty 900cc.
That makes it a very attractive proposition for the vertically challenged rider who's fed up with the power restrictions that short legs so often brings.
Small sports bikes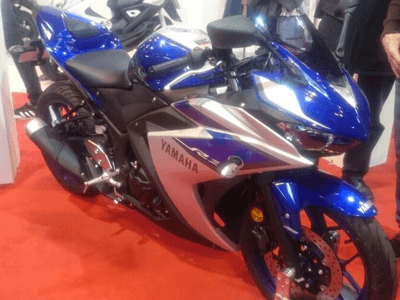 With Kawasaki leading the 300cc category with the unbeatable Ninja and with great value offerings from Honda and Suzuki in hot pursuit, Yamaha seems to have dragged its heels with small sports bikes aimed squarely at young riders.
No more! Yamaha has finally trotted out the YZF-R3 – a sportier big brother to the MT-03 to plug a very conspicuous gap in last year's line-up.
The bike has actually been in dealerships since the summer, but for many the show was the first chance to get up close and personal to the latest dinky sports bike on the scene.
Although this might be a blatant case of Johnny-come-lately 300cc bandwagon jumping, with a lower price than a Ninja and around 60mpg, it's an attractive budget prospect.
Insurance sea change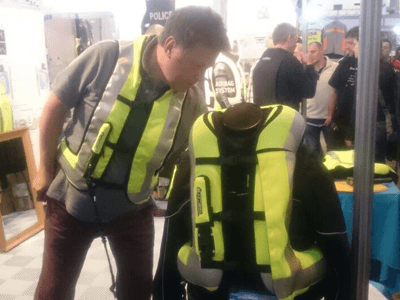 When there's nothing but a layer of Kevlar between your bones and a 70mph interaction with the tarmac, safety never goes out of fashion.
Which is just as well as this airbag vest by Helite does go against the grain a bit if you're into your sleek, leather-clad biker image.
As a ringing endorsement, Helite vests have been used by French emergency service Spanish police riders and some insurers on the Continent now provide a discount for the use of an air vest.
If wearable airbag technology becomes more mainstream in the UK, insurance discounts for their use seems like an attractive incentive.
If you spend on an alarm and lock to get a security discount it can seem vexing to pay up for the misdemeanours of others. But, invest in an air vest and a discount would be just an extra bonus for paying to protect yourself from running out of talent on a steep bend.
Extreme accessories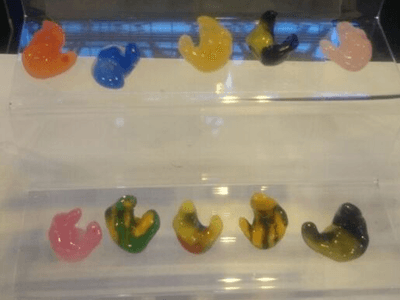 What do you buy the discerning biker who's got everything?
How about a pair of custom moulded earplugs from Mercury Hearing? Although, as each pair requires gunge to be squirted into the wearer's ear canals (using a gun-like contraption held to the head), arranging these as a surprise gift might take some imagination.
Choose from a range of colours, marbled effects and even glitter. With prices from £60 up, gift vouchers are available if you can't find a way to inject goo into your loved one's lugs without them questioning your motives.
Tell us your big motorbike predictions for 2016 on Twitter and Facebook