Where do you spend the majority of your time kicking back and relaxing chez toi? Chances are it's in the heart of the home - the kitchen.
Gone are the days of having separate living, cooking and dining spaces. After all, why have a room with one measly function, when it can have three?
It would seem we're all in agreement too, because according to research by Gocompare.com, fitting a new kitchen has been named as the UK's top home improvement of the last five years.
But how exactly did it make the jump from meal preparation central to socialising hub? Let's take a look...
Disco decor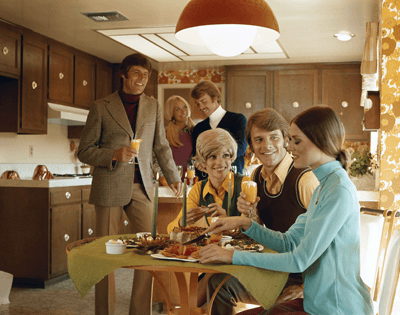 Prior to and during the beginning of the the groovy 1970s, the kitchen was a very functional area of the home, reserved for perfecting a premium prawn cocktail or creating a visionary vol-au-vent, out of sight from  guests.
But back then the kitchen as we know it today was just in its infancy.
At the beginning of its metamorphosis towards the glittering multi-purpose butterfly that it resembles today.
The '70s saw kitchens increase in area, occupying a larger percentage of the home as family and friends congregated for a natter around their brand new two-slice toaster. Fancy!
Becoming open to open-plan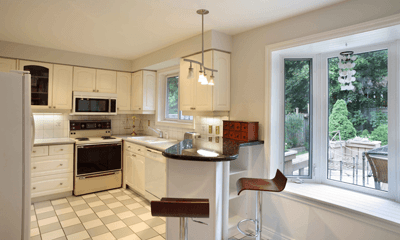 Sick of being stuck in the kitchen while everyone else was living it large elsewhere in the house, the '80s saw home cooks get in a right huff and revolt against being confined in their self-made prison of cuisine.
And lo! So it came to pass that open-plan hit the mainstream.
Breakfast bars and dining tables in the kitchen became an integral part of the décor du jour.
Family and friends alike perched nonchalantly sipping a Singapore sling with Frankie Goes to Hollywood pumping out their new-fangled CD players. Life was great.
Cooking became more of a social activity rather than a necessary routine to provide sustenance for the whole family and the kitchen, slowly but surely, became the epicentre of the home.
Right here, right now
The '90s and 2000s further cemented the kitchen as the prime part of a house, embracing its diverse uses and celebrating them to their fullest.
Today the kitchen reigns supreme, giving estate agents everywhere a reason to rub their hands together with glee as a kitchen-cum-dining room is viewed as a good thing, rather than a shabby excuse for not having enough living space.
Not only has our attitude to dining relaxed over the years, but our need to socialise has increased, meaning that separate dining and living areas can be more of a hindrance than a desirable quality. 
Home is where the food is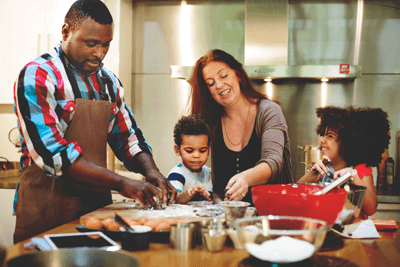 But there must be another reason why we've adopted a more casual approach to living space.
Katy Orme of interiors and DIY blog Apartment Apothecary, has her own theory on why the kitchen has become so prominent in our property checklist. She said: "I think the main reason that the kitchen has become an ever increasingly important part of the home is that our love of good food has grown.
"Everyone likes to get involved in the cooking these days so the kitchen has become much more of a communal space where everyone wants to spend time."
And we very much suspect she's right, what with the bumper crop of food programmes dominating the television schedule nowadays.
Taking inspiration from the Heston Blumenthals and Mary Berrys of the world has never been easier and perfecting that pulled pork recipe takes time and patience, so no one wants to do it holed up away in a teeny kitchen.
Time sensitive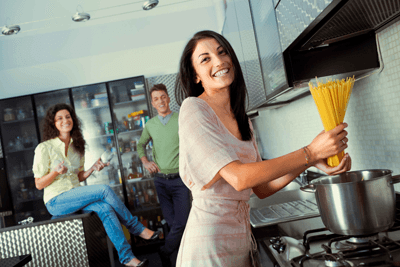 In this busy 21st century life, it just seems like a natural progression to combine two important and time consuming parts of our day (eating and relaxing, of course) to create a 'super space', if you will.
Orme said: "We all like to be as flexible as possible and are short on time and space so it seems a waste to have a separate dining room; the kitchen has evolved into a living room that meets all our needs."
So it seems that the kitchen has grown into the stand-out hero of our home, becoming many things to many people. And we couldn't be happier - after all, that's where the food and booze is...
Let's all just agree to keep the bathroom completely a separate entity though.
Is the kitchen the most used room in your house? Let us know onTwitterorFacebook
If you love your kitchen, then make sure its protected from the worst with the right home insurance policy. Shop around for a great deal today with Gocompare.com, and make sure to take a read of our extensive selection of informative home insurance guides to get yourself informed