The Budget is upon us and we have a great way to enjoy the financial frolics which are about to unfold. It's time to get your dabber out.  
If you don't normally associate George Osborne with light-hearted laughs, especially when he's thrusting his red briefcase of fiscal destiny towards the camera with a grimace reminiscent of someone holding a particularly whiffy bag of dog mess, think again.
We have something that's bound to brighten up your day... it's Budget bingo.
Simply download and print off your free bingo cards and let the Budget banter commence.
And if you want to feel like you're actually sitting front row at the House of Commons, why not try our Budget soundboard? Surprise and delight your friends with the classic cries of the politician all-year-round.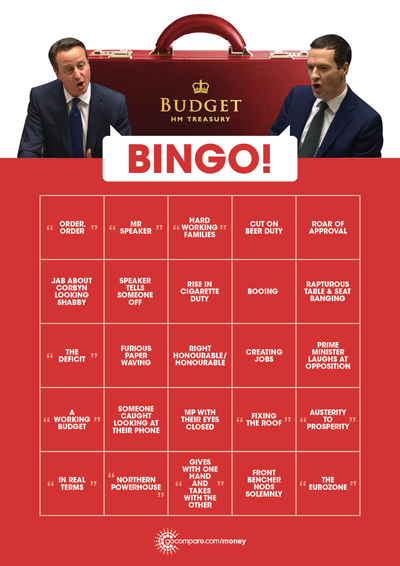 There's only one rule, you have to shout 'ORDER!' in your best, disgruntled Mr Speaker voice when you achieve a full house.
Are you joining in with Budget bingo? Let us know onTwitterorFacebook