If you live in a city, chances are you've already got access to what's considered 'superfast' broadband.
However, if you call rural Britain your home, internet connections are rarely up to speed.
This means that individuals and businesses struggle when it comes to data-intensive activities like streaming or sending and receiving large files.
It's all to do with the way that broadband is delivered. In the UK, it's mostly via a fibre-to-the-cabinet (FTTC) system, where the final journey of the connection to homes and businesses is made by an old-school copper connection.
This means rural households lag behind city slickers because the closer a home or business is to the exchange, the better the signal strength is. It degrades the further it has to travel across copper.
As exchanges are few and far between in the sticks, signal strength can be poor.
So, you might be excused for thinking that if you're in the countryside, you're resigned to sluggish broadband.
Well, perhaps not.
In remote areas it's perfectly possible to achieve incredibly fast broadband which far exceeds the best speeds in many urban areas...
Need for speed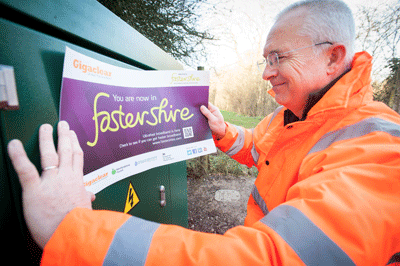 Matthew Hare is the chief executive of Gigaclear, a company which specialises in bringing hyper-fast, 1,000Mbps broadband to homes in rural areas.
Gigaclear offers a fibre-to-the-home delivery method with no copper wires – the fastest and most future-proof way of getting broadband.
"BT designed a solution that works for cities," said Hare of Openreach's FTTC system. "There's very good reason to do the same thing everywhere. But it's a solution that, in our view, doesn't work in rural areas – the quality of the copper is much poorer. When it rains, people report their internet dropping off."
Gigaclear finished its first network in Rutland in the east Midlands in 2011, and now has 50 networks across the country, serving 18,500 homes and businesses.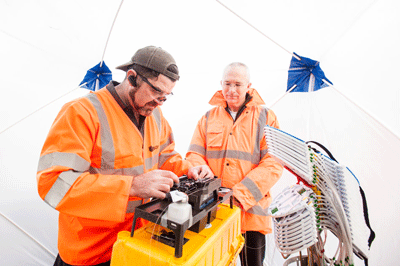 Now, the company is even trialling a 5,000Mbps service – it might seem excessive, but the march of technology and the potential data usage of applications which haven't even been invented yet means that it'll stand rural areas in good stead.
"When I got my first broadband connection it was half a meg a second, and I thought that was fantastic – but it soon felt as slow as a slug. If you give people faster broadband, they'll find more stuff to do with it – and they'll want it instantly," said Hare.
Community service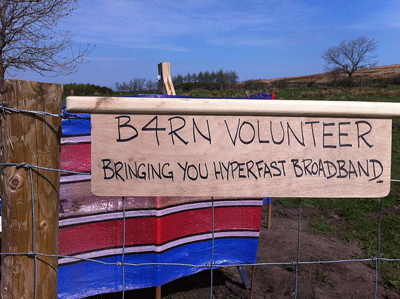 Some communities have even gone to the trouble of installing fibre-optic broadband for themselves – like a group of residents from in and around rural Lancashire.
Chris Conder is a hairdresser, farmer's wife and grandparent from the village of Wray and one of the founders of B4RN, Broadband For the Rural North.
At the turn of the millennium, she and other residents of the isolated valley they called home were frustrated at the dial-up service they were lumbered with.
With BT unwilling to install ADSL connections to the area around their homes, the community turned to Lancaster University, which helped them achieve a then-rapid 2Mbps using wireless mesh technology. "Then somebody invented YouTube," said Conder.
After hitting a seemingly endless series of bureaucratic and political roadblocks for funding to improve the service, the community decided to go it alone and raise the money needed for a fibre-optic service themselves and in December 2011,  B4RN was established.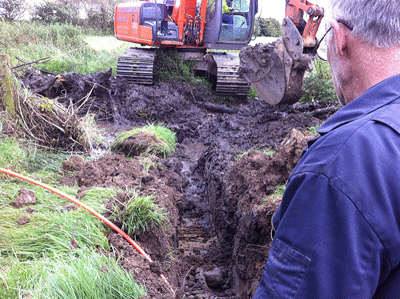 Registering as a community benefit society with the Financial Services Authority, they quickly raised in excess of the £200,000 needed to commence work and in March 2012 the digging – quite literally with shovels – commenced.
Local farmers were offered the chance to get shares in the co-operative.
For every metre they'd help dig with their machinery they receive £1.30 in shares, and people in the community were more than willing to muck in when they found out what was going on.
"Once the diggers were there, pensioners walking their dogs would stop and ask 'what are you doing?" said Conder. "When we told them they'd go home and come back with their spades… in the trench they'd say 'can you see that house down there? How do I get this there?' That's what motivates people."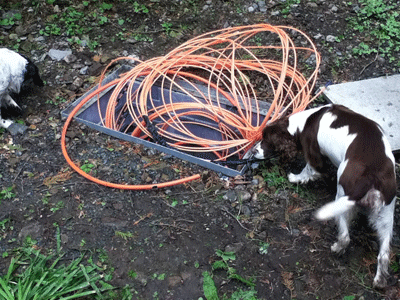 Now B4RN has laid 800km of cable, connecting 1,500 homes and providing jobs for 15 young local people. Conder and fellow founder Barry Forde, the technological mastermind behind the project, received MBEs in 2015.
The company also shows other rural communities how they can replicate what's been achieved in Lancashire.
Conder said: "We're asked a lot… so we do show-and-tell days where communities come to us."
So far, communities in Lincolnshire, Nottinghamshire, Devon and Somerset have all established their own networks, putting their own spin on what is being achieved in Lancashire. "They're all doing it their own way," said Conder.
What is Ofcom doing?
Ofcom claims it is doing its bit to help rural communities get access to decent broadband speed.
An Ofcom spokesperson said: "We're concerned that one and a half million homes in rural areas can't receive a decent broadband speed. We want to see improved services in hard-to-reach areas. So we're working with the government to implement its plans for a universal right to decent broadband.
"Where the cost of a connection is prohibitive for a household or small business, we are exploring alternatives," they continued. "Ofcom rules mean that 4G mobile broadband must reach 98% of premises next year, and we will look to impose further coverage rules when we sell airwaves in future."
Compare andswitch broadbandprovider with Gocompare.com
Tell us about your experiences of rural broadband on Twitter and Facebook