Nothing – and we mean nothing – beats the buzz of Budget day.
The sight of a man in a suit holding a red briefcase aloft in the fresh spring morning air, the gentle joshing in the House of Commons, the Oxbridge honk of the media coverage: frankly, we can't get enough of it, and we've got a feeling that neither can you.
Ergo, the top creative minds at Gocompare.com HQ have spent the past six months dedicating themselves to building a no-expense-spared soundboard for you to recreate the giddy thrills of Budget day from the comfort of your own home or workplace.
We've got the lot and put it at your fingetips: from the chancellor's velvet tones and the boom of the speaker of the house trying to keep proceedings in order, to the lusty bellow of the Commons itself – just crank the volume and get busy to really wow your family, friends and colleagues.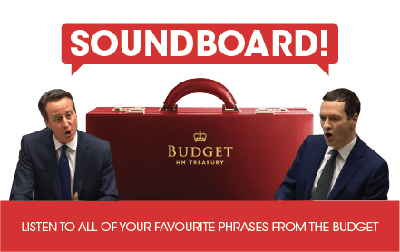 Have fun, and tell us what your think onFacebookorTwitter , and while you're at it, print out ourBudget Day bingo cards to play along at home