Many of London's major museums have been free to enter for around 15 years now, which is something we shouldn't take for granted.
The Victoria & Albert, the Natural History Museum, the British Museum, the National Gallery, the Imperial War Museum, the Tate Modern… With all that they have to offer, you need never fork out your cash for a day out in the capital again.
Who wants to pay through the nose for Madame Tussauds when you've got all this going on gratis?
My own favourite is the Science Museum – partly because I think the exhibits are endlessly enthralling and I like pressing buttons. But partly also because I've got a few sneaky tips and tricks for turning it into a cracking family day out on a budget.
You know what? I'll share them with you…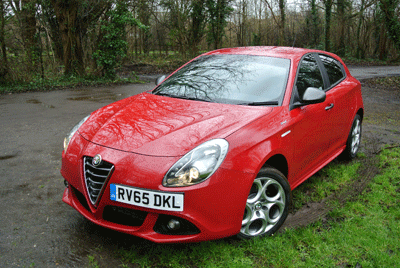 But first of all, we'll need to get there.
So, what's the ideal car for a jaunt through London?
Something compact and nippy, with reasonable visibility. Something eager and funky, with room for the family within its diminutive dimensions.
Hmm. Sounds like this is a job for the Alfa Romeo Giulietta!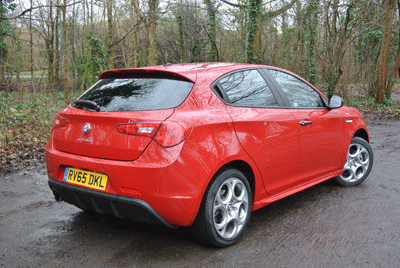 Now, I know what some of you were thinking the answer should be: either the Fiat 500 or the Mini.
But you can't really drive a Mini in London these days, everyone will assume you're a shiny-suited estate agent and won't let you out of side turnings.
And have you ever tried to get a pair of child seat bases in the back of a 500 whilst still retaining sufficient space for driver leg movement?
No, the Giulietta is just the ticket – a quirky design that throws back to retro swinging London with plenty of space in the boot. And, as a treat for the driver, a taut and entertaining chassis.
We've plumped for the Giulietta Sprint here.
Its 1.4-litre, 150bhp petrol turbo motor combines effervescent acceleration with decent fuel consumption figures (depending on what mood you're in, of course) and you get some natty embossed seats and pretty alloy wheels too.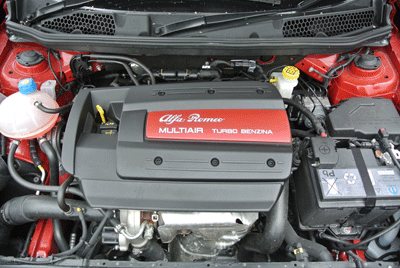 So, it's tips and tricks you're after, is it?
Ok, here's the first one: you need to go to the Science Museum on a Sunday morning.
There are a couple of reasons for this. Firstly, the roads will be clear.
If you were visiting during the week or on a Saturday, you'd probably be better off with public transport (London's 'museum land' is easily accessible by Tube, so keep that idea in your back pocket).
But if you aim to get to the Science Museum for 10am Sunday, which is the time that it opens, you should have a smooth and easy journey. Also, of course, you won't have to pay the congestion charge.
But the best part is that on a Sunday morning you can park for free on Queen's Gate, which is the next road over from the Exhibition Road entrance, and there are always loads of spaces on a Sunday morning.
Two things to bear in mind if you park there on any other day: it's about £5 an hour and it's a boundary road between two boroughs, so you can very easily buy a ticket in good faith from the wrong machine and get clamped. Sundays are safest.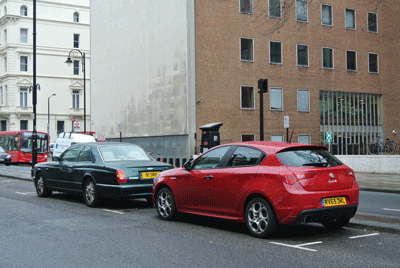 So, you've had an easy journey through town, haven't had to pay tolls or parking charges, and have got into the museum for free, having grinned smugly at the hordes queuing for the Natural History Museum next door, in the knowledge that you'll waft into the Science Museum effortlessly with no queues at all. Lovely.
You might want to pop a few quid into the collection hoppers on the way into the building, then? Nice gesture, since you haven't spent anything so far. Running a museum of this calibre is probably quite pricey.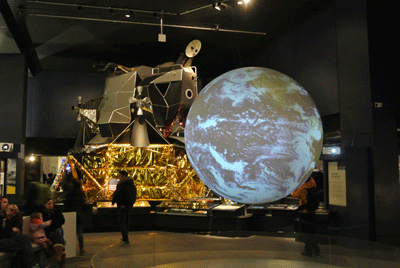 If you were here on your own, you may wish to take the lift to the top floor, work your way around the aviation exhibits up there and spiral your way down.
But if you're here with the little 'uns, there's a pretty defined route: through the entrance, down the ramp past the vast industrial machines and through the room that contains the space rockets, moon landing scene and vast illuminated globe.
Children love this room, because it's full of flippin' SPACE ROCKETS.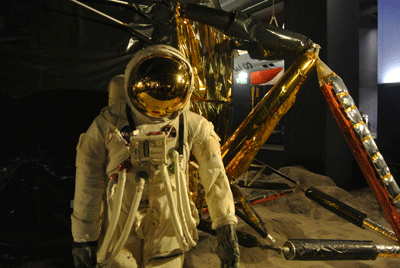 Ok, let's keep moving.
The next area showcases Stephenson's Rocket, a very shiny chrome aeroplane hanging from the ceiling, and a stack of cars up the wall.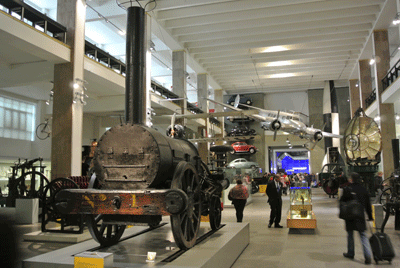 Beyond this, locate the stairs and head to the basement.
Et voila! You'll find enough entertainment for the kids down there to keep them amped up and into overdrive all morning.
There's a seat that makes a flatulent noise when you sit on it, a gallery, stage puppet shows, vast foam Lego bricks, an interactive water pump table.
You can pretend to be supervising in a mature fashion, whilst actually just mucking about and playing with all the toys.
It really is great fun down there. And again, if you've arrived at opening time, you'll pretty much have it to yourself for the first half-hour or so.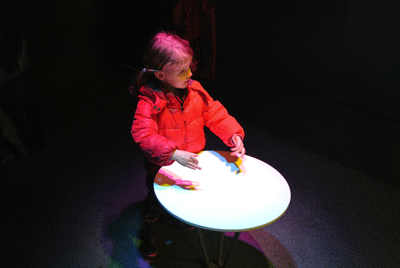 When the kids (or, indeed, you) start to flag, there's a cunningly positioned café down in the basement to fulfil your Sunday lunchtime cravings.
The kid-friendly toilets make a lot of sense as well, the sinks and dryers of various heights having clearly been designed by people who've actually met children.
From this point, you have two options.
Option A: the nippers are sufficiently agog and amused that you're afforded the opportunity to herd them to the upper floors and mosey around all the cool stuff up there.
Look, you can press a button and turn on an actual combine harvester!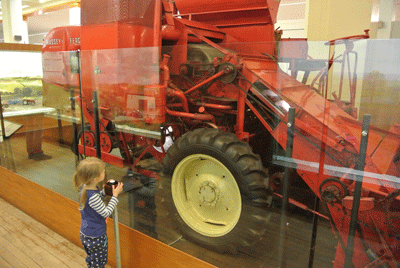 Or Option B: they're pinballing between extreme tiredness and a massive sugar high from all the cake, meaning that it's hometime.
Either is good.
If it's time for the latter, the Giulietta Sprint is just the place to pop the tired mini road-testers for the journey home. The windows are tinted and the headlining subtly dark, which creates a cosy little cocoon in the back.
They'll be drowsy and dozing as you spirit them through the metropolis, the car's DNA driving mode system set in cosseting 'N' (Natural) mode to soothe them to slumber.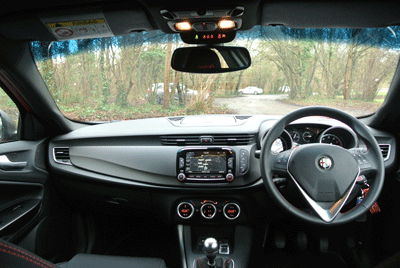 By the time you've emerged from the city into the realm of country lanes and freedom, everyone will be fast asleep.
So, you can slip the DNA switch into 'D' (Dynamic), reducing the power steering assistance and increasing the throttle response, and give that frisky little turbo a brisk workout.
A day out with something for everyone there…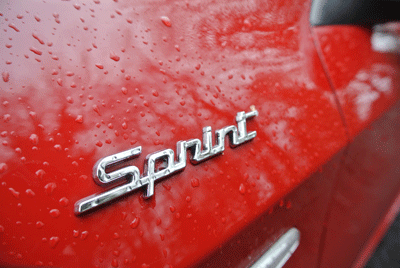 Read the rest of our mile-munching Guide to Britain series