Spring: a seasonal highlight on any biker's calendar.
For all-weather riders it's time to finally shed a few layers, dial down the heated grips and really feel the road.
For fair-weather riders, it's a chance to whip off the covers and take the pride and joy for its first adventure of the year.
"That first day you can go out without all your togs on and only need one layer is bliss," agrees Bristolian all-weather rider Tessa Beeching. "The sun is shining, maybe a few daffodils out in bloom... beautiful. Time to start planning your trips!"
The UK is blessed with great trips full of exciting challenges, throttle-stretching straights and picture-perfect views.
But, at this time of year, the best routes are ones loaded with guaranteed stop-off shelters in case the petulant British weather decides to throw a soggy strop. Here are four of our favourites...
Parsley Hay Circuit (12 miles)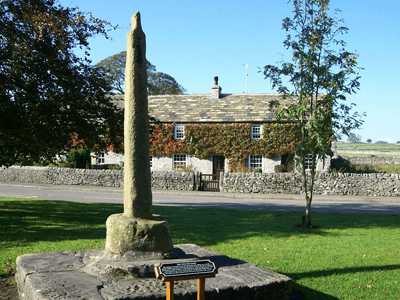 Image: Wikimedia Commons
A route with serious history: in 1955 world champion trials rider Bill Lomas and Aston Martin works driver Reg Parnell devised this Peak District road racing track to match the Isle Of Man's famous and challenging TT circuit.
Derbyshire county council were all over it. The House Of Lords were too... until that same year Pierre Levegh crashed in the grandstand at Le Mans killing 83 people.
"The government said 'we don't want any of that nastiness here thank you very much!' Just think what could have been!" explains freelance motorcycle writer Nigel Shuttleworth who has recently traced the circuit.
"The back roads are narrow and fairly bumpy but there's not a lot of traffic at the weekend. The road itself through Monyash is great and only challenging if you go too fast.
"There are lovely views from Long Rake and a nice twisty hilly section back down to Newhaven. It's a rather nice 12-mile stretch based around a brilliant pub."
The route begins in Monyash, heading south to Newhaven before taking the A515 north back the starting point. The pub in question is the cosy, classic English inn The Bull I' Th'  Thorn which also has its own B&B and campsite. As a stop-off point it couldn't tick more boxes if it tried.
View route map for Parsley Hay Circuit on plotaroute.com
Cheddar Gorge Loop (19 miles)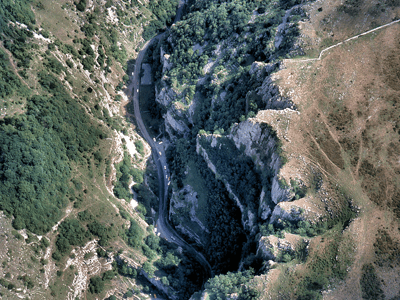 Image: Wikimedia Commons
In the heart of Somerset amid the caves, combes and gorges is a route that offers an exciting range of hills, corners, an epic straight up the Bristol Road (A38) and an array of stop off points.
Start at Cheddar Gorge, navigate Cheddar and make your way north, briefly joining the A38 before heading west on the A638 and enjoying a handsome 300-metre incline just beyond Burrington Combe.
A great stop off point is the Burrington Inn where full views of the Mendips roll out in every direction.
If you want to extend the route Tessa, recommends her favourite local route from here by continuing back up the A38 and heading west on the A371 to Weston Super Mare.
"It's great when you finally get that sea view at the end of it," she states. "Park your bike on the seafront, stroll along the beach with your helmet on and have an ice cream!"
View route map for Cheddar Gorge Run on plotaroute.com
Synod Inn Circle (45 miles)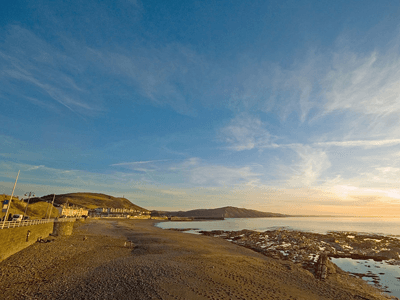 Image: Wikimedia Commons
Wales is road heaven for bikers. Famous routes such as the Beacons in the south and Horse Shoe Pass in the north often hog the limelight, as does the A487 which stretches most of the western coast of the country before diving into Snowdonia. 
"The first time I ever saw West Wales was by bike," says Tessa. "I'll never forget it. The entire coast road from Fishguard to Aberystwyth is a must for any biker."
Slap-bang between Fishguard and Aberystwyth you'll find Synod Inn, a small village that marks the starting point for one of the best 50-mile detours you'll find on two wheels.
Drizzled with endless bends, fluctuating slopes and plenty of stops, from Synod Inn head a sharp south-east on the A486.
After negotiating a few steep rises you gently glide downhill through Ffostrasol and Llandysul (both armed with great pubs) before taking a sharp right at Pentrecwrt and following the sprawling River Teifi back to the coast.
Here you can stop at the market town of Cardigan or head north on the A487 back to Synod Inn.
View route map for Synod Inn Circle on plotaroute.com
St Ives Circuit (33 miles)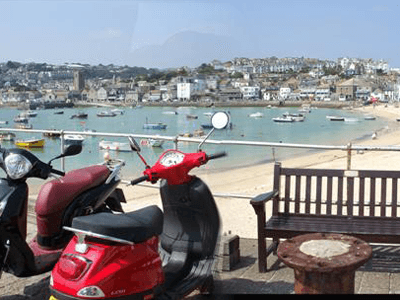 Image: Kenneth Allen via Wikimedia Commons
Destination Cornwall: the furthest south-west point of England offers some breath-taking motorcycle routes. The B3306 is the jewel in the region's road crown. Tessa, like many other well-versed tarmac-pounders, can't recommend it enough.
"It's legendary!" she exclaims. "It's just one of the most outstanding roads whatever vehicle you have. But for bikers it's bliss; all those twists, turns and that view of the edge of the country can't be beaten."
Spring is a fantastic time to visit as Cornwall's summer tourist deluge has yet to kick in (especially if you avoid school holidays) and the roads will be yours.
And if you've travelled this far you might as well make more of a route out of the B3306, so here's an extended journey that effectively tracks England's left foot and loops back via the A30 for a final straight hoorah before landing you back at St Ives station.
Stop off points are abundant: Zennor, St Just, Canon's Town and St Erth are just a few. 

View route map for St Ives on plotaroute.com
Get cover for your spring jaunts with the rightmotorbike insuranceat Gocompare.com