If you're still relying on cash for holiday spending, you could be wasting more than you think.
Research from money transfer company Xpress Money  Services reckons up to £390m in leftover currency could be languishing in jars and sock drawers around the UK.
As an alternative to cash, credit cards can be a valuable travel tool when wielded correctly, but not all plastic's created equally.
You need to pay attention to what you'll actually be charged for when using them overseas.
The best of the bunch could save you a fortune in currency fees, but the worst could mean a triple whammy of wallet-draining charges.
We've rounded up the ways to win with credit cards abroad – and how to avoid a holiday hangover when you get your next bill.
You get consumer protection
Anyone old enough to remember credit card adverts where Jennifer Saunders grapples with her 'pop-ups' in a Japanese internet cafe will be well aware of the fraud protection your credit card affords you.
And it's not just fraud cover you get – when you use your credit card abroad, Section 75 protection covers anything you buy that costs between £100 and £30,000 for a number of eventualities.
This could include faulty or counterfeit goods and failure to deliver services, meaning you should get your money back if you arrive home with a hooky 'Rolox' on your wrist that you paid for by credit card.
But…
Even though – as Saunders will attest – credit cards can be useful for getting your money back when you're mis-sold front-row seats at the sumo (again), you need to wield your holiday plastic with care to get the best from it.
You'll need to have actually paid on your card to get Section 75 protection. Which is most likely not an option if you're haggling for a Mulbarry bag and a couple of Kalvin Clean tees at the local street market.
You'll also have to submit evidence that the items were misrepresented – and arguably, with comical designer imitations, that would be bending the truth.
You can buy now, pay later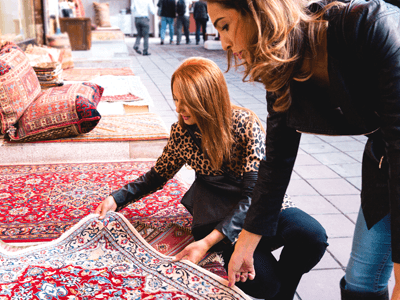 One of the big advantages of credit cards is that you can delay paying for your purchases without paying any interest for at least 28 days – and sometimes much longer if you choose a 0% spending card.
As long as you repay the full amount each month, or repay in full by the end of any 0% deal, it's interest-free credit, meaning you can spread the cost of a big holiday purchase.
Perfect for paying for that eight-foot wide Berber rug you've arranged to be shipped straight home from the souk.
But…
Don't make the mistake of thinking you can use a 0% purchases card to 'buy' your travel money to spread the cost.
When you use a credit card to purchase currency, the same rules as withdrawing cash apply – namely, you'll be charged interest from the date of the transaction and you'll pay a fee, typically of a few percent of the amount you withdraw.
If your cash withdrawal fee's 3% and you exchange £1,000, that's a £30 fee plus interest until you repay the debt – ouch.
They can be the cheapest way to get cash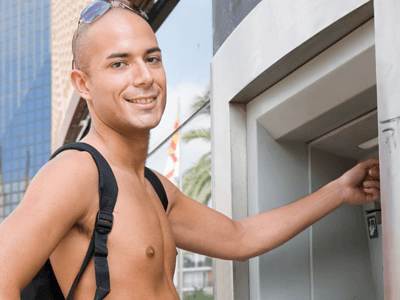 Withdrawing cash abroad on a credit card can be a three-pronged attack on your personal finances.
Just as when you use your credit card for a cash withdrawal in the UK, there's usually a cash withdrawal fee and interest will be charged from the date of withdrawal.
And because you're overseas, most credit cards levy a non-sterling transaction fee to boot.
But there are a few specialist travel credit cards with low or no non-sterling transaction fees and cash withdrawal fees, meaning they'll even beat most debit cards at overseas cash machines.
The trick to getting the most from them is to log onto your credit card account online every day and repay your cash withdrawals in full – thus minimising the interest costs.
But…
For this strategy, you really do need to hunt out the handful of cards without foreign transaction or withdrawal fees, and they're few and far between.
Secondly, withdrawing cash on a credit card – whether at home or abroad – can impact your credit rating as some lenders will interpret this as meaning you're desperate for cash.
It's usually only a short-term hit, but you might want to err on the side of caution and avoid credit card cash withdrawals if you want to apply for a mortgage or loan in the next few months.
They can offer the cheapest spending abroad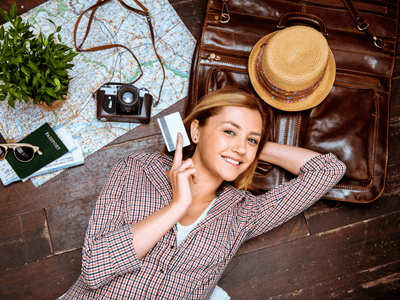 As above, a few specialist cards allow you to spend abroad with no foreign transaction fee, plus you get Section 75 protection on eligible purchases.
You can find these foreign spending gems by comparing credit cards at Gocompare.com and selecting the 'No fee for using abroad' box.
But…
Credit cards won't be accepted everywhere, warns Gocompare.com's travel guru Alex Edwards.
"Some countries, like China, are mainly cash economies with limited use of ATMs and credit cards," she said.
"Not all shops, restaurants and hotels in Peru accept international credit cards."
If you're travelling somewhere that cash is king, a credit card might be a handy back up but you should investigate your other currency exchange options before you go.