Our blogger of the month feature is back! And this time, we're talking to Nichola Whitehead who writes the health blog, Nic's Nutrition.
If you're a regular viewer of early morning news, you may have already seen Nic being interviewed on BBC breakfast on healthcare matters.
We caught up with the passionate nutritionist to talk blogging, healthy living, and what it's like to be on live TV…
Hi Nic! How are you? When did you start blogging, and have you always been interested in nutrition?
Hey! I'm great thank you – I've just got back from New York and LOVED the food and drink out there!
During sixth form I knew that I liked sport and human biology, so I went to Loughborough University to study sport and exercise science.
I knew that I wanted to turn my passion into a career, so I shadowed a few NHS dietitians and after graduating, I went on to study the postgraduate diploma in nutrition and dietetics at Leeds Metropolitan University.
I qualified as a dietitian in 2009, and my first taste of blogging was actually reading beauty and fashion blogs in my free time.
I loved the fact that you could get honest advice from people who were equally as passionate, and after looking for nutrition blogs I quickly realised that there was a lack of trustworthy advice out there. I couldn't find any UK dietitians who were blogging or vlogging.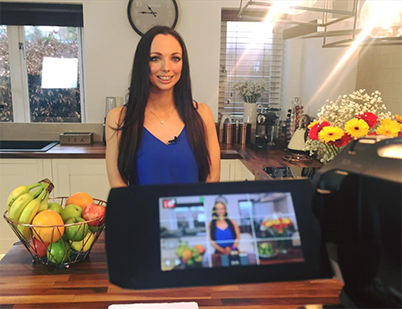 In 2012, I finally decided to take the plunge, and started blogging to share nutrition advice that works, rather than promoting fads and money making gimmicks.
My first blog post was actually an interview that I gave to Sainsbury's magazine on fibre!
The aim of my blog is to inspire others to lead a healthier and happier life, one step at a time, through providing nutrition and fitness tips, healthy recipes and product reviews.
My blog is my hobby and passion and I'm really proud of it.
Where do you find inspiration for your posts?
I take inspiration from friends, family, myself and my freelance work.
For example, I've just got engaged and I've had a few requests to do a video and blog post on healthy hair and skin, with the background theme of getting 'bridal ready'!
I'm also a writer and nutrition editor for Superfood Magazine, so I have fun brainstorming with the editor on topics to write about.
The articles tend to be seasonal – for example, how to have a healthy barbeque – or are based around work that I already do, like how to navigate the supermarket.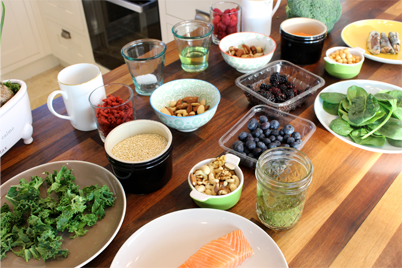 What's the most common question you get asked as a dietician?
One of the most frequent questions is 'is [insert product name] healthy', and to be honest, the easiest thing you can do is to look at the ingredients list.
If it's a whole food (fruit or vegetable, for example) then great, but if it's a more processed food then I wouldn't advise eating too many products that have 'sugar' (calories and no nutrients) near the top.
What small change can we make to help improve our health?
Drink more water, and eat more vegetables.
By focusing on what we should be doing more of, we'll naturally consume less of the food and drinks that we should be limiting like fizzy drinks, cakes and sweets.
Drinking water helps  our brain to distinguish correctly whether we're hungry or simply thirsty!
And by adding greens to your meal (like spinach to a smoothie, or courgetti to a stir fry) you're adding bulk to fill you up as well as nutrients!
What's your all-time favourite food?
That's easy: chocolate or peanut butter... can I have two? It would be chocolate if I had to pick just one!
You've been interviewed on the BBC quite a few times now! What's it like being on live TV?
The first time I was SO nervous. I honestly thought my heart was going to pop out of my chest!
The more times that you go on live TV though the less nerve-racking it is, but my adrenaline still kicks in each time!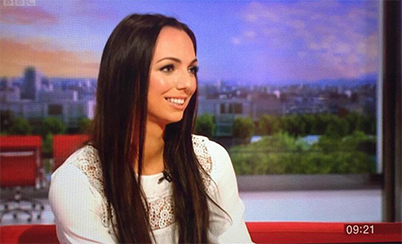 Which do you prefer, blogging or vlogging?
I like a mixture of both, but I suppose I may prefer vlogging as it's the media that I use most. I watch YouTube videos while getting ready in the morning.
I do love blog posts though for recipes and nutrition information, as well as fashion inspiration too!
What other blogs do you enjoy reading, and why?
I love Food & Nonsense for nutrition information, and The Diet Kitchen for recipes.
For fashion, I love Em Talks.
What's the best thing about being a blogger?
I love connecting with like-minded people, and helping others to understand what being healthy is all about; it's not about diets, it's about a way of life!
I also love seeing people recreate my recipes, and hear how my advice has helped to improve their outlook on food and nutrition.
I think it's amazing that you get to reach such a wide audience with the click of a button!
And finally, what tips would you give to someone thinking about starting their own blog?
Blog because you want to, and write about what interests you.
Listen to what your readers like and want more of.
Thank your readers for their input and acknowledge their presence on social media – interact, interact, interact!
Think of blogging as an enjoyable hobby, and not as a job or a chore.
You are your own boss when you write a blog, and you make the rules! And if you're thinking about blogging – just go for it, I've never regretted it!
Do you know someone who should be showcased as our blogger of the month? Drop us anemail to tell us why and they could be featuring on these pages in the coming months...
More blogger of the month interviews...