If you like going on car ferries but can't remember where your passport is, the Isle of Wight is the holiday destination for you.
Fans of TV weather maps will know it as that little diamond-shaped bit floating underneath Portsmouth in the English Channel.
The Isle of Wight is a brilliantly easy place to get to, being served by a number of different ferry routes along with hovercrafts and catamarans.
Quite a variety, given that the island only measures about 150 square-miles.
There must be some cool stuff to see, then? OK, let's investigate…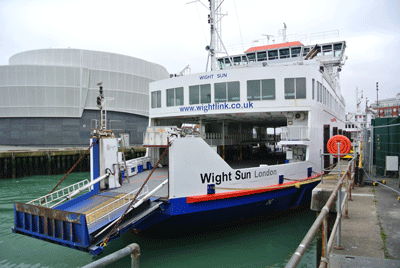 The weapon of choice for this adventure is the new Honda Civic Type R.
Normally at this point I'd offer a rational justification for the choice of car, but this time I'll simply offer a picture: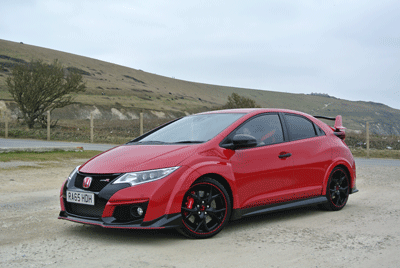 Justification enough, no?
Having driven the car at launch I knew how supernaturally capable it was on track and on the marble-smooth tarmac of Austria and Slovakia, but I was keen to see how it'd fare when trampolining over the speedbumps and potholes of Britain.
I also wanted to test how it'd behave as a sensible family car.
My initial guess was 'not well'. It's a focused sports car, after all. It can't be comfortable or spacious too, can it?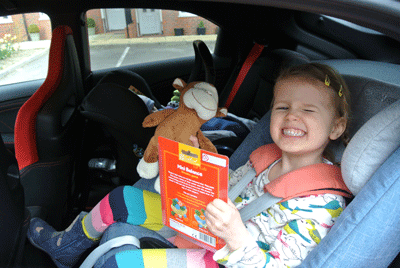 However, as history has proven time and time again, I am a cretin.
I'll throw in a spoiler here as big as the one on the car's boot and bring the conclusion in early – the Type R is genuinely great at pretty much everything (except being subtle), including being a sensible family car.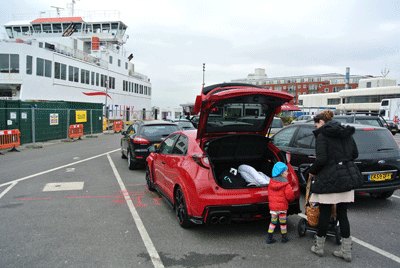 So, with our lurid red touring car-for-the-road stuffed with children and gummy bears, we headed to Portsmouth.
The return car-ferry ticket cost about £75, although it can be much cheaper if your family don't mind getting up unspeakably early.
The journey across the Solent takes about 45 minutes, and there's name-brand coffee available on board. Of course there is. It's 2016. There's always name-brand coffee available.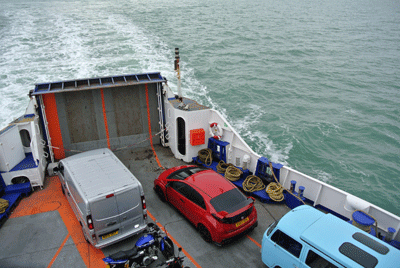 I'd read about a series of chalky cliffs referred to as 'the Needles' being the Isle of Wight's number one tourist attraction, so it made sense to check it out, right?
So, we duly punched it into the sat-nav on arrival at Fishbourne, and off we went.
Here's another spoiler for you: the Needles isn't great in the off-season.
I mean, the the eponymous chalky columns that stretch out to sea are good, but there's a whole family fun park attached that doesn't open on a cold day in March.
The vastness of the car park feels almost sarcastic. So, we looked at the Needles…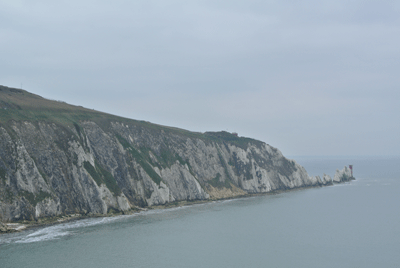 …we watched Mini Road-Tester No.1 pour some colourful sand into a jar…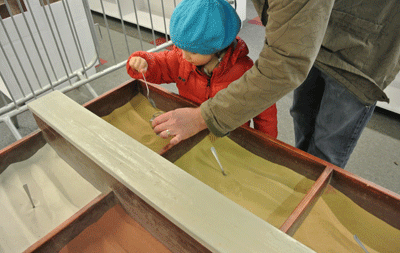 …and we had a pot of tea in the cafe. And that was kind of it.
Still, no bother.
We knew our hotel was going to be a belter, so we pointed the Type R toward East Cowes and let it off the leash.
There are some beguilingly entertaining driving roads between the two points, which allow such a car to provide a suitably hair-raising half-hour of entertainment.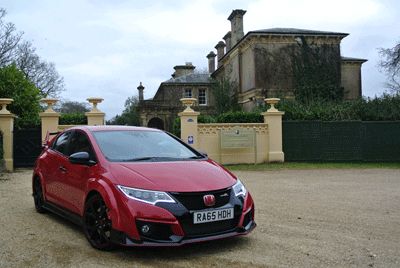 We'd booked a family suite at the Albert Cottage Hotel, a Grade II listed building that's part of Queen Victoria's Osborne Estate.
If you're booking, I'd recommend suite no.10, as it has a surprising number of rooms inside it as well as its own private courtyard.
Beware of the water pressure, though – it's hard to turn on the taps without being soaked from head to foot.
I'd also recommend the 'Albert Breakfast': a sausage-fest in the greatest possible sense.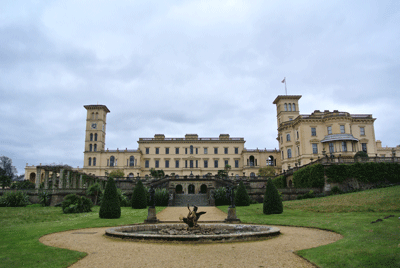 Duly refreshed, we took a leisurely start to the following day and ambled over to Osborne House.
This was Queen Victoria and Prince Albert's summer home, and it's hilariously fancy.
It's £15 a pop to get in (kids under-five go free), and much of the house is open for you to nose around.
There's all kinds of interesting stuff there. Check out Prince Albert's snooker table:
There is much yellow here: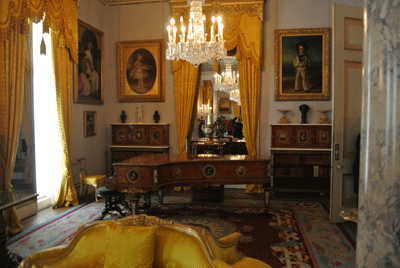 …and look, they arrange the dining tables with a set-square!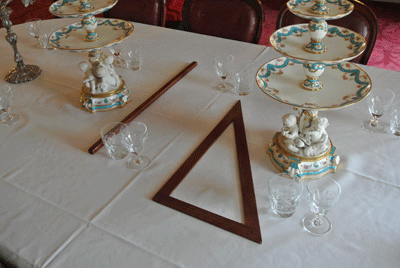 The niftiest part, though, is the fact that Victoria and Albert had their own private beach for their numerous kids to play on.
A brisk one-mile stroll through the woods will bring you out to this rather charming vista: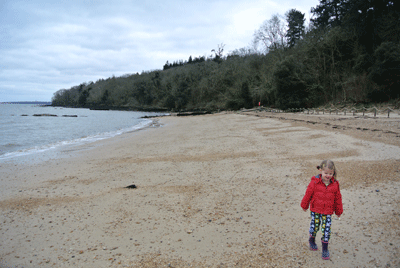 …and then a lung-busting walk back up the hill deposits you at the Osborne cafe, which does a strong line in sandwiches.
With hungers sated, piqued interest satisfied, and a tranche of pub-quiz facts about the Isle of Wight in our heads, we piled back into the Type R and caught a ferry back to the mainland.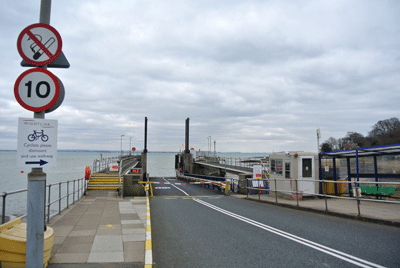 Of all the adventures we've been on for this Guide to Britain, this is the one that felt most like a foreign holiday, principally because of the ferry trip.
And that makes it all the more surreal being on the Isle of Wight, as everything is weirdly familiar when it feels that it shouldn't be.
The key point is that the ferry, which your brain tells you is taking you to another country, is actually taking you back in time, to the Britain of 30 years ago. And that's a very good thing. A mind-bender, but one I'd recommend you try.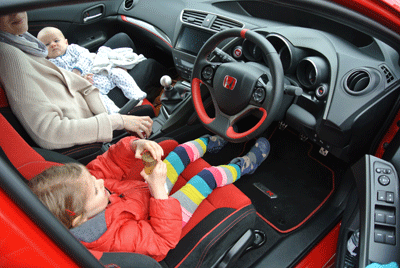 And the Civic? Oh, it was the perfect car for the trip.
The 'R' on the badge speaks authentically of bona fide race-bred evolution, and yet the optional GT pack (see spec list below) turns the rabid animal into a genteel cruiser. Proper Jekyll and Hyde stuff. And kids just love the bright red seats.
A car from the near-future, on an island residing in the recent-ish past? It's a thoroughly enjoyable combination.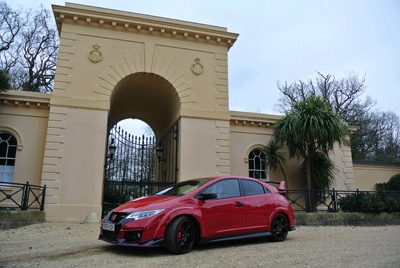 Ahoy maties! Speaking of boats, did you know you can now compare ferries with Gocompare.com?So, hop aboard, and let us help you navigate to some serious seafaring savings.
Read more from our Guide to Britain series