So you're moving into the house of your dreams – congratulations!
You've gone through the stressful journey of finding somewhere to live and now all you need to do is get yourself and your possessions into your new abode. 
Moving can be traumatic, long and tiring – but with these incredibly handy tips, it doesn't have to be.
Keep your essentials handy
Whether you need a kettle and mugs or a bottle of wine, keeping your essentials to hand will make the whole day more pleasant.
Pack toilet paper, medication, snacks, a water bottle and even shower gel and a towel – you might want to freshen up once you're in.
"Even a relatively hassle-free moving day is an incredibly hectic experience," said Lyndsey Daykin, a removal specialist from moving firm Pickfords.
"To make things go as smoothly as possible, pack a move-day survival kit with everything you'll need on the day, to save rummaging around in multiple boxes.
"Fill it with essential groceries, toiletries, and paperwork."
Get label happy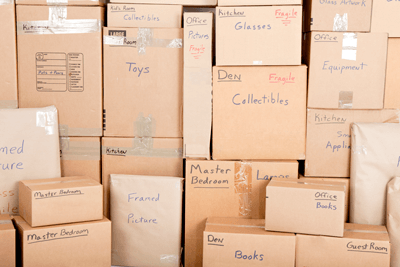 Whatever your labelling method of choice, make sure all your boxes are properly marked and you know where they're going.
Colour code rooms in your new home to match boxes, so if you have friends or movers helping they know where to put everything.
Sell or donate unwanted stuff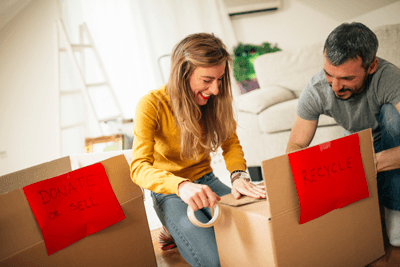 It's pointless moving furniture you don't want.
Six weeks before you move, look into selling any unwanted stuff on eBay or Gumtree for example – that way, you have enough time to shift any unwanted stuff.
If want to donate your furniture, some charities, like the British Heart Foundation, will collect free of charge.
Clean beforehand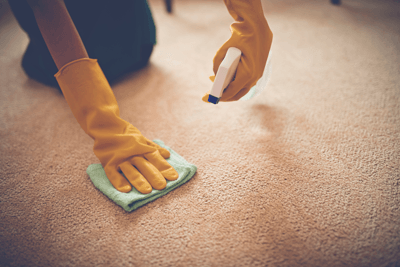 There's nothing worse than moving into a dusty, grimy house, so if you can it's a good idea to get in early and give the place a going over.
Keep an eye on children and pets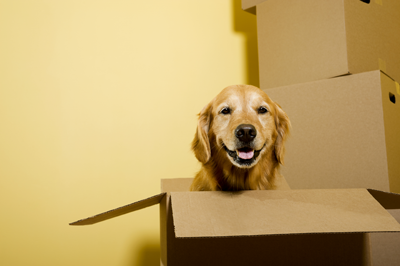 Those pesky pets and children sure get in the way when you're moving, and it's not like they provide much assistance with moving boxes and unpacking.
Hire a baby/dog/cat/guinea pig sitter or pack them off to obliging family members – that way you can get through the day without panicking where little Monty has gone with the roll of tape.
"To help your little ones stay calm on the big day, make sure to tell them far in advance exactly what's going to be happening and why it's a happy occasion," said Lyndsey.
Go professional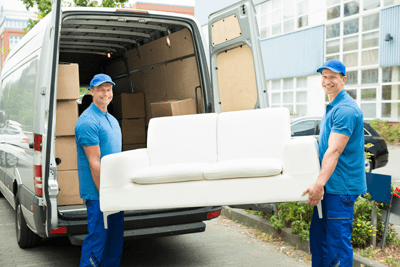 If you've got a lot of bulky furniture or fragile valuables, it can be worth hiring a professional moving company to help you move.
That way, you don't have to worry about fitting all your wordly possessions in the back of your car, Tetris-style.
If anything does happen to your valuables, at least with a professional moving company your belongings are covered by their insurance while in transit. 
Many protect your belongings while you're moving up to a certain amount, but it's worth checking to make sure what kind of cover they have. 
A man with a van may have no cover for example, so if something gets broken you'll be left footing the bill.
If you don't use a professional to move, your home insurance might not cover your belongings in transit – again, check your terms and conditions to see what cover you have.
Change your address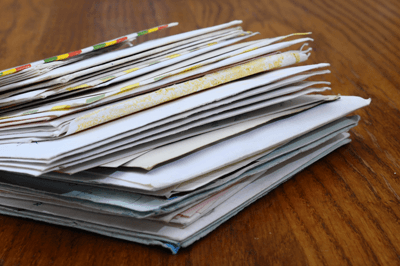 Around two weeks before you move, change your address on your bills, store cards and anything else you may need. 
"Make a list of everyone you need to inform about your change of address, such as friends and family as well as your employer, doctor, dentist, and bank," said Lyndsey.
It may be worth getting your post redirected for a few weeks too, until you get round to changing everything.
Sort your utilities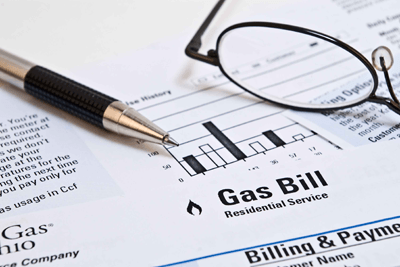 Before you move it's worth comparing your energy provider for your new home – it's possible you'll be able to save money by switching, so it's worth getting the ball rolling sooner and making those saving even bigger. 
The same goes for broadband and TV – if you haven't switched in a while and aren't sure about taking your current package with you, it's worth shopping around.
Celebrate!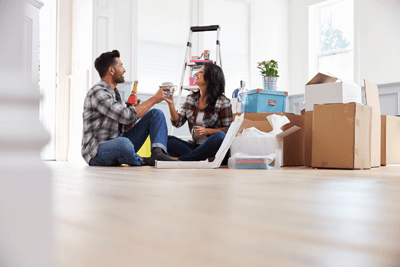 Pop a bottle of bubbly, order a take away and put your feet up.
Try not worry if you don't get everything unpacked straight away – leaving everything in boxes gives you an excuse to get started on your first bit of DIY…
Do you have any tips to make moving easier? Tell us on Facebook and Twitter