Nobody looks forward to commuting.
It's boring, repetitive and often incredibly frustrating. And the real kicker is you have to actually spend money on something you despise.
Shockingly, research by the British Motorcyclists Federation showed that drivers in Manchester were wasting 72 hours a year just sitting in traffic jams.
And perhaps four-wheelers are starting to rebel, because BMF also noted that more 'commuter-sized' bikes of 100-125cc were sold in 2015 than any other year since records began.
But is two wheels really better, in terms of time, cash and all-round satisfaction with life?
Let's find out.
Get your motors running…
BMF identified the Honda PCX125 as the best-selling bike in the first half of 2015, while the Society of Motor Manufacturers and traders (SMMT) found the Ford Fiesta was the most popular car model of the year.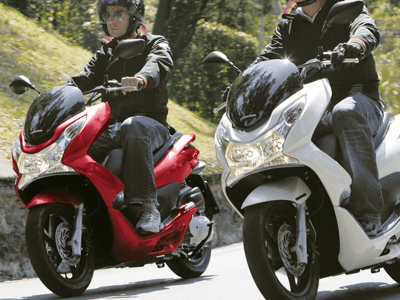 The Honda PCX will set you back £2,699 and although the Fiesta is a moderately priced beast at £10,345 for the cheapest model, it's clear who the winner is on outright cost.
Why, you could have a fleet of four scooters for the price of the car.
But the cost-savings don't stop there. Although the Fiesta costs just £30 a year to tax, the PCX's bill is £17.
Then there's the insurance.
We checked the bike insurance cost for a 32-year-old female commuter with five years' no-claims on both car and bike, and guess what?
The bike clocked an insurance quote of £142.43, with a £450 excess.
For the car, the lowest quote was £407.26 – although it also included personal accident cover, as well as windscreen cover and courtesy car, and a £500 excess.
So, before we're even out the garage, you'd be almost £8,000 better off by bike (although individual insurance costs will vary).
Winner: The bike, by a country mile.
Head out on the highway…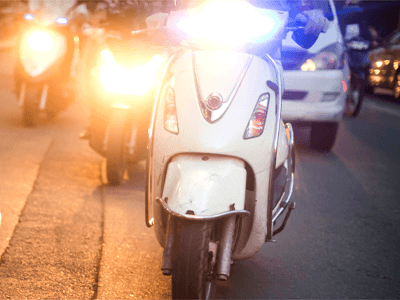 Once you've actually bought your vehicle of choice, there's one major running cost you can't ignore: fuel.
Both modes of transport are petrol guzzlers, but fortunately both represent economical examples of their kind.
The Fiesta claims a respectable 54 miles to the gallon, which means with a litre of unleaded at £1.08, a 10-mile-each-way commute will mean refuelling to the tune of £9 a week.
But the 133mpg PCX knocks it out the park by sipping just £3.70-worth of gas for the same weekly commute.
Over a year, fuel bills could be £468 and £192 respectively – a saving of £276 by bike.
Winner: The scooter leads again.
Time is of the essence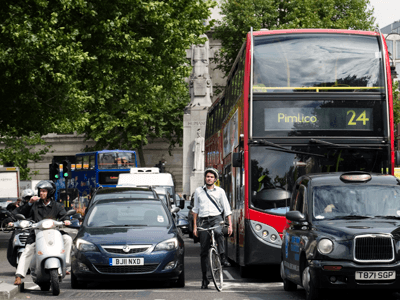 It's not all about money, though, is it? Especially if you're one of the Manchester commuters spending the equivalent of a long weekend sat in jams.
A scooter can be a big time saver for a city commuter and the more of us that get on our bikes to head to work, the less traffic there is for everyone else to sit in.
In fact, the 10-mile hop from Staleybridge into central Manchester can take as much as 50 minutes at rush hour in a car.
A well-behaved biker could skip the congestion and arrive in just over half that time, with a journey of 30 minutes.
So that's over three hours a week extra leisure time – which amounts to a whopping entire week freed up over the year.
Winner: Do you even need to ask?
The road to happiness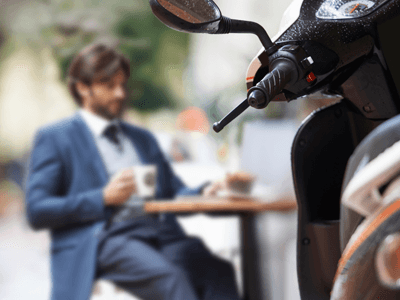 So a bike could make you richer, both in time and money terms, but there's one other thing we've not considered yet – and that's the way biking makes you feel.
Slump behind the steering wheel of your car and you're just another motorist, queuing your way home after the daily grind.
Hop on the bike – even a scooter, a two-wheeler's most sensible guise – and you're agile, plucky, pepping the throttle and nipping past the tailbacks.
You look different, you feel different – even the commute is the open road.
Well, that's how it should be.
Ask us again in October. Or when we need to do the weekly shop on the way home.
Winner: It depends on your outlook and the seasons really, but we know there's only one way to roll in the summer…
Step forward the victor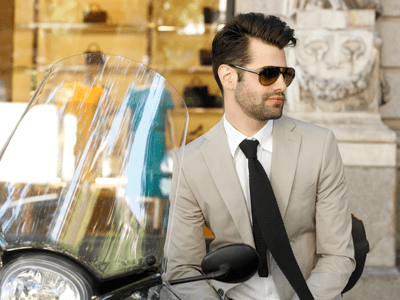 Well I think we all knew who was going to win this contest, but it's still surprising how far our plucky scooter has soared ahead.
In fact, making the switch to two wheels could mean racking up savings of nearly £8,300 and over a week – yes, a whole week – of free time.
We'd suggest you use your seven days and savings for an all-inclusive week in the Bahamas – but you wouldn't be able to bring your bike, so where's the fun in that?