Ah, that long hot summer of 2004.
In between studies at university, I'd signed up to a van driving agency.
I reasoned it would be a more interesting and stimulating way of earning throughout the summer than packing boxes in warehouses.
But as the biggest car I'd ever driven was my mum's Vauxhall Vectra, this was perhaps a misguided move.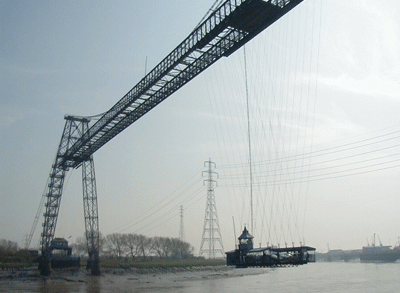 Newport transporter bridge (image: Hywel Williams via Wikimedia Commons)
On an opening shift I'd already had to take a scenic route over Newport's famous transporter bridge (above) because I couldn't successfully complete a three-point turn with a trailer attached to the van to go back the other way.
Then there was the otherwise successful day when I took out a rear-view mirror of a large van full of car parts in which I'd been trundling around the Welsh valleys.
That said, I'd completed a few jobs with aplomb.
I'd spirited a few containers of coronation chicken to Rhyl, and endured a lengthy journey to some unlovely towns around the M25 in a refrigerated Ford Transit.
But I didn't know what would hit me when I was phoned one morning to get myself to a branch of a well-known DIY chain to collect a sizeable consignment of deliveries for a fearsome 'multi-drop' job around Glamorgan.
This was the days before everybody had a sat-nav on their phone, so armed with a series of map print outs and a nagging sense of trepidation, I set off.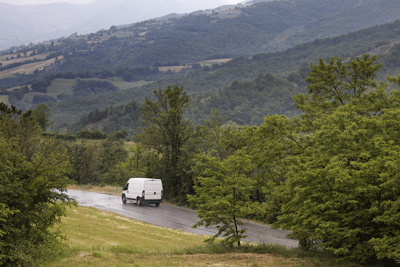 A van trundling about
Having delivered a few bits and bobs, getting lost along the way, I was under instruction to drop off some kitchen supplies in a town along the Glamorgan coast between Cardiff and Barry.
The afternoon sun baked down as I pulled over, opened the rear door and climbed into the back.
As I groped around in the dark for whatever it was I was looking for, I heard the sound of hinges squeaking… as I turned around, I saw the door shutting with a sickening thud. I rushed to stop it, but it was too late.
"No bother," I thought breezily. "I'll just open it from inside."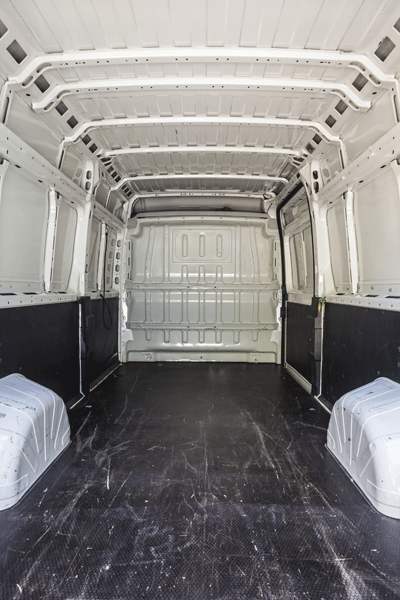 A back of a van
I tried to move the door. But the opening mechanism was caught, and refused to budge, even with the full force of my then-scrawny frame hitting it.
My heart began to race. My mouth felt dryer than Jack Dee eating a packet of cream crackers in Death Valley. I suddenly realised that I'd left a bottle of water, along with my Nokia 3210, in the cab.
Minutes passed. I banged at the door, and bellowed for help, further exacerbating my mighty thirst. I slumped down on the floor, and contemplated the newspaper reports documenting my in-van demise:
"Tributes have been paid to a Blaenavon English student, who has died of hunger, thirst and heat exhaustion in the back of a DIY delivery van."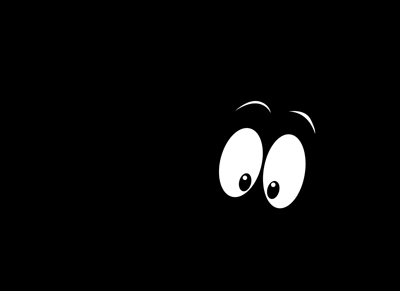 Artist's impression of the author's plight
I slumped next to a flat-pack box of kitchen parts, dejected. What a way to go.
Minutes turned into hours. What if I needed the toilet? What if I passed out from the intense heat? What if someone drove off in the van, with me inside? The keys were still in the ignition, after all.
I intermittently went to bang at the side of the door.
At the fifth or sixth attempt, I heard a voice and shuffling outside. I staggered to my feet. "HELLO!" I bellowed. "I'M STUCK IN THE BACK OF THIS VAN! WOULD YOU HELP GET ME OUT PLEASE?!"
"Will do, mate," came the gruff, muffled response.
I squinted as the sun illuminated the musty van interior. As my eyes adjusted, I made out the shaven-headed, thick-set figure of a man, his face heavily tattooed.
Panicked by the intimidating figure in front of me, I thanked him profusely as I exited the van, hoping that he wouldn't tear my head off. To my surprise, he seemed very friendly and concerned for my wellbeing.
That incident proved to be my last outing behind the wheel of a van that summer, and I took the vehicle back to HQ. The deliveries would have to wait. I'd already begun to have nightmares about driving vans and motorways, and wasn't minded to have any repeats of the day which had just been.
I'd learned that driving a van is mentally and physically taxing, fraught with danger, and not something to be entered into lightly. I'd best leave it to the professionals in future…