Abbie Laughton-Coles is on a mission to try out as many fitness trends as she can - in this edition of a new series, she slips on her trainers to take on hiking in California.
If you're a seasoned Instagram scroller, you'll know that it's impossible to avoid stumbling across snap after snap of toned members of the #fitfam taking to the nearest hill for their latest workout.
It seems that after years of everything from aerial yoga to Zumba we could be seeing a back-to-basics approach when it comes to staying fit.
Of course it does help if there's a spectacular view to behold at the end of it, so with this in mind I decided to give it a try and make a stop at Yosemite national park on my recent trip the USA.
Is hiking really a viable option for toning up though or just a country pursuit reserved for after you've indulged in a decadent lunch?
Day one - Half Dome hike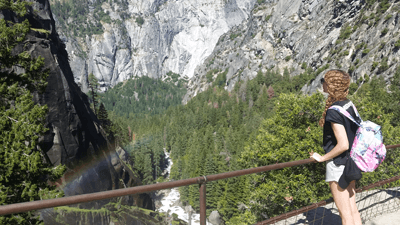 Half Dome, a granite rock formation, can be seen for miles around and is an adventurer's dream.
The route up and over it is one of the most well-known hikes in Yosemite, and with good reason.
I tackled it on the first day and can confirm that even if you don't get to the rather imposing summit - which you need a permit and a head for heights to climb, it's still not to be taken on lightly.
Heading off at 6am I packed up four litres of water and a lunch box full of protein bars and off I frolicked, full of vim and vigour for the day ahead.
It soon became apparent that this would be no walk in the park. The continuously changing terrain and incline levels really tested my stamina and if you need an exercise for the old glutes, look no further.
You may not feel it as you trundle along but you better believe the Doms (Delayed Onset Muscle Soreness) are real, and there's no escaping them.
My round-trip hike from the valley floor to just before the sub-dome was around 26 miles, climbing a height of around 6,000 feet and taking eight hours in the scorching 34 degree heat.
The views are just stunning all the way along with particularly stunning vistas around Nevada and Vernal Falls.
As 3pm came around in no time, I was forced to turn around a couple of miles before reaching Half Dome, much to my annoyance.
However my jelly legs enabled me to return to the valley floor via the John Muir trail with beautiful panoramic views at every turn.
Boy oh boy did I sleep that night!
Day two - Glacier point
The second day started off calmly enough, until the unthinkable happened… a bear ran across my path! Cue all rational thought leaving my brain immediately.
Instead of employing the heavily recommended tactic of frightening it off, as every sign within the park reminds you to do, I decided to politely avert my eyes from the brute and walk away quickly. It seemed to work.
The surge of adrenaline helped to carry me up the first stretch of the four-mile trail (which is actually closer to five miles) as my feet reminded me that I had walked them to exhaustion the day before.
It also prevented me from standing still in the dense forest where mosquitos mob you every time you pause - the little blighters still managed to bite me a whopping 26 times though.
I continued to clamber up the eye-wateringly steep trail as it twisted and turned at an alarming rate with no barriers to keep you from the steep drops.
The smugness I felt when passing a handful of fellow hikers within the first mile was extremely short-lived, hitting rock-bottom as an elderly man ran past at full-pelt without breaking a sweat.
Had I known that I would be climbing 7,200 ft I probably wouldn't have rocketed off at the beginning but it was too late, my legs were beginning to wobble and my enthusiasm to greet every passer-by - as is the American way - was waning after two hours.
Three and a half hours in and the end was in sight. I was rewarded for my troubles with the most spectacular view I had ever witnessed. It was unreal.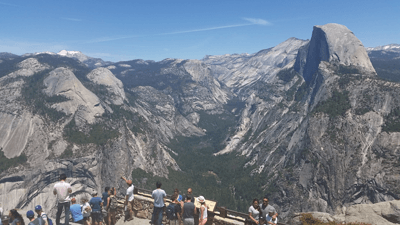 Day three - Valley loop trail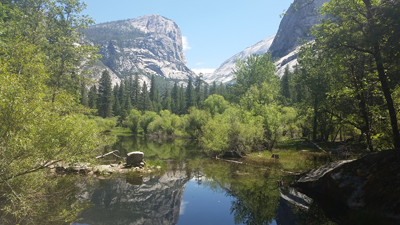 Now that the hard work was behind me, the promise of a valley floor stroll to see Yosemite Falls and Mirror Lake was incredibly appealing.
Yosemite Falls can be seen from pretty much every vantage point that surrounds the valley and it's not far from the car park, making it incredibly popular.
I muscled my way through to get a photo but it definitely wasn't the serene moment I had hoped for. Yes, it's beautiful but having to stop every two steps to avoid walking into someone's photo gets old.
Leaving the crowds behind it was a two mile trek to Mirror Lake and I finally got that tranquil moment I was searching for. Watching a deer potter in the water surrounded by the most picturesque surroundings was just the ticket.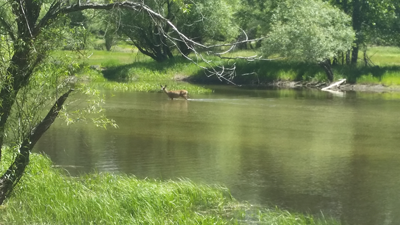 After being dragged away from Mirror Lake, I plodded the remaining five miles back to the visitor centre, stopping to admire Happy Isles and the Merced River.
What a three days!
Fitness factor: 3/5
It's fair to say that I had underestimated just how tough it would be to hike Yosemite.
There's no denying how much the muscles in my legs were burning with every step by the third day, but the fresh air and amazing views made meant it was worth the pain.
Hiking is a great way to do low-impact exercise and clear your mind. Plus, the sense of achievement you get from reaching the top of a summit or end of a trail is second to none.
I'll definitely be adding more hikes into my fitness routine and ferreting out the picturesque trails Britain has to offer.
Are you a rambling fanatic? Tell us all about it onTwitterorFacebook.