David Beckham, hair slicked back astride a classic motorbike, rides through a cornfield and fair play to Becks, he looks badass.
Is there a more potent contemporary image of motorcycling as the ultimate in sex appeal?
I'll have some of that methinks, fingering the credit card and making a list of some cool brands to casually name-drop at my local motorcycle dealership.
But as with many a lifestyle conjured from the fevered imagination of a Soho 'creative', the reality of everyday motorcycling doesn't always match the dream.
The dream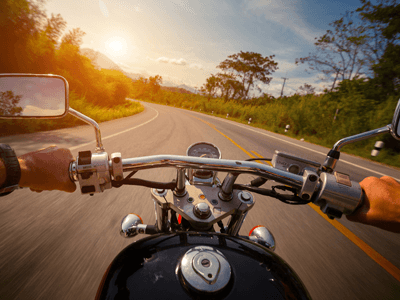 The black-top shimmers in the heat as it snakes over the horizon. There's not a car in sight. Caravans? As if!
You coil yourself behind the low screen gunning it through the gears, the front end going light as the power kicks in and the scenery goes all blurry. You know, like those on-board cameras at the Isle of Man TT.
The reality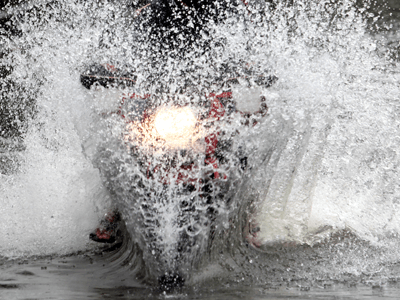 Dream on pal. Yet another wet summer is upon us. The school hols have clogged the roads with Nissan Qashqais and, oh crumbs, is that an Elddis Super Cyclone?
Light drizzle has turned to steady rain by the time you've faffed about attaching the GoPro to your Arai helmet.
Resigned to pulling waterpoofs over your Rossi-rep leathers, your boots jam solid, halfway down the trouser legs. You furiously wrestle them off, remove the boots and start again.
By now you're sweating profusely and cursing loudly.
Fair-weather biker Jason, a picture editor from south London, loves his Ducati Scrambler but dislikes a wet summer.
"A rain spattered visor makes seeing really difficult and means you have to seriously reduce speed and concentrate much harder on what's happening around you.
"I knew the rain would be the worst part of riding a motorbike. I hadn't thought that not being able to see would be the most stressful."
The dream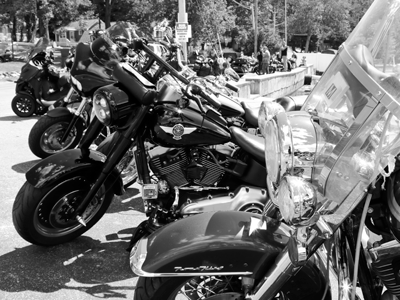 Nothing beats a cafe run with your biker mates. Country roads, cruising along and enjoying the thrills of riding in a flowing group.
Parked up line-astern, the bikes look the business as you partake in some quality banter over egg 'n' chips and hearty mugs of tea.
Back home the electric garage doors raise majestically as you glide beneath them, cut the motor and leap off the machine, leaving it proudly displayed on its sidestand.
The reality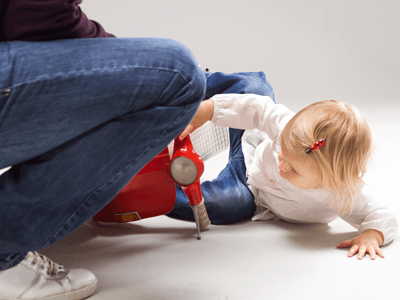 Motorcycles feel like fighter planes when they're moving. When they're stopped they turn into stroppy, inebriated teenagers – tricky to deal with and prone to toppling over.
Many is the time I have parked up and either struggled to get the bike safely on its stand or got on the wrong side of it. Think Charlie Chaplin trying to get a grand piano down a spiral staircase.
Then there's the shed issue. Cramming the bike between the malevolent lawn mower, the spiteful mountain bike and any number of miscellaneous pointy, scratchy garden tools is the bane of just about every motorcyclist.
Catering assistant Lewis from Surrey rides a Yamaha YBR125 Custom, and recalls an incident when went to the pub with a couple of mates on his bike: "I parked too close to my friends' Honda F6C and CB500X I got sort of jammed in.
"I couldn't actually get off the bike so, while amused drinkers looked on, I had to do an embarrassing lap around the pub car park to park it again where I could get off it."
The dream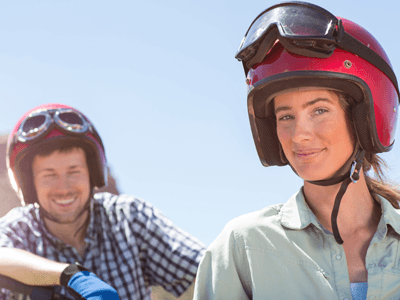 Your other half loves motorbikes and the motorcycling lifestyle. You go everywhere together on the bike and it's transformed your relationship (go on, snigger if you like, cynic).
Your dream is a two-up touring holiday in the Alps where the roads are blissful and the European BMW GS owners actually talk to you.
The reality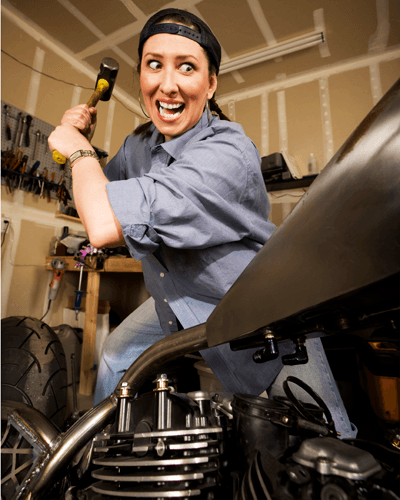 She (or he) hates your motorbike. There's eye rolling and tutting each time you disappear for some quality time in the fresh air.
James from West Surrey rides a Suzuki 650S: "With a young family, when I go out riding at the weekend a little voice is always scolding me for either taking an unnecessary risk or for spending self-indulgent time away from the kids."
Partner Gayle rides pillion but it's not as comfy as her Polo: "I sometimes get weaver's bum [a painful bursa over an ischial tuberosity, FYI] when I've been on the back of the motorbike for a few hours." Ouch!
But still...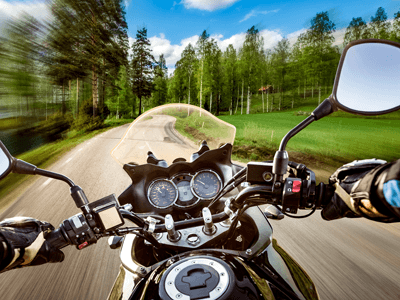 Of the motorcyclists who vent about their hobby, few would be parted from their pride and joy.
"The wife and I go everywhere together on the motorbike. Who wants to sit in a traffic jam? And people talk to you, apart from fellow GS owners!"
Rory, Kent
"Once I'm riding, with the wind in my face and the glorious sound of the engine in my ears, I can't help but grinning like an idiot. Short of becoming a fighter pilot, riding a motorbike is hard to beat for the sheer, visceral thrills."
James, Surrey
"I love the independence and freedom. The ability to filter through traffic takes the stress out of my journey to work. Motorcycling elevates you above the issues that affect 90 per cent of other road users."
Jason, south London
Tell us about your motorcylcing experiences on Twitter and Facebook