Running has always been sold as a great way of de-stressing and winding down for the day - a means to get your heart pumping and release that much sought-after endorphin rush.
But for many, it's the exercise of the devil, causing flashbacks to high school where cross country runs in the rain were spoken about in hushed fear.
I used to be part of this group (and still am to a certain extent) but my feelings towards this way of getting fit has shifted slightly and all because of a challenge I set myself back in August this year.
Training day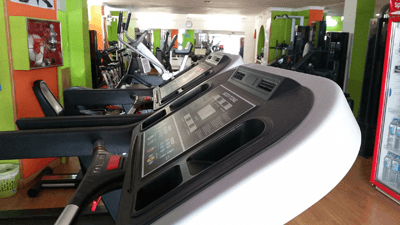 After years of avoiding the treadmill like it was covered in rusty nails, I decided to give it a go… it did not go well.
I made it precisely four minutes before I collapsed with jelly legs and a complexion akin to Barney the dinosaur. I wasn't hooked.
Over the next couple of weeks I forced myself onto the running machine before my usual workouts, hating every minute, with only teatime quiz shows to distract me from my inevitable agonising stitch.
The funny thing is, it did start to get easier. Mo Farah definitely didn't have anything to worry about, but soon I was running for half an hour without having to swear repeatedly under my breath.
Let's go outside
Now that I had developed a proper running style instead of resembling a flailing spider, it was time to take this show on the road.
When you factor in having to dodge an endless stream of people, all the elements that Mother Nature has to throw at you and uneven pavements, there's a lot more to think about when you run outside.
My first 7.5km was a mixture of walking and jogging, with some added standing around and cursing, but after I'd finished in a time of 49 minutes, I did feel something similar to pride, with a little bit of nausea thrown in for good luck.
Light-headed from my game-changing morning jaunt, I decided to sign up for a 10km race the following weekend and a half marathon (21km) two weeks after. In for a penny…
10km
The first race came round far too soon and the realisation that I'd only covered 10km once before set in. I was rather nervous.
Seeing everyone standing around and smiling at the start line helped to ease my trepidation. If that 80 year old man could do it, I definitely could, I hoped.
Armed with my goal of finishing in under an hour, I lined up and set off. The first 5km sped past in a blur of people cheering us on and then the dreaded stitch hit. By the way if you know how to get rid of a stitch, please share it with us on Twitter or Facebook.
Struggling through the second half, I slowed down considerably and slotted myself in comfortably behind some moderate-paced runners.
When the finish line was in sight and I turbo-charged my pace for the final 100m, completing in 59 minutes. There were definitely some endorphins this time, it was more of a trickle than a rush though.
Half marathon
So just how do you step up from a 10km to 21km in two weeks? Not very well as it turns out. I would definitely recommend scheduling in a lot more training time. It was tough.
I managed to cover my longest distance of 18km the weekend before the big race.
It was a slog made all the more difficult by a hailstorm and the fact that I'd chosen to run in the opposite direction to about scores of Men's Health 'Survival of the Fittest' competitors.
Race day came around far too fast and the accompanying anxiety set in. This was on a much grander scale, with a lot more people watching, including TV cameras.
With a special high-octane playlist pumping in my ears, I set off with the thousands of other runners in all manner of costumes - from Captain Jack Sparrow to a tyrannosaurus rex.
I was getting into the rhythm and actually enjoying myself…until I hit a wall at the19km mark.
My legs were spent, hips were tight and no amount of encouragement could make my lead legs keep up their jogging speed.
Runners were falling by the wayside at this stage - sitting on curbs and being propped up by friends. I dragged my heavy limbs, desperately hoping the Lucozade I just downed would help power me forward.
Fifteen minutes later my prayers were answered when the finish line came into view. The endorphin rush flooded my body and carried me to the end, and then onto the pub for a beer.
Fitness factor - 4/5
I'd be lying if I said that I was now a 'dedicated runner', but I'm no longer terrified at the thought of slipping on my trainers and hitting the road.
I definitely felt fitter and could see the difference when doing my usual High Intensity Interval Training (HIIT) workouts at the gym.
Perhaps I won't be running every night, but there's no doubt I'll be entering the half marathon again next year.
Keeping fit and healthy can have an effect on your life insurance premiums.Compare policies todaywith Gocompare.com.