Giving and receiving presents is a big part of Christmas tradition.
This year, Gocompare.com has been giving to those who can't return the favour by donating gifts to Operation Christmas Child.
Operation Christmas Child is a campaign run by international relief organisation Samaritan's Purse.
It has been delivering shoeboxes filled with presents like dolls, teddies, puzzles and toothbrushes to children in Africa, eastern Europe and central Asia for 25 years.
These small necessities that we take for granted could bring plenty of joy to a child who has little.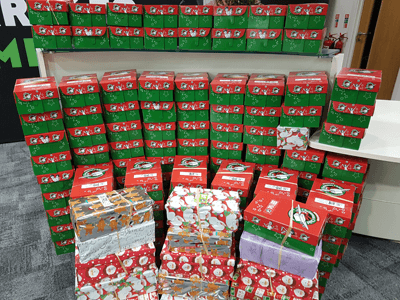 This year, the Gocompare.com team filled a fantastic 155 boxes and also helped in the warehouse to organise the safe delivery of parcels to the children.
There's still time for you to get involved too. For just £15 you can build your own shoebox online and choose which items you'd like to donate.
The kind donations that Operation Christmas Child receives will be sent to some of the poorest communities in the world, giving children a little relief in the face of adversity.
Did you send a shoebox to Operation Christmas Child this year? Send us your pictures on Twitter or Facebook.