Decorating your home for Christmas has got to be one of the most exciting times of the year.
Hanging baubles on your tree, wrapping tinsel around your banister and sticking your mistletoe to the ceiling all while Bing Crosby croons "White Christmas" in the background. It's all part of the charm.
But what if you could go somewhere that blows your decorations out of the water?
Here's a few real-life winter wonderlands (or somewhere a little more unconventional) you could escape to this Christmas...
Lapland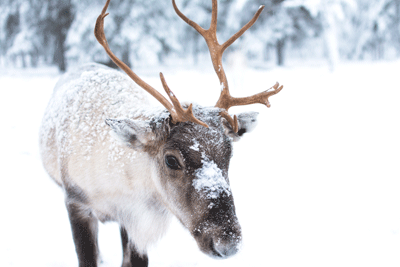 You knew this one was coming, didn't you?
Well, Santa Claus' official home has an abundance of activities on offer including husky or reindeer sledding.
You can also meet the man himself at Santa Claus village and cross the Arctic Circle 50m underground at SantaPark.
It's definitely one of the most Christmassy places you could visit.
Bethlehem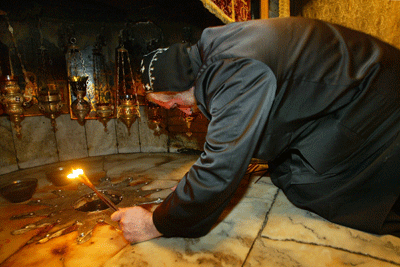 Journey back to where it all started over 2,000 years ago. 
People from all over the world make the pilgrimage to Jesus' birthplace in Bethlehem at Christmas.
If you're planning on making the trip, be sure to visit the sacred sites including the Church of the Nativity – the location where Jesus is believed to have been born.
There are also plenty of concerts going on so you won't be short of anything to do.
If you're looking for a quieter Christmas, head to the small farming village of Bethlehem in Wales and send your Christmas cards with that unique Bethlehem postmark.
Santa Claus, Indiana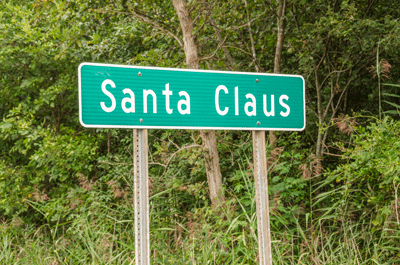 Yep, you read that right.
Santa Claus is a town in Indiana, USA and it more than lives up to its name.
With a Santa Claus Museum and a 1.2-mile Land of Lights at Lake Rudolph, you'll never hear the kids saying "I'm bo-o-o-red".
Pick up some treats in one of the many Christmas stores including the aptly named Holly Tree Christmas Shop and enjoy a drink at the local craft beer festival – the Brew Ho Ho.
Barcelona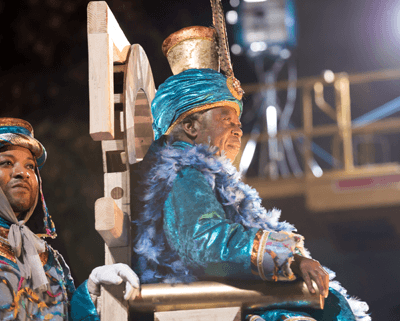 Christmas comes and goes so quickly, doesn't it?
Not in Barcelona!
The celebrations continue until January 6th - Three King's Day - when the Kings arrive by boat in Barcelona's port and parade through the streets.
They're accompanied by dance and circus acts on decorated floats and treats are thrown out to children in the crowd.
It's quite the spectacle to behold!
New York
We couldn't miss the Big Apple off this list.
New York is famous for the oversized Christmas decorations that adorn the city, making it a spectacle in December. Marvel at the huge Rockefeller Christmas Tree, go ice skating in Central Park and get down to the Radio City Music Hall to see the Rockettes Christmas Spectacular - an all-singing, all-dancing festive extravaganza.
If that's not your cup of tea, grab a hot chocolate and take a walk in one of the city's many parks or if it's truly a White Christmas, go sledding instead.
Christmas Island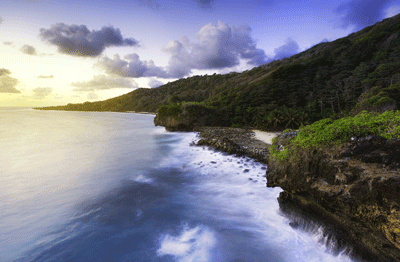 Could you get more Christmassy than a place called Christmas Island?
Named after its discovery on Christmas Day in 1643, Christmas Island lies in the Indian Ocean and is actually part of Australia. If you're looking for a more tropical way to celebrate, this is the place to be.
Turn off the Only Fools and Horses repeats and make your Christmas one to remember by going scuba diving or snorkelling.
You can even go turtle spotting on the island - keep an eye out for hatchlings as the nesting season takes place all year round.
If you're lucky, you could witness the phenomenon that is the annual red crab migration taking place – it sees the creatures leaving burrows in their millions and heading to the sea to breed.
You'll be a world away from the family arguments at the dinner table.
Book your travel insurance as soon as possible to take full advantage of the cancellation policy. Find the right insurance for you at GoCompare