It's that time of year when hundreds of jolly red costumes and false beards are removed from the attic, dusted down and prepared for the festive months ahead.
But what's it like to don the suit and go 'full Santa'?
We've managed to establish contact with a real-life community Father Christmas to get the low-down…
How did you get the Santa bug? Was it something you always wanted to do?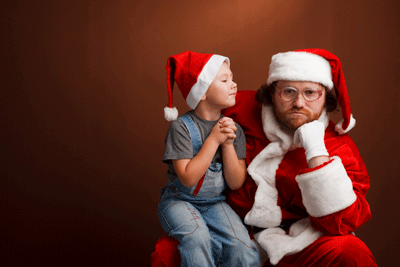 Being a Santa was never an ambition, but it's always been something I'd agree to do if the chance came as I have a keen interest in novelty, mild attention-seeking and, most importantly, LOLs.
So, when a local community group who were very supportive to me and my partner as new parents were let down by a Santa at a festive fete I knew I was the man to help them!
That was 2012. I've been their annual Santa ever since.
What's your Santa 'USP' – are you on a traditional flex or do you put your own modern spin on it?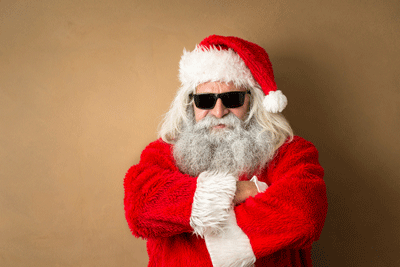 At 38 I'm a pretty young one, but bottom line a pretty traditional budget Santa. I do like to pull the odd gang sign when I'm alone, mind, just to boost my confidence and heighten the ridiculousness of it all.
My two signature moves when in public-facing Santa mode is to go full-on Brian Blessed. I also have a catchphrase: "do you clean your teeth twice a day?"
Dental hygiene is a great leveller.
I've found the "have you been good and do you help your parents out around the house?" lines of enquiry have too many possible awkward situations with the parents as every family has different expectations of what kids should do around the house.
But everyone has teeth and cleans them.
Tell us about your first Santa experience – were you nervous?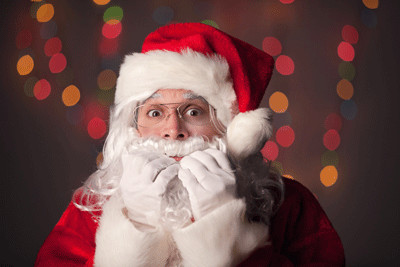 Hell yeah! I was worried I'd be hauled over the coals over my validity and get questioned on the names of the reindeer and words to Christmas carols, so I did a little swotting before the big debut.
Turns out I was worried about the wrong thing… The cold hard reality is that you often make kids cry and run away.
You have to pretend you've understood a lot of mumbling or enthused hyperactive chatter about toys you've never heard of.
You have to give a response that's genuine enough for them to be chuffed but vague enough not to make false promises for the parents and set them up for a fall.
Also, remembering names of a large family or group of friends. I had no idea it would be so intense!
What's the most embarrassing thing that's ever happened to you while Santa-ing? Perhaps a stray beard, or a wardrobe malfunction?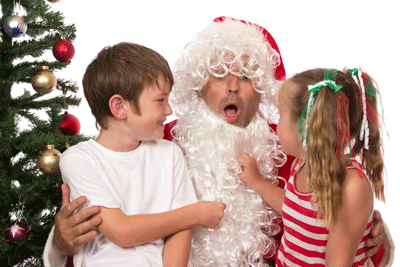 The first time I was terribly unprepared and had a Metalheadz (drum and bass label, owned by DJ, conductor, graffiti artist and occasional EastEnders baddie Goldie) t-shirt blatantly showing through a gap in the jacket.
I was also wearing smart shoes because they were the closest thing I had to boots. There's a reason Santa wears boots and it's not for traipsing up rooves - it's because shoes are a Santa sartorial no-no.
But in a dimly lit room echoing with my poor Brian Blessed impersonation – all accelerated by the fact that most kids just straight-up think you really are Santa – I realised it's cool.
No one is scrutinising you or looking, as I'd initially feared, to break your cover.
One thing I won't forget was more unfortunate than embarrassing – I told a kid I'd see him on Christmas day and he said he'd be in Australia.
I made a joke about there being no snow at Christmas down-under and his face instantly fell. Clearly he hadn't been informed about hemispheres as his mother behind him was making vicious cut-throat gestures at me.
I had to take back what I'd said and re-lie to him (as if being a fake Santa isn't quite enough of a lie in the first place!).
It was pretty brutal.  
What's the best thing about being Santa?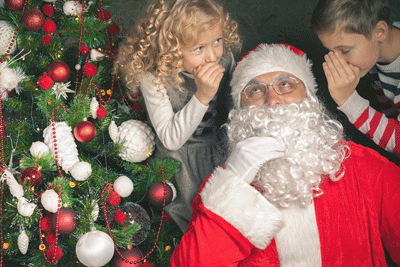 The ridiculousness of it and the fact kids are buzzed to see Santa. You end up having weird off-the-wall fantastical conversations with kids and their parents.
At the event I do, some kids end up coming round a few times with siblings and start setting up running gags or giving me pictures or chocolates. It's very cute.
Plus, you get to hear hot tips and gossip about all the toys your own kids are likely to want in the near future.
Any top tips for any budding Santas out there?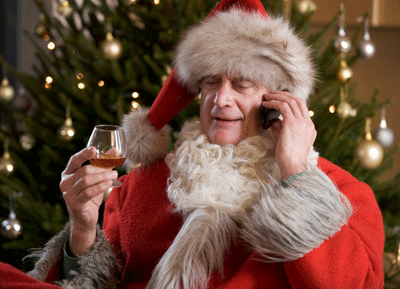 I can only say this from community-based Santa experience but don't worry – no one is trying to break your cover or crack you with interrogation.
Even the older kids who know you're not really the real Santa tend to keep it cool because they have younger siblings or enjoy the farce of it all themselves.
I would suggest not getting too specific with questions about being good for parents and so-on, as you don't know what their family set-up is. Let them do all the talking. And make a note of remembering their names.
Oh, and don't eat any chocolates or sweets they give you – you'll get fake beard hair in your mouth and you can't just grab a glass of water as you have to lift the beard up to drink it. It's a nightmare.
Finally, what are you most looking forward to about Christmas this year?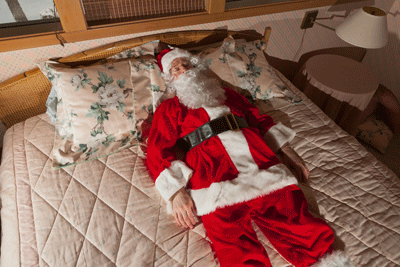 A new suit! After a few years of being creative with an entry-level suit, it seems to have been agreed that this is a regular feature and something I do once a year now.
So a suit is a worthwhile investment and is being upgraded to something a little more professional as we speak. A whole level of Santa-ism begins.
Share your Santa stories with us onTwitterandFacebook.
Compare home contents insurance for all your new Christmas gifts with Gocompare.com