Euro 2016 will come at your eyes and ears with more big numbers than an episode of Countdown.
There'll be capacities at the stadia in France measured in tens of thousands, rumoured transfers casually counted in millions of pounds, and TV viewing figures that extend far beyond Europe to a global audience of billions.
But what about the data at the sharp end?
Who crunches the numbers for teams in the planning process? How do the logistics guys know how many bottles of water it takes to quench a squad's thirst during a month in the sun?
The answer, by the way, is 12,000.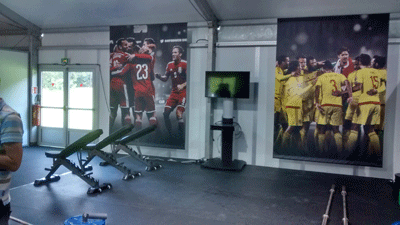 At least that's the number of bottles of water Wales have in stock at their training base in Brittany as they prepare to face Slovakia, England and Russia in the group stages.
They hope they'll need a few drops left for the knockout matches.
On the pitch, Wales have Gareth Bale, Aaron Ramsey and captain Ashley Williams in their ranks.
Their logistics team comprises Mark Evans playing up top as head of international affairs, with advance party manager Amanda Smith in midfield, and Kevin Moon – team based facilities manager – sweeping up at the back.
Getting to the tournament – Wales' first since 1958 – has taken some serious preparation.
"The plan started in earnest after we beat Belgium last June," says Evans. "We realised something was happening and we needed to be ready."
So, if you're intending to take a group of very expensive players, plus staff, to an every four-year footy-fest any time soon, this is how you do it…
Do a reccy. In fact, do a few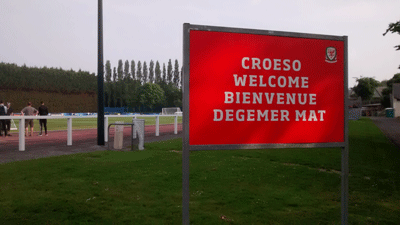 Smith visited six locations before settling on Dinard in northern Brittany after talks with Wales team manager Chris Coleman.
She then made twice-monthly visits to the chosen hotel and also visited (twice) each hotel in three match-day location cities of Bordeaux, Lens and Toulouse.
The team hotel houses the 23 players, plus 36 staff which includes coaches, medics, physios, analysts, key administrators and security.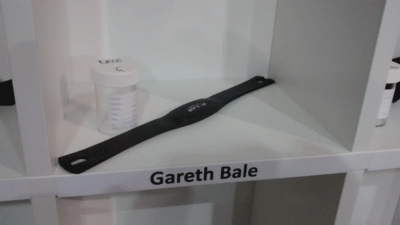 A second hotel is booked at every venue for 'followers' who include sponsors, other staff and UEFA go-betweens.
"We have around 500 hotel rooms booked around France," says Smith. "Certain players like to share. Some like to be on their own. They all have single rooms, but they can be adapted into twins.
"It's up to the players' preferences. Wayne Hennessey needs to have Joe Ledley with him. As long as he's got Joe, he's alright. They come as a pair."
Find around £1m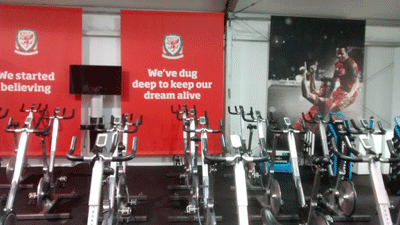 The Football Association of Wales (FAW) allocated a budget of around £1m for the tournament.
Within that, they needed to pay for a hotel for a month (£600,000), hire a training ground, and build a temporary on-site gym and media centre. They also built an identical gym at their pre-tournament training camp in Portugal.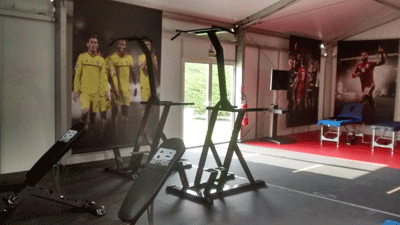 If they had taken an alternative base near Paris, the cost would have been £2m. But they insist Dinard was a better fit, away from the chaos of the capital and allowing them to exploit local support through Celtic-Breton connections.
Evans says: "It wasn't about the money. Yes, we have made sure we scrutinise the spend of every penny, but it was about making it the right experience for the players."
Get building, get seeding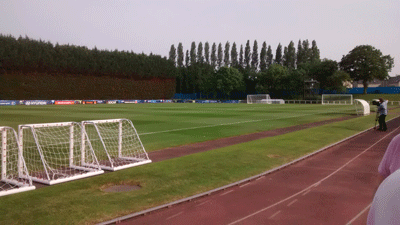 Wales hired their own groundsman Phil Williams, ex-Cardiff City – and sent him to Dinard to sow the seeds of success – literally.
He recruited six local groundsmen and together they seeded and prepared the grass on three pitches in the months before the squad arrived.
Did I mention the length of cut? Each cut of the grass was done to the same specification as UEFA use for their tournament pitches. And not just length, but direction of the trim (giving the grass those lovely contrasting shades of green you see on TV) had to be identical so that a ball in Dinard will roll like a ball in Bordeaux.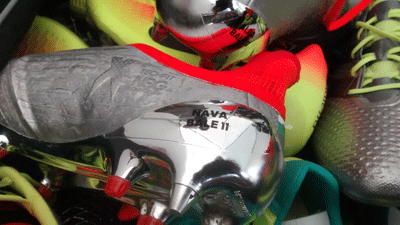 The pitches and the gym cost around £250,000 to £300,000. With another £150,000 for the media centre.
The gym is fitted out with one medical centre, 24 static bikes, weights, frames, a warm-up area, music speakers and air conditioning.
Moon says: "It took three huge vans to deliver it all. The biggest structure was the marquee itself. That took four or five days to build the superstructure and then another four or five days to fit it out."
Rent a private jet
And, please, not just any old jet. One that's going to impress Bale, who's used to jetting it large with Real Madrid.
Wales went to a Maltese company and picked one with 60 seats, all business class, all leather. Nice. It's sat on a runway near Dinard.
Evans says:  "We took it on a dry run when we went to Portugal. Players loved it. All our flights in France are only an hour. The big challenge is not the group stages, but what happens in the round of 16.
"We will end the group in Toulouse, but where do we go next? We have a reservation on it for the whole tournament. If we don't get through, then we don't need it."
Hire a good chef. In fact, hire two
In France? Yep. Wales' own top guy is based in their team hotel.
It's not that they want to ignore French cuisine and live on their own supplies of leeks and laverbread. It's more to do with precisely devised, individually-tailored dietary requirements for 23 professional athletes.
Smith says: "We have our own menus which we submit to the hotel. That's followed strictly for each meal time. Another chef travels ahead as part of the advance party. We have two days to set up, ahead of the team."
Extras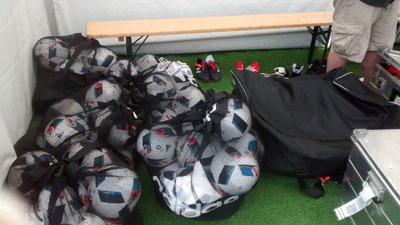 Dealing with global superstars like these, need some security.
Wales have a small, expert three-man team, who have learned to be flexible.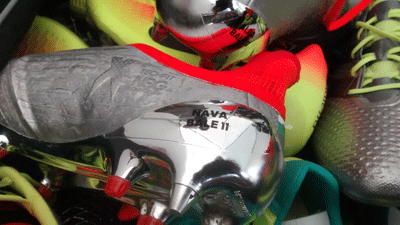 When they landed in Macedonia to play a match, the minders protected Bale.
Unfortunately, they didn't know they'd be greeted by the Macedonian branch of the Arsenal Supporters Club. While Bale was flanked, Ramsey got mobbed.
If you can, recruit an advisor. Wales hired Adrian Bevington, a former top executive at the English FA.
Oh, and pack your own spices.
Intense, in-depth research revealed to Wales that Cajun spice was sometimes hard to find in Brittany. To be on the safe side, they took their own.
Tell us about your own preparations for the big summer of football on Twitter and Facebook