Your suitcase is packed. The tickets are booked. You're raring to go. And then you see those dreaded words on the board - 'delayed' - or even worse, 'cancelled'.
During the winter months, it's not unusual for flights to be affected by heavy rain, fog or even snow. As disappointing as it may be, there are ways to ease the pain. Slightly.
What am I entitled to from the airline?
First things first, contact your airline directly - they'll be able to tell you exactly what they can do for you.
The airline isn't legally obliged to provide compensation if your flight is cancelled or delayed because adverse weather falls under the umbrella of 'extraordinary circumstances'.
It's out of their hands so technically, they don't have to offer you anything for your misfortune. They should, however, help you out while you're waiting around, as well as refunding the cost of your ticket if the flight is cancelled altogether.
Alternatively, they could find you an alternative method of transport or the chance to rebook at a later date.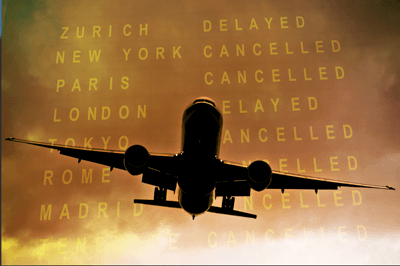 A spokesperson for the Civil Aviation Authority (CAA) said: "The airline must provide care and assistance to the passenger during periods of disruption when flights are significantly delayed."
This may include supplying refreshments and helping to sort out accommodation or onward travel plans.
According to EU regulations, in the event of a delay lasting two hours or more, passengers must be offered free meals and refreshments, plus two telephone calls or emails.
If the delay lasts more than five hours, you're entitled to reimbursement for the full cost of the ticket. If your flight is delayed overnight, passengers are required to be provided with hotel accommodation and transport to the hotel.
Things to keep in mind  
First, hold on to any receipts, just in case your airline is able to reimburse you at a later date.
Also, bear in mind that if you don't agree with the airline's 'extraordinary circumstances' claim, you can challenge them, especially if other flights are going ahead.
You can also contact the CAA for support - they can offer advice on what to do next.
What can my insurance do for me?
While the airline doesn't have any obligation to reimburse you for delays, your insurer might have your back.
Check your travel insurance policy to see whether you're covered for a delayed flight and make sure you get written confirmation of the delay from your airline in case you need to present any evidence to your insurer.
Pam Quinn, head of communications at BIBA said: "policies will specify the minimum length of delay that must arise before any compensation is paid.'
Some policies will declare how much compensation will be paid out in the event of a delay while others may cover you for 'incurred expenditure for food and drinks and perhaps hotel accommodation up to a limit.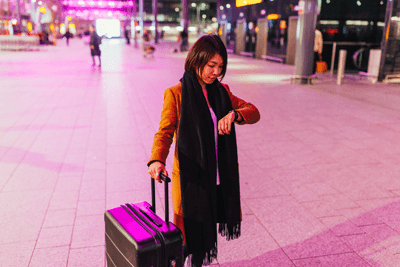 It's not only a delayed flight that your insurance can help you out with. You may be covered for a cancelled flight too but there's usually restrictions to watch out for.
In most cases, it'll have to have been delayed for a certain amount of time first - typically, 24 hours.
"In terms of other cover some policies may also include missed departure where adverse weather affects scheduled public transport and prevents an insured person from getting to the airport," Quinn added.
If you're planning on rearranging your trip, it may also be worth asking your insurance company whether they're able to switch your travel insurance over to cover the new dates.
Compare travel insurance with Gocompare.com
Have you ever been stranded at the airport? Share your story with us on Twitter and Facebook