We all know the benefits of electric cars and vans - green, incredibly cheap to run and increasingly credible for everyday use - but where are all the electric motorcycles?
You don't clock them down the new bike dealerships like you do with battery powered cars, given pride of place on the forecourt beside a charging point.
Indeed, most of the mainstream bike dealers are yet to punt out an electric offering.
 
But with ranges and top speeds increasing, we might be on the cusp of an electric bike revolution - here's why.
1. Running costs are ridiculously cheap
As with electric cars, battery powered motorbikes have a massive fuel cost advantage.
For a true budget buy, Yamaha's dinky EC-03 moped has an MSRP of just £1,200 and costs pennies to run.
Ok, it's not breaking any records with a top speed of 28mph and a range of around 14 miles, but for someone living on the edge of town, it could be a handy low-budget run-around.
Getting insurance is straightforward - I ran a quote with Gocompare.com and with my six years' no-claims I got a handful of quotes around the £200 mark.*
You don't even need a bike licence as it can be ridden with a provisional, L-plates and a CBT.
Finally, as leccy bikes are zero-emissions, there's no road tax to pay, which saves you up to £82 a year.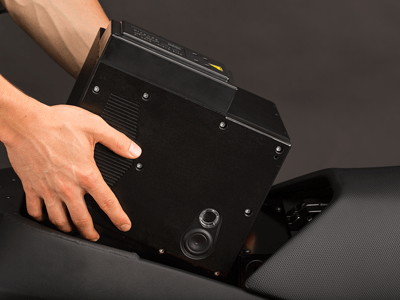 And yet…
Although I was pleasantly surprised to find electric bike insurance was actually readily available, I quickly realised £200 a year wasn't a great deal less than I pay for my 650cc gas guzzler – and it throws out a lot more than 14 miles at 28mph.
While still a scooter, BMW's C-Evolution seems more viable for my commute. With a range of 62 miles and a top speed over 70mph, it might just manage my 30 motorway miles each way.
Unfortunately, it'd cost me £12,000 to buy, even with the government's electric vehicle grant (more on this in a moment).
Again, while I was pleasantly surprised to find a choice of four insurance quotes from Gocompare.com, the £600-700 cost might make me think twice.
After all, I'm pretty attached to my Kawasaki ER6F and could have a spanking new one for £6,049.
My weekly tank of fuel costs me about £15, so that's a maximum of £780 to recoup each year - leaving me around £5,800 out of pocket in the first year.
Eco-minded though I am, that's not enough to tempt me, especially for a scooter.
In fact, the most realistic prospect for mid-range bikers like me is the sporty numbers from electric-only manufacturer, Zero, but sadly no insurers gave me a second glance via Gocompare.com.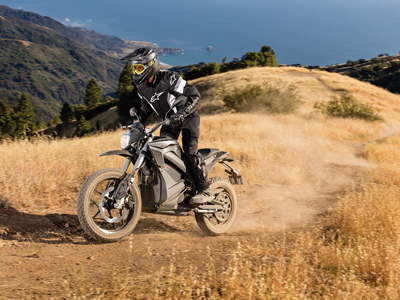 Zero's UK country manager, Erik Huisinga, explained why: "As a company, we are appealing to British insurance providers to help them better understand our products and customer profile.
"We know that underwriters look at historical data when assessing risk and that electric motorcycles are still relatively new and on the road in small numbers, so there's not always much data out there.
"However the number is increasing and we would expect that there will be no problems insuring a Zero motorcycle, the same way that electric cars are readily insurable."
For now, it's a case of shopping around and checking directly with specialist insurers.
2. The government gives you a discount
Smug electric car drivers have been enjoying a raft of grants and discounts since 2011, while electric bikes have fallen by the wayside.
Not any more - since October last year, bike buyers now benefit from a grant of 20%, which is up to a £1,500 maximum, towards motorbikes with a range of at least 31 miles (19 miles for mopeds).
Government grants could really accelerate the electric bike mass-market as well, meaning more choice and potentially lower prices in the longer term.
"Since rumours of the grant surfaced last year, our dealers have seen a real rise in interest in the Zero range, which has translated to increased sales over the past month or so," notes Huisinga.
Stevie Muir, spokesperson at the Motorcycle Industry Association (MCIA), also hopes the grant will have a positive knock-on effect: "Importantly, the subsidy is only available to machines that meet certain quality criteria, so it's a way to drive up standards.
"We already know of importers who are working with their manufacturers to improve battery spec in order to qualify for the 'plug in' subsidy, so it's working."
And yet…
A grand and a half's not to be sniffed at - yet it's unclear why this incentive is so much less impressive than the 35% (up to a maximum of £4,500) offered to eco-minded car drivers…
3. There's less fiddle-faddle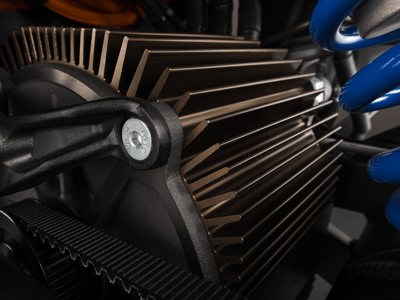 One argument in favour of a battery powered bike is that there's a bit less involved in servicing due to eliminating liquid or air cooling, plus lots of consumables.
No oil changes means more riding time and lower cost - an appealing thought.
And yet…
Personally, I'm a big fan of minimal maintenance, but it has to be said that many bikers are avid fettlers.
I definitely have a biking pal or two who would be lost of a weekend if they didn't have to break out the paddock stand and drip-tray…
4. They're whisper quiet
I live on a street that a number of retired folk call home.
A few of them are also bikers, but I still feel somewhat self-conscious about roaring out at 7am while their curtains are closed.
 
Some electric bikes have artificial engine noise, but there are also options that let you glide ethereally off the drive in near-silence - which your neighbours might thank you for.
Behold!
And yet…
I have one or two reservations about this silence, particularly in urban traffic. Will cars see me coming at junctions? Will pedestrians step out?
"Regarding the noise, defensive riding is the key and any rider who doesn't bother developing defensive riding skills is leaving themselves unnecessarily vulnerable," says MCIA's Muir.
Well that's me told, then…
Whether you have an electric model or a gas-guzzler, find theright insurance for your motorcycleat Gocompare.com
Electric motorbikes - yay or nay? Let us know on Twitter or Facebook