"I want a dog."
That has been my desperate (but ultimately, hopeless) demand for 30-years and one month.
In 1987, I was propped against a giant teddy bear to watch BBC TV series One Man and His Dog along with eight million other adoring viewers. I was silently and immediately in love.
And why not? Dogs are an irresistible and inimitable source of exuberance.
A single pat on the head and ruffle behind the ears is proven to make us happier, improve our heart health and reduce the symptoms of depression. They even make us more sociable.
Three frustrating decades, two allergic family members and nine reluctant landlords later, I've bought a house and finally I'm able to look after a dog without inducing an asthma attack or damaging precious suedette sofas.
I, like millions of others, am searching for the dog of my dreams, with no clue where to start.
Hello, Google.
Digital dogs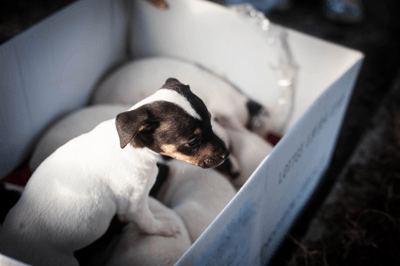 In 2016, the RSPCA estimated that 30% of puppies are sold through the internet
My favourite search on a slow day is: "puppies for sale," and it's a popular one in the UK.
Googled an average of 110,000 times every month, there are a staggering 13.9 million results to choose from.
In March 2017, the top three results - Gumtree, Preloved and Pets4homes - had tens of thousands of classifieds ads, all pedalling new litters and single pups, ageing dogs, crosses and purebreds, all looking for new homes.
There are many thousands more on Facebook Marketplace.
Without exception, the dogs are adorable and many are "ready to collect immediately."
Classified fraudsters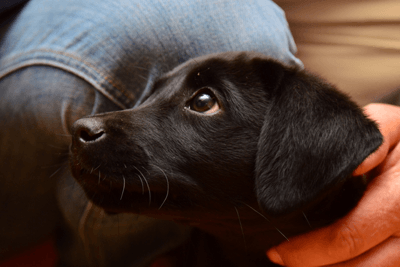 Using classified websites to find a bargain or local purchase is a tactic in every shrewd shopper's artillery, but watchdogs warn it's not without issue. 
According to Citizens Advice in 2014, one in six Gumtree listings are scams or potential scams. One of the most popular scams - when an item does not arrive after payment - was in relation to pets. And in the three years since the report was published, there is little evidence to suggest that things have got any better.
In December 2016, Action Fraud warned shoppers that fraud on Facebook Marketplace was rife as there's no secure payment facility.
When buying online, we use intuition to evaluate the risk, but that's not enough to keep us safe.
Usually, reviews or personal experience inform whether the purchase and seller are trustworthy, but classifieds offer no such reassurance.
A calling card of digital puppy farming is duplicate adverts. If you shop around using multiple websites, you may spot that different litters sport identical descriptions and recycled images. As the dogs are available to 'take home today', priced competitively, and irresistibly cute, shoppers may not shout 'Snap!' and play detective, and instead snap-up a pup without concern.
Remember, the circumstances under which you collect the puppy are also unknown and when you're face-to-face with an otherwise anonymous seller, it's potentially very dangerous.
Puppy farming can cost you dearly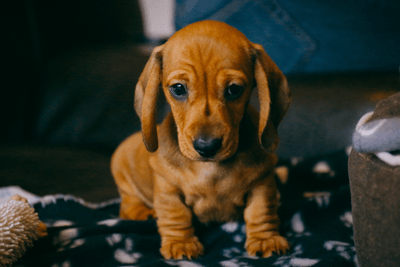 Puppy farming is the commercialised and cruel mass-production of dogs.
According to research by Gocompare.com in 2017, 5% of shoppers thought that buying a dog from a puppy farm was a good way of getting an animal that's responsibly bred and raised.
The reality is quite different.
Exposed to psychological torture, inhumane living conditions, deadly diseases and little-to-no healthcare, (although vets are trying to help under the radar where they can), puppy farming is a dangerous and irresponsible trade.
Puppy dealers use fake photos in polished digital shop fronts, and sometimes rent housing and 'show' mother dogs, to build a caring - but fictional - picture of the puppy's first steps.
The dogs may even be delivered to the dealer from elsewhere minutes before the buyer arrives to collect.
Although, the same research conducted by Gocompare.com found that just 52% of shoppers want to see the puppy with the mother in its home environment.
Author and campaigner, Janetta Harvey, rescued a breeding schnauzer that had suffered years of abuse at a puppy farm. She's since written a series of books about her and the dogs' experiences.
"The internet made the business of selling puppies an easy one for anyone to get into and make a lot of easy money from," she says."Advertising is cheap and easy. Regulation is almost non-existent, so with little effort, hundreds of puppies are sold every year, often to impulse buyers."
The real cost of puppy farming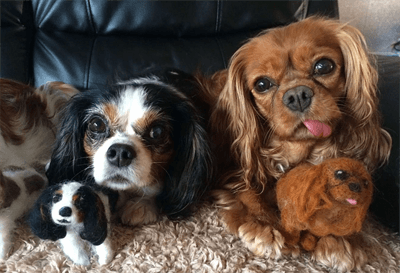 One in five shoppers purchasing through the classifieds will spend between £500 and £1,000 on vets bills within the first six months of the puppy's life, but just 39% of shoppers give a second thought to the puppy's healthcare pre-sale.
Lisa Garner adopted Lucy the cavalier in March 2013 after rescuing her from a puppy farm.
"She was a tiny 3.5kg, skin and bones with bald patches to her fur, and stained feet from being kept on a urine and faeces covered floor", she recalls. "The ammonia in her urine had burned her skin. She had fused hips and a severely arched back, to the extent that her back feet virtually touch her front".
As well as the physical scars of many years of neglect, Lucy was psychologically affected too.
"She had separation anxiety, a fear of doorways, cowered when you went to pick her up and an obsession with food, eating as if every meal was her last," says Lisa.
Lucy battled with health issues throughout her life. She was virtually blind in her left eye and had a painful condition called dry eye which was managed with frequent drops. She also suffered from epilepsy, again managed with various medications.
The dealers are responsible for the pain of the dog, but Janetta thinks consumers shouldn't blame themselves for not investigating more thoroughly. "Even if you've done some homework and quizzed a seller, chances are their responses will be rehearsed and convincing, even if their methods are irresponsible, because they want maximum sales," she says. 
It's diabolical cruelty, but make no mistake, it's also criminal fraud.
Fight back against fraud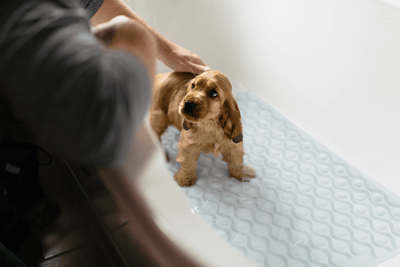 Turning your back on a puppy in pain and in need is unthinkable, but fighting back against fraudulent trading and cruelty to dogs means boycotting the digital shop fronts and consumer catfishing.
Janetta says: "When buyers feel doubtful, they find it impossible to walk away and leave behind the puppy they see. People genuinely believe they have 'rescued' the puppy, but in reality, they've just provided another sale and provided another reason for the mother of that puppy to be bred from again.
"It's a demand and supply market unfortunately for dogs like my schnauzer, Susie-Belle."
If you have any suspicions contact the classified website, your local authority and the police to report the seller. Puppy dealers can be convicted for fraud if the evidence presents itself.
Although, the maximum sentence under the Animal Welfare Act is only six-months in prison and an unlimited fine.
In 2016, there were 3,691 reports made to the RSPCA's emergency cruelty line relating to the puppy trade - an increase of 132% in five years - and 1,226 dogs have been rescued since 2013, but that's only the tip of the iceberg. 
 
Together with the police and RSPCA, dog lovers must continue to be vigilant, watch out for the puppy farming warning signs and report the sellers they believe to be farming puppies.
Ready for a puppy?
If you too are dreaming of owning a dog, it's easy to get swept up in the accessibility and immediacy the online classifieds offer.
When you're negotiating with the breeder over text or email, this is the time to ask the important questions about the breeder and their operation, the puppy's age, its parents, and health concerns such as microchipping, vaccinations, plus try to arrange visits before you part with any cash.
Read our Puppy Harming infographic and shop safely for your new forever friend.
Do you have an experience with a puppy farm? Tell us onTwitterandFacebook