Are you nuts about helmets or do you just want a helmet for your nut?
The majority of motorcyclists fit into one of two groups when it comes to head protection: those who love wearing a quality helmet and are happy to pay top dollar to get the best.
And those who go down the cheap and cheerful route, because it's just a skid lid, right?
That covers most of us, but there is a third group to whom the wearing of a helmet is the equivalent of tribal headgear…
Make a statement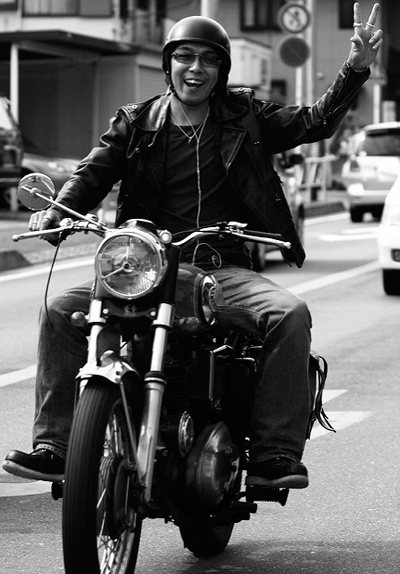 'Statement' helmets can be radically different in shape to a conventional full-face. Or they can be 'creatively' modified.
There are custom paintjobs designed to amuse, shock and provoke. Motorcycling may have gone mainstream, but the outlaw in us all will not be silenced!
The 'rebel' look, popular with beardy hipsters on neo-retro bikes, is the traditional open-face helmet.
Not too shiny, leather lined, visor removed, rocking Steve McQueen - it looks cooler than just about anything, ever.
In fact most photos of McQueen on motorbikes show him riding bare-headed, which of course has been illegal since 1973.
He also favoured a peak on his open-face,  deemed naff by today's biking Don Juans.
Freak show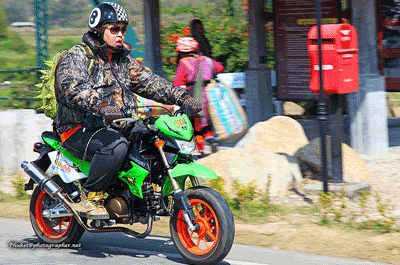 Image: Phuket Photographer via Flickr
This leads us onto another popular helmet mod which is when they are painted or modified to look like anything but a helmet.
Take your pick from day-glo pink mohican, bunny ears and devil's horns, Cookie Monster fur-covered, paint jobs of complete heads, or anything round and helmet shaped from walnuts to, inevitably, bums.
Leading light of the custom paint job is Valentino Rossi, the Italian racing god.
His helmet designs range from hilarious selfies to mad donkey faces and the famous alarm clock helmet mocking 'The Doctor's' rubbish timekeeping.
Many of Rossi's helmet designs and those of other famous motorcycle racers down the years have been reproduced on helmets for street use.
These designs are often found on high quality full-face helmets worn by sports bike riders in pristine leathers on their immaculate rocket ships.
Prices reflect the quality of materials, often using composite materials and offering higher levels of crash protection.
At the other end of the helmet spectrum are what could loosely be termed as 'mutant'. These helmets, either custom painted or modified, cover anything which references Star Wars, Predator, skulls and all things goth or 'rat'.
Safety first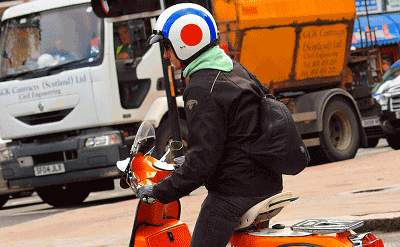 Retro helmets for rockers, pothole lids for the chapter members - is there no end to the variety of headgear worn by bikers? It would appear not.
And while it's a hoot to decorate, modify or add paint, it pays to remember that in the event of an accident your helmet is the one thing most likely to save your life.
Research by the government-funded testing and advisory body SHARP indicates that 70% of thise sustaining serious motorcycle injuries include the head.
It adds that 50 lives every year could be saved if motorcyclists bought helmets which have scored highly in SHARP testing.
Don't panic if your helmet does not achieve a high rating but it is worth checking that it meets the minimum standard demanded for helmets sold in the UK: UN-ECE 22-05 or British Standard 6658.1985.
Size matters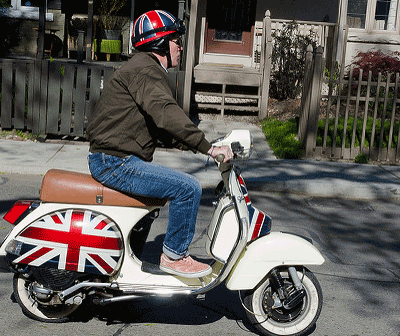 Image: Niel Moralee via Flickr
Even a budget helmet should meet these standards and while a more expensive version may offer higher levels of protection, a good fit counts higher than a fancy paint job or quality lining.
Unless you are absolutely sure of the size it's always best to try various helmets before making a purchase.
It's surprising how different shell shapes and padding can affect the comfort and snugness of fit.
Many of the helmets described above are of open-face design and there's no getting away from the fact that they offer less protection than a full-face conventional road helmet.
The visor fitted to a full-face helmet also offers the best protection for the eyes. Stops ('ice cream face' in winter too.)
Step away from the mods, please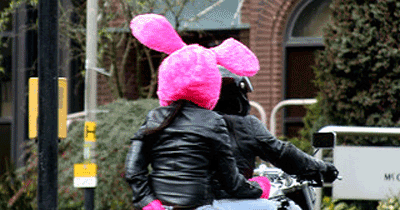 It's bad news for the bunny ears and aerosol paint brigade we're afraid.
You should never apply adhesives, paints or strong cleaning agents that are not certified helmet friendly.
Damage to the surface can compromise shell strength - you should always use helmet-safe cleaning products and specialist custom paint finishers. (They will do a much better job on your scantily dressed maiden with dragon motif.)
You should also check your insurance cover as to whether modifying your gear will invalidate a claim.
Look after your helmet and with regular use it should last at least three years, or five if worn occasionally.
Keeping the outside shiny, the visor bug-free and the lining fresh (don't shove your dirty gloves inside), using safe care products will ensure a long life for your lid.
So go ahead, get that chrome bone dome you've always lusted after…. just please make sure it's certified approved and fits properly.