I'm on tiptoes on both feet.
Just lifting the bike off the stand makes me feel unstable and weak; one false move and I'll topple the whole thing, snapping mirrors, denting the tank and being trapped in an undignified heap below it.
I trigger the ignition and there's a knot of fear in my chest. I waddle the bike forward, bipping the throttle and face it down Swansea's infamous Constitution Hill. The cobbles churn and gape in front of my eyes.
I waddle the bike back to its parking spot, cover it and go back indoors.
Defeat, again.
It hasn't always been this way. Three years ago I lived in London, didn't own a car and travelled hundreds of miles a week on my white Triumph Bonneville. I filtered through traffic, spent full days on the motorway and popped to the shops without a second thought.
Then I moved to Wales, sold the Bonnie and had two years out the saddle. When I got back in, my courage wasn't where I'd left it.
My poor Kawasaki ER6F - that I'd been desperate to buy - sat neglected and rusting under a cover on the road for 18 months.
In January this year I moved house and shamefully paid a bike mover to transport it to my new place, just 25 miles away.
I decided enough was enough. This was not going to be the story of how I quit biking.
It started with a list
I decided to make a list of all the things stopping me riding and cross them off so I had no more excuses.
Here's what it looked like: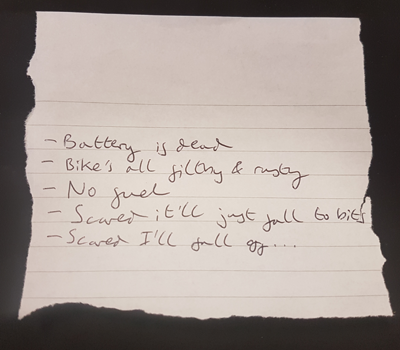 Time to start slaying some demons.
Getting back on - without getting on
The first three items were straightforward. And none of them involved actually getting on the bike.
I dropped £25 on a new battery and a fiver on a can of petrol, inserted both and was pleasantly surprised to find the neglected beast still coughed into life.
I also bought some cleaners and lube and gave it all a bit of attention. Just watching the dust slough off was strangely therapeutic and for the first time in quite a while I felt like I actually wanted to take it out.
Which is just as well, because it was MOT time.
MOT, or not MOT
Without the ferocious cobbled descent of Constitution Hill to contend with, one mental demon was vanquished already. Ok, I may have tried to use the foot brake to put it in gear, but I was pleased to find I remembered the ropes pretty fast and surprisingly actually enjoyed it.
I was somewhat amazed when it flew through its service and MOT - although when I saw the last year's mileage it felt like an accusation. The shame!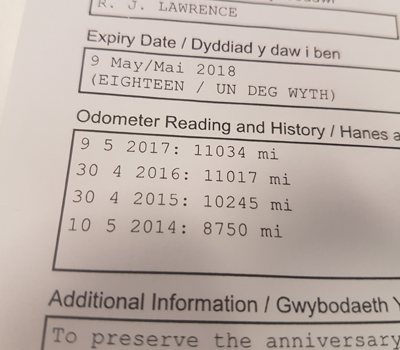 A few more short jaunts and I was feeling a bit less wobbly, but still woefully under-confident at every steep gradient and bend.
Time to call in the professionals – I rang Vale Motorcycle Training and with no little trepidation booked their 'Rusty Rider' refresher training.
Getting professional help
On training day, I rolled up at the school with a sense of unease. Would I be forced to venture beyond my pottering speeds and end up riding into a hedge?
Well not immediately, because after introductions to police biker Darryl I was put through my paces around cones at the test centre.
Honestly? I thought this bit would be a doddle. I passed my CBT and test eight years ago - my cone squishing days are behind me!
So I was surprised to find all my on-road issues manifesting here - arms locking, terror of toppling over at slow speeds…
A few more rounds and some expert instruction later, I'd learnt to bend my arms and was managing figures of eights and slaloms… which meant it was time to try it out on the road.
Bend it like Brecons
I'll admit to being fairly horrified when Darryl revealed we would be riding to the Brecons. It's a fair trek, characterised by bends, hills, erratic sheep… basically all the things that raise my blood pressure.
But once we got there, among the sheep and the cliffs, it was pretty hard not to feel like I was on the perfect vehicle for these epic vistas.
"DON'T BRAKE – HOLD YOUR SPEED THROUGH THE BEND," Darryl calmly piped up in my earpiece.
This was very much the theme. My biking isn't terrible, I've just lost all confidence in both my abilities and the bike's, feeling like it'll veer off the road once I notch up a few mph.
And that's where a course like this comes into its own - sometimes you just need a voice in your ear, shouting down the demons and telling you to shift up, adjust your line, hold your speed…
"You were a different rider on the way back to the one who set out this morning" Darryl told me as we arrived back at the test centre.
I asked him whether bikers are reluctant to book this sort of course - after all, it involved admitting you have problems and you don't get rewarded with a bike insurance discount as you would if you did an advanced rider course.
"Not at all," he tells me - the course are popular. "You get one-to-one tuition which you might not necessarily get on an advanced course."
There's also no pressure to pass or fail - it's just a full focus on getting the rust polished off your riding.
And while I'm still a pale shadow of the rider I used to be, it's sharpened up my skills to the point where it's got my dander up for more frequent bike trips, hopefully with a bit more ability and confidence to match.