You've packed the car up. Checked the petrol. Even stocked up on snacks. But you're missing one major thing…
A whopping 71% of those who'll be driving abroad this year admitted to not always checking whether their insurance will remain fully comprehensive during their holiday according to GoCompare's latest research.[1]
While the majority of policies will offer the same cover within the EU as you have at home, some will switch to a third party policy as soon as you leave the UK.
So checking your insurance before you set off could save you a lot of hassle and money.
What could possibly go wrong?!
Daniel Reddington from Croydon had an 'at-fault' crash in Italy 18 months ago.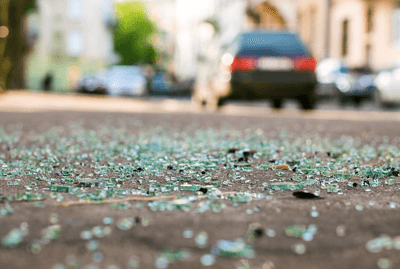 "We were mid-way through a camping trip across France and Italy," he tells us. "A tyre blew out and the car swerved across three (fortunately empty) lanes. We smashed almost head-on into the central reservation.
"We had fully comprehensive insurance but in the horrible aftermath of the crash, I noticed the certificate of insurance said it provided minimum cover in the country you're driving in - I thought this meant we'd have to somehow work out how to scrap the vehicle in Italian!
"The next morning we got through to the claims department and were massively relieved to find we did have comprehensive cover after all. If we'd had all our paperwork with us, including our policy booklet, we wouldn't have had that worry."
What you need to know
Checking the 'foreign use' section in your policy will tell you what you're covered for abroad, but it can get confusing.
If your policy states that your insurance will only cover the minimum requirements abroad, that generally means you'll only have third party cover.
However, according to financial researcher Defaqto, 89% of comprehensive cover policies will automatically give you full cover in the EU - but only for a limited number of days.[2] The amount of time you'll be covered for should be stated under the foreign use policy in your documents.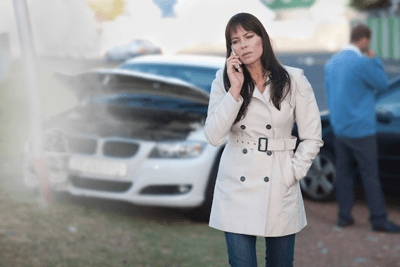 Other insurers will provide full cover but only if you get their consent first or pay an extra premium, so it's worth getting in touch with them before you leave.
Also, bear in mind that some policies are subject to your permanent residence being in the United Kingdom.
Remember to take all of your documents with you on your holiday so you can easily refer to them.
What to do if you're involved in an accident abroad:
[link url='http://staging.gocompare.local/coveredcontent/coveredimages/610900/Accident.png' fancybox]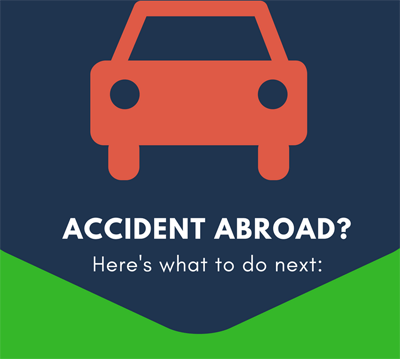 [/link]
Handy tips
Want to know more?
We've got a pretty sleek interactive map you can use to find out which driving laws apply in the country you'll be visiting.
Ever had a smash abroad? Share your story with us on Facebook and Twitter
Find the right car insurance policy for you at GoCompare