A clowder of teen cats are pouncing at their shadows and batting at apron strings as busy baristas dish out sweet treats and coffee.
These bean-toed, bouncy cat babies are the new stars of Wales' first cat cafe, and snuggles and strokes are the order of the day...
The Feline Good Cat Cafe - a coffee shop, serving the usual tea, coffee and cake - is also home to a clutter of rambunctious kittens, and it's landed square in the hustle and bustle of North Road, in Cardiff.
For obvious reasons, we pounced at the chance to meet the founder of Feline Good, Hollie Bowler-Brown, just a few days before she was about to open the most pawsome cafe in Cardiff.[1]
The cutest cafe in town came to locals' attention way back in January, 2017, when Hollie launched her Indiegogo page to crowdfund her startup dream. And, luckily for cat lovers everywhere, she raised £7,220 (9% more than what she needed) to get up and running.
What experience do you need to open a cat cafe?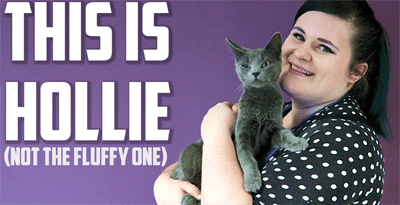 Hollie's a one-time knowledge analyst at Welsh Water, an infrastructure technology senior at Accenture, and family room specialist at Apple.
This savvy business lady cherry-picked skills from her corporate successes and decided to make a change.
She loves cats and volunteering at rescues.
After visiting another cat cafe in London, she knew that coddling moggies and serving up lashings of cake and sarnies was a dream just waiting to be fulfilled.
How do you open a cat cafe?
Feline Good is not a traditional high street coffee shop.
Instead, it's tucked away in the privacy of a ground floor, open-plan, office.
As such, it's a destination visit rather than a drop-in coffee shop, encouraging cat-lovers to book in advance, rather than rock up unannounced.
The local council supported Hollie's planning permission to change a ground floor office into a cafe, suitable for baristas, diners and cats galore.
She's knocked through partitions, built a kitchen, installed CCTV and completely redesigned the interior with lashings of purple paint, cat trees, a new ceiling and of course, tables, chairs and coffee machine.
Hollie has stuck to guidance given by her local council: "We're constantly in touch with the council to make sure how we're running is safe."
How many cats are in the cafe?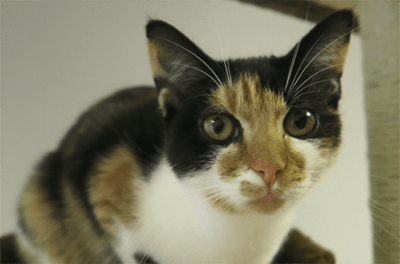 Feline Good is home to six rescue cats, for now.
First, there are three siblings: Sirius, a jet-black panther kitten (so named after Sirius Black, Harry Potter's godfather), Winston a leopard-print tabby, and Ash 'the grey' kitten.
And yes, these eclectic triplets are brothers and sisters  - if you want to get scientific about it, look up 'superfecundation', where the same ovary is fertilised by two, or more, daddy cats. It's quite the eye-opener.
Fourth is Marie, a gentle and shy tortoiseshell baby.
Then, there's ladies' man, Simon, a long-haired ginger kitten that likes to be cradled.
Finally, there's Lizzie, a Burmese mix.
"We make sure they're happy to live here," Hollie explains: "It takes ages, and it all starts at home rather than in the cafe."
Where do the cats come from?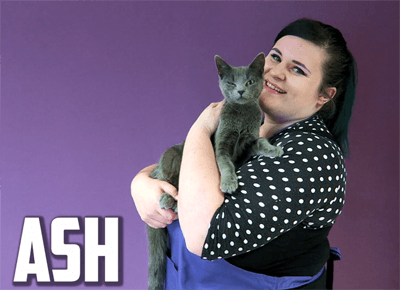 All Feline Good's cats come from Mittens Cat Rescue - an organisation which cares for cats who find it difficult to find a home, such a pregnant cats, or mother cats with a new litter.
Hollie's been caring for her newest additions since they were eight weeks old.
Don't humans bother the cats?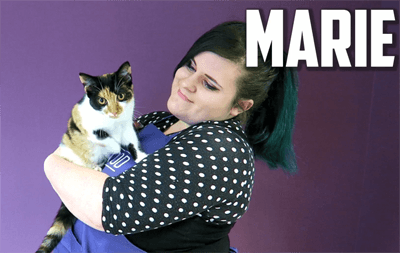 These little guys love a fuss, and aren't afraid of anything.
Hollie says: "They've met vacuum cleaners, dogs and strangers - all the things they're likely to come into contact with in the cafe or through the glass, and they're very used to being handled," she says, eyeing up Ash who's curled up in my lap (and has even tolerated a scratch behind the ears).
How many people can visit the cafe at one time?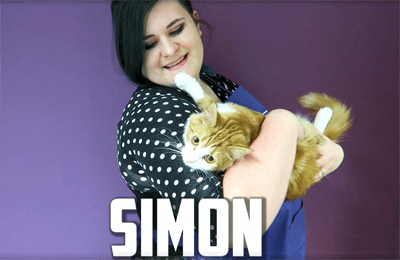 The cafe serves up to 20 people, but its starting off with 10 people every half an hour.
Hollie has a pre-booking system, so she can closely manage how many people the cats come into contact with.
Do the cats live in the cafe?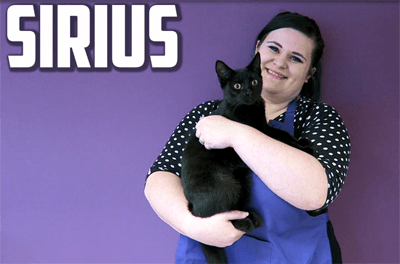 Yes, but they only stay as long they're comfortable.
"Eventually, they will be rehomed when they're ready to move on," says Hollie. "And in their place will be new kittens who don't have a home.
Feline Good's cats can hide inside thanks to privacy vinyl - they can see out, but scary passersby won't spot them.
The cats will be able to enjoy a bit of peace and quiet away from their adoring fans in the outside world.
How do you keep them healthy?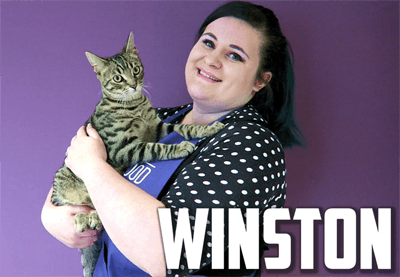 They have regular vet checks every three months when they're tested for FIV, feline leukaemia, and they're vaccinated, spayed and neutered.
And fitness isn't an issue - Hollie's installed a huge cat wheel for them to leap on and run whenever they want to stretch their legs.
What if the kittens make a great escape?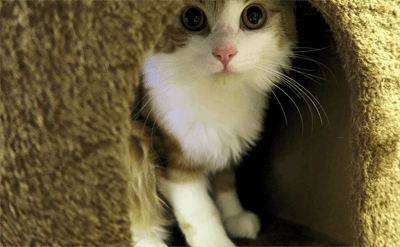 When customers arrive at Feline Good, they buzz in at the front door and wait in the porch.
"It's almost like an airlock," says Hollie, pointing to a succession of glass doors which lead first into a small waiting room, then onto the street. "Guests wait in the airlock until the front door is closed before being allowed into the cafe to meet the cats."
What happens when you get inside?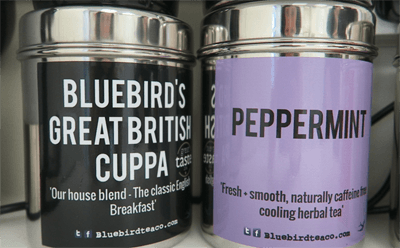 You're introduced to the 'kittiquette' guide by Feline Good's 'kitty buddies'.
Hollie's house rules set a calm tone once guests are in the cafe. "We ask that diners do not pick up the cats or wake them up if they're sleeping, and not to bother them if they're grooming or eating because that's when a cat is most likely to defend itself," she says.
How do you stop cat hair getting in the food?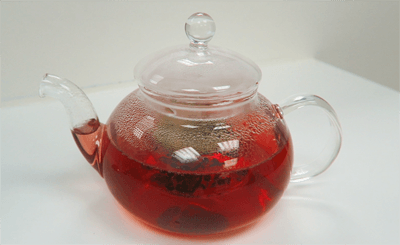 Hollie keeps the cats well out of the kitchen. "They're not allowed in," she tells me, as Sirius gazes through the Perspex serving hatch with hungry determination. "It's all table service. The food – tea, cake, coffee and sandwiches – is prepared in the kitchen and passed through the hatch." 
The European Parliment was ahead of the curve on cat cafe legislation even before they started to crop up in Japan.
In 2004, it ruled that cafe owners must put adequate procedures in place to prevent domestic animals from having access to food while it's prepared, handled or stored.
Between feasting on cakes and slurping on cuppas, guests can get up to play with the cats.
But what if one curious kitty jumps onto your table? "We'll shoo them away!" laughs Hollie.
"The cats are very used to being around humans with food, but we don't encourage guests to feed them (everything on the menu is cat-proof, just in case!)"
Have you been to a cat cafe? Tell us what you thought on Twitter and Facebook