It's summer holiday time, which means car journeys for lots of families – usually long ones.
If you're doing an airport run or heading to the mountains or coast then you'll doubtless be dreading that godawful refrain from your little treasures: "Are we there yet?"
Well, the ever knowledge-thirsty stats jockeys at GoCompare have gone out and quizzed families across the UK* to find out the best ways of keeping the young'uns occupied when you're in transit, so you've got a few ideas to keep them schtum.
Give them some tablets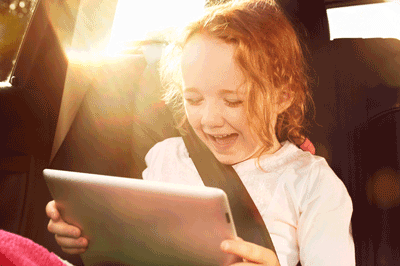 No, not like that.
We mean giving them an iPad, Samsung Galaxy Tab or similar touch screen gizmo to mash to their heart's content.
They've proved wildly popular with parents – a surefire way to keep from boredom setting in, and versatile too. Play games!  Let them watch 'Despicable Me' for the umpteenth time! Do a spot of online banking! (Actually, we'd probably keep them away from that for now.)
Giving the nippers handheld games to play on is also a big boredom beater, and you'll doubtless be thrilled to learn that older kids can get in on the fun too with a host of 'edutainment' apps and games.
These lull the child/young adult into a false sense of security - they think they're having fun when in actual fact they're learning. Ha!
Of course, having expensive kit like this in the car means you should be extra careful about it getting pinched, so make sure you've got the right cover in place.
Matt Oliver, GoCompare's resident car insurance sage opined: "The protection offered by car insurance can be quite limited, so if you're planning to take expensive technology on holiday, it's sensible to look at the cover offered for portable devices under other insurances, such as home contents insurance.  Check whether your home insurance policy includes 'personal possessions' cover away from the home and that the insured limits meet your needs."  
Of course, there's always specialised gadget insurance too, so have a look around to find the lowest cost option to keep your devices covered.
So now you know.
Back to the old-school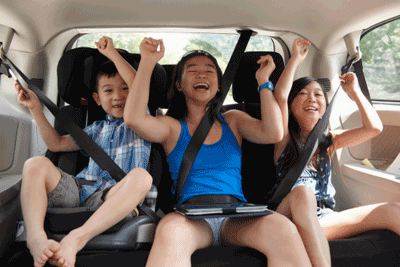 The 'Yogi Bear' song always raised a smile
Of course, 'back in the day', we didn't have access to this sort of new-fangled technology.
We had to make do with making our own fun – and lots of parents still favour this method.
Indeed, singing songs (what japes!), playing I-spy and 20 questions are still popular weapons in the modern parents' anti-boredom armoury.
Take that, digital revolution!
Speaking of songs, have you heard this one? It's sure to make the long hours on the motorway fly by.
Story time!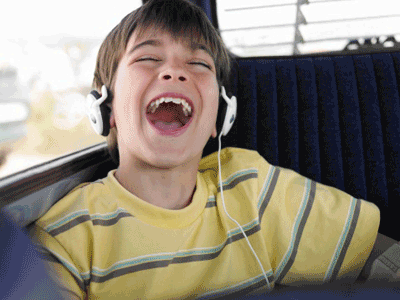 That new Jethro tape amused Bernard no end
What kid doesn't love a story? Not many of them by the looks of it – telling stories and listening to audio books both feature in our top 20.
Harry Potter accounts for the top eight kids' books on digital download service Audible. How about that?
Just don't get sick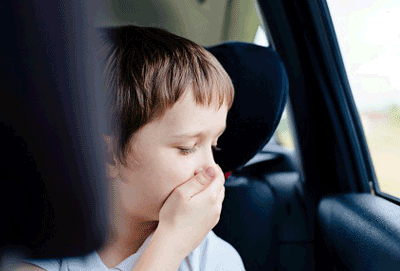 Perhaps the Jelly Popping Candy Dairy Milk hadn't been the wisest idea
What's worse than a bored child in a car? A carsick bored child, that's what.
Still, it turns out that parents run the risk of a vomming child by giving them plenty to eat and drink and giving them magazines to read.
Pass the sick bag, mum!
I drove all night…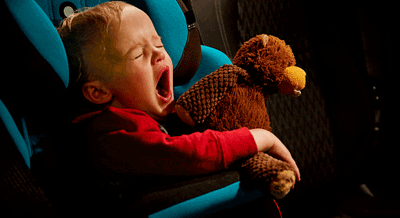 "Have I told you about when I had trials for Stoke City" asked dad for the 1,564th time
…Just so the kids wouldn't play up, almost-sang Roy Orbison.
Indeed, this ingenious method has been deployed by 36% of the parents GoCompare quizzed.
Remember, don't drive tired – the key to a successful night run is regular rest stops, plenty of coffee and a nice snooze before you leave.
That list in full
So, here's the rundown of the top 15, in case you were interested, ranked by percentage of parents who said it was something they'd do to stop their kids getting bored.
1. Watching a film on a portable DVD player or tablet: 50%
2. Listening to or singing along to music: 48%
3. Playing word games such as I-Spy or 20 questions: 42%
4. Travelling at night to allow the children to sleep through most of the journey: 36%
5. Allowing kids to play on handheld games consoles: 35%
6. Making frequent stops to eat, use the toilet, visit attractions: 31%
7. Playing spotting or counting games, for example, spotting yellow cars: 29%
8. Giving the children a new book or magazine to read: 28%
9. Downloading new iPhone or tablet apps for the kids to play with: 28%
10. Giving kids a colouring or drawing book: 25%
11. Telling stories: 23%
12. Providing the kids with plenty of snacks: 23%
13. Giving the children plenty to drink: 22%
14. Buying a present, for example, a new toy or game for the kids to play with: 17%
15. Listening to an audio book: 16%
Tell us your own sure-fire boredom beaters onTwitterandFacebook