It's a sunny Saturday afternoon and I'm sat in a café in Bristol, waiting to interview the Bristol Mod Scooter Club.
I hear them before I see them - the rev of engines, the honking of horns.
And once I step outside, they're pretty hard to miss.
Scooters decorated with mirrors, flags, lights and stickers are parked up outside and people are already crowding around, snapping pictures on their phones.
The Bristol Mod Scooter Club are about to embark on their 20th anniversary ride out.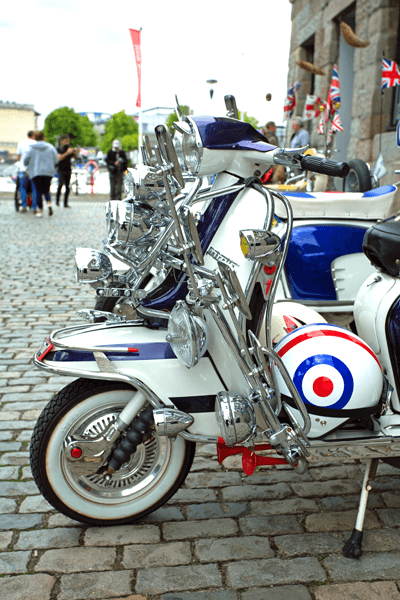 Back into the scooter scene
"All the scooters are done up in the classic mod style," Mike Pick, co-founder of the club, declares proudly.
Mike, along with Steve Walsh and John Drake, established the Bristol Mod Scooter Club in 1997 as a way of getting back into the scooter scene.
"At that time, the clubs in Bristol were more classic Lambretta or Vespa clubs," he explains.
"There wasn't a mod club as such so we thought 'let's form our own club'."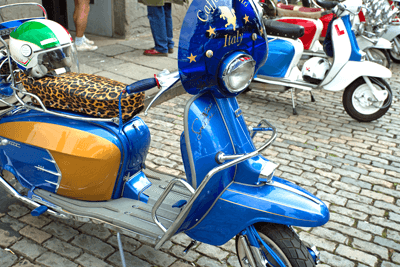 The group now meet twice a month and do ride-outs around Bristol, Weston Super Mare, Wales, Somerset and even further afield.
Many of the members have owned scooters since the sixties or rediscovered their love of them in more recent years.
"Vespas were popular with the early mods around '64, '65 and then Lambrettas started being imported en masse," Mike remarks.
"They're a little bit more streamlined and I think they really became the de facto for mods. 
"At the moment, I've got a Lambretta SX200 which is a 1967 so it's over 50 years old."
For the love of scooter
Members of the club come from all walks of life - garage business owners to long distance lorry drivers to drummers.
Des Coles, who joined the club in 2000, says, "I had a garage workshop - I used to do welding, panel beating, restoration. So all of my bikes started off pretty tatty and then I've gradually done them all up.
"Mod is bling - lights, mirrors, horns, flags - you know, we like to be noticed."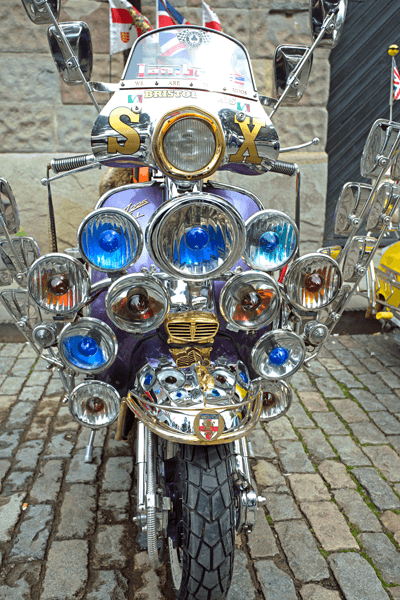 And why so many mirrors?
"It's bling - nice chrome mirrors, they catch the sun - people can see you coming," says Des.
Mods and rockers
Donning the typical mod parka jackets, the club certainly garner the attention of many pedestrians who pose with the scooters and get plenty of mirror shots. 
Members of the club tell me how good it would have been to have had the luxury of smartphone cameras back in the sixties when the mod scene was in full swing.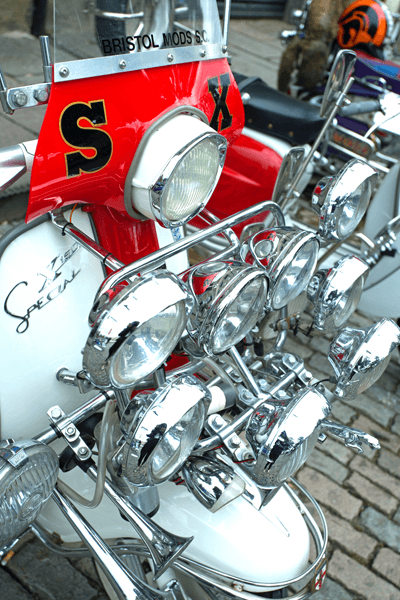 TV cameras at the time mainly captured the clashes between the mods and rockers at seaside towns around England.
The rivalry was also covered by national newspapers who hyped up the drama with their headlines such as 'Beasts!' (Daily Express) and 'Battle of Brighton' (Evening Argus).
Des recalls the differences between the two groups:
"The Mods were the tidy ones in the sixties - they'd chuck a parka on top of their suits. Rockers had leather jackets, jeans and dirty fingernails."
And is the tension still there today?
"Well, the first time I went to a vintage motorbike show was the Great Dorset Steam Show," Des says.
"They didn't want me there because I had a scooter and I said, "you should have a scooter in the show because there's a lot of people who come here and they remember the mods and rockers."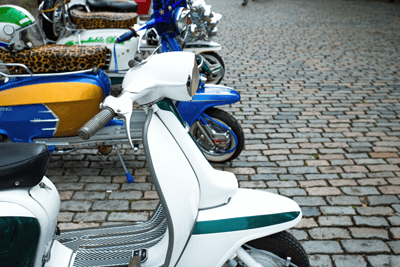 "Eventually, they let me in and I won 'best in show' - first time they'd ever let a scooter in and that was seven or eight years ago.
"That's what I do now, I go to vintage shows - basically to have one over on the rockers.
"There's still a tiny bit of feeling there - 'you shouldn't be in show on a moped'.
"Hairdryers they call them, because they're fan cooled."
What's ahead for the mods?
In stark contrast to the riotous atmosphere of 1964, the August bank holiday in Brighton is now an extremely enjoyable weekend for the Bristol Mod Scooter Club.
"It's Christmas as far as we're concerned," Mike exclaims, "there's about 3, 000 mod scooters - it's absolutely fantastic!"
By the end of my time with the club, my leather jacket has been cast aside and replaced with Des' parka for a photo on his yellow Lambretta. 
And I'm a tiny bit jealous that I won't be able to see the spectacle of 3,000 mod scooters myself. 
Are you on the mod scene? Share your snaps with us onTwitterorFacebook
Scoot on over to the right insurance for your ride at GoCompare