The number of people switching is on the rise - especially if you're with British Gas…
More and more of us are switching energy supplier - finally.
According to research by Energy UK over three million people have switched supplier already this year, an increase of 14% from this time in 2016.
And if GoCompare are right, a fair few of those people are British Gas customers.
Research by GoCompare has revealed a 150% increase in the number of people leaving British Gas using GoCompare since it announced a 12.5% price increase on electricity at the start of August.[2]
However, the 3.1 million British Gas customers still on a standard variable tariff better get a shift on if they're to beat the impending 12.5% price hike scheduled for this Friday.[3]  
Ben Wilson from GoCompare said, "Energy providers are continuing to punish loyal customers year after year, rewarding their loyalty with higher prices and poor excuses. Simply put, if you've been with your supplier for more than a year then there's a good chance you're paying more than you should be for your energy and could save up to £256[4] by switching. For just a few minutes work, it should be a no brainer."
A necessary evil?
According to the Energy UK research, 385,000 customers switched energy provider in July - that's a 16% increase on 2016. One in five of them chose to sign up with small and medium-six suppliers, rather than one of the 'big six'.
When British Gas announced their price rise, many customers were angry. For a typical household on dual fuel, the average bill will increase by a whopping £76.
However, British Gas defended their price rise as necessary. Unlike other providers, they haven't risen electricity prices since 2013.
They also highlighted that their price increase won't affect vulnerable customers, the people who receive the Warm Home Discount, and that they'll receive £76 towards their bill instead. We asked British Gas whether they'd like to comment, but they declined.
Loyalty doesn't pay
Loyal British Gas customers Stuart Bryant and Richard Hillsdon switched their supplier from British Gas to nPower at the start of August, just a few days after British Gas announced their price increase.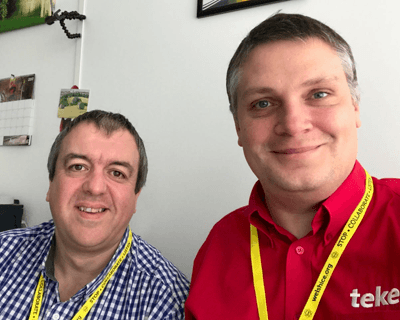 The pair, who moved from Oxford to Caerphilly, south Wales, last year had been with British Gas for a decade before looking into switching.   
"We'd been with them for so long and were happy with them, so we naturally switched the supply from the current supplier when we moved into our new place in Caerphilly and didn't really think about switching at the time," says Stuart, who runs an IT support business with his partner.
"We didn't have any plans to change but when they announced their price increase, we thought it was time to have a look around to see what we could find."
Stuart discovered that they could've been saving money all along if they had switched sooner; before the price increase they could've saved £150 a year, but now they'll save £250 annually.
"We never really thought about it until British Gas announced their price increase. It does seem quite an extreme increase, especially as no one else is increasing as well," says Stuart. 
Would Stuart switch back to British Gas if nPower isn't up to scratch?
"We'd look for the next cheapest if we receive bad service from the new provider.
"Obviously the end product is exactly the same whoever supplies it so unless there are repeated billing issues - as we've had before with other suppliers - we would most likely stay with the new supplier or find the next cheapest," he says.
"Unless BG dropped their prices significantly, I don't think we'd go back to them."
There's money to be saved
According to a recent study carried out by GoCompare, households that don't switch their energy are up to £932m a year worse off - collectively, that is.[5] 
Wilson said, "From Friday, if you're a British Gas customer on a standard variable tariff, you will be paying more for your energy, and you weren't even on the best deal to begin with.
"That's a fact. What's more, it means that every single day after Friday, you'll be throwing money out of the window needlessly. 
"Nothing about your service will be different, other than you'll be paying even more money for the privilege of being on a bad deal. Our message to people is clear, don't pay British Gas's £76 a year loyalty tax - get smart, get online and get a better deal."
Have you jumped ship from British Gas? Let us know on Twitter or Facebook
Find out how much you could save if you switched with GoCompare's nifty energy comparison service