One quick scroll through Instagram and snaps of celebs enjoying luxury holidays is enough to give you a severe case of the green-eyed monster.
'Why them?' you cry. 'Why not me?!'
We can't all have as much cash as Alan Sugar in the bank so hopping on a private jet and staying in a castle is nigh on impossible.   
Or is it?
Luckily for you, we've found some ways you can travel in style for less.
Leaving on a (private) jet plane
You don't need to pay an extortionate amount to zoom off in a private jet and unleash your inner diva/divo. 
Flight sharing platform, Fly Victor, allows pilots to advertise their empty leg journeys. That means you can hitch a ride when the pilot is on their way to pick up a fare or flying back to base.
According to Fly Victor's website, you could save up to 75% on the cost of a conventional private jet charter.
Wingly is another great flight sharing platform that connects private pilots with passengers. 
Its co-founder, Emeric de Waziers, tells us, "Private aviation is often seen as reserved to an elite and at Wingly we make it accessible to everybody.
"You can go from London to Le Touquet in Northern France for £60 and there are trips to the Channel Islands too.
"You can also use Wingly to do sightseeing flights. Flying in a light aircraft is an amazing experience that more people deserve to live."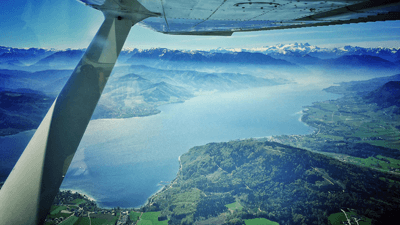 Image courtesy of Wingly
And if you don't mind spending the flight with your fellow human beings, there are some corking last minute summer deals on flights.
Keep an eye out for airline offers towards the end of the summer - that long haul flight could be cheap as chips.
And you don't even have to wait until then - you could look at loads of flights right now using GoCompare's flight comparison service which is powered by SkyScanner.
Pick a place, any place
No more pining over those pictures of marble bathrooms and towel swans - get money off luxurious resorts by signing up to a voucher website.
Voyage Privé and LateLuxury are both free to join and you can save up to 70% on extravagant holidays in their flash sales. Some of them even have little extras thrown in.
If you'd rather swan around your own castle, check out Airbnb's latest offers.
We found a castle in Occitanie, France for four people from £99 per night and it's absolutely majestic.[2]
Or you could stay in this former 12th century monastery in Italy which sleeps four guests from £81 per night, complete with gardens and a private chapel.
You could even escape to this luxury villa in Bali.
Food, glorious food
Forget finding your nearest McDonald's when you're getting a bit peckish.
Why not use OpenTable to find restaurants in your area that are within your budget?
Bear in mind that set menus tend to be less expensive so it's worth looking out for these.
OpenTable also run special offers and you can pick up rewards for reserving a table through them.
And if you're feeling extra luxe, take a look at the Michelin-starred restaurants near you by using Michelin's online guide.
Some of them are actually a bit cheaper than you might expect.
Tick off your bucket list
Always wanted to see the Empire State Building or go on a Lady Liberty Cruise? Don't pay over the odds for trips that catch your eye.
Check out Groupon Getaways for cheap activity passes before you travel. Some of them even have 'skip-the-line' entry which means you don't have to waste your holiday waiting around in queues - ultimate luxury!
Don't pay over the odds for your travel insurance either - compare prices with GoCompare