Cast your mind way back through the mists of time to 2007.
It was a simpler time. Some might argue a better time.
Brexit was merely a glint in Nigel Farage's eye, Jeremy Corbyn was a rebellious backbench MP with a track record of vociferous opposition to recently-departed PM Tony Blair, and Britain was blissfully surfing on a wave of easy credit.
The good times were never going to stop – or so it seemed.
Then the stirrings started. About 10 years ago this month, in fact.
Northern Rock started to wobble. Hordes of people queued outside the bank to withdraw their savings. People rued the day they'd ever heard of Fannie Mae and Freddie Mac, the twin American banks with silly names whose irresponsible mortgage lending had serious consequences.
It was, put mildly, rubbish.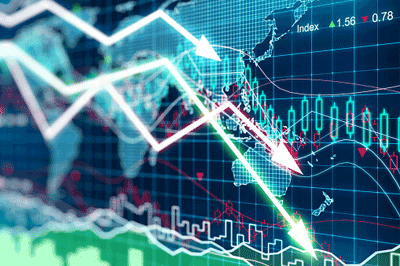 Loads of people lost their jobs, companies went bust, homes got repossessed, and billions of pounds of public money were ploughed – for better or worse – into financial institutions whose risky behaviour got us into the pickle in the first place.
It's a mess that 10 years on we've still not really and truly got out of if the latest round of research from the stat-slingers at GoCompare* is anything to go by.
In fact, nearly half of the people GoCompare quizzed say that they feel worse off than they did in 2007, and 76% of people think the gulf between rich and poor has widened in the past decade.
Another on the way?

In the 'eagerly anticipated follow-ups' stakes, a sequel to the recession is right down there with Hot Tub Time Machine 2.
But if and when it ever appears, many people will feel at risk financially.
According to GoCompare's investigation, only 16% of people feel secure in their employment, and 10% admit they're in more debt now than at the start of the crash.
More than half of people worry about household bills and living costs, while nearly a third of people are concerned that they can't save money.
Ominously, 38% people say lessons hadn't been learned from last time.
Matt Sanders, GoCompare's resident money expert, opines: "From our study, it's clear that many people are still feeling the effects of the worldwide economic meltdown and are ill prepared for another crash. 
He continues: "It may be impossible to squirrel away savings for those finding it difficult to make ends meet. There are some simple and effective measures people can take to save money on essential household bills. Inflation is back and set to make things worse for households on a fixed income."
So, how can we protect ourselves if the recession returns? Start by looking at and questioning your bills.
"Car insurance and energy bills are two costs rising rapidly at the moment but they are also two of the easiest products to shop around for and, as a result, households can make significant savings by switching," says Sanders.
What are your money-saving tips? Tell us about them on Twitter and Facebook