Say what you like about Ryanair, but the no-frills airline will get you from A to B on time.
Well, that used to be the case until earlier this month when the Irish giant started cancelling thousands of flights on account of bungled pilot holiday rotas.
What's more, the airline has incurred the wrath of the Civil Aviation Authority by 'deliberately misleading' passengers over what they're entitled to if their flight has been cancelled.
If you've ever been on a flight which has been severely delayed or cancelled, it can be a maddeningly frustrating experience.
Here are the five emotional stages every passenger who has their travel plans curtailed goes through…
DENIAL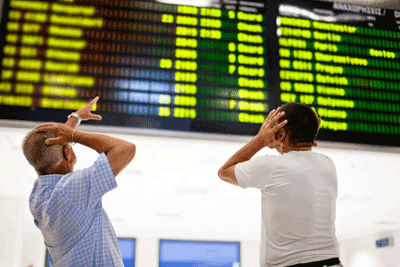 You've arrived at the airport with plenty of time. You sorted your parking in advance. You've checked in online and made sure your baggage is underweight so you have plenty of room for a job lot of spicy continental sausage to bring back.
You've sailed through passport control, and are very much looking forward to a well-deserved aperitif at the airport Wetherspoons to kick off your sojourn in fine style.
But then you see the board. Your flight is delayed.
This can't be! No, this must be the other flight to Palma – the one that goes in exactly… eight hours from now.
You look at a flight tracker app on your phone. It says everything's fine. Surely there's some mistake.
Then an airport operative wearing a face of cheerful resignation tells you that a crew shortage, an air traffic controller strike plus a thunderstorm over the Med has meant that your flight is delayed… indefinitely.
ANGER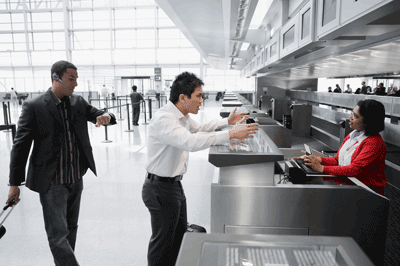 You envisage your smooth touchdown and arrival at your hotel just in time for a cheeky G&T on the veranda watching the sunset, the exotic refrains of 'Despacito' wafting in from a nearby bar.
Then you compare it to the grim reality you're currently facing: eight hours (at the very least) staring into the middle distance while a stag party pass the time by getting well-oiled in the bar.
You hammer out a few choicely worded Tweets to your airline, making sure you've put a full stop before its handle so the whole world can bear witness to your fury.
"Absolutely disgusting scenes" you digitally harrumph, while a team of hapless social media workers and customer service advisers deal with yours and countless other complaints several hundred miles away.
BARGAINING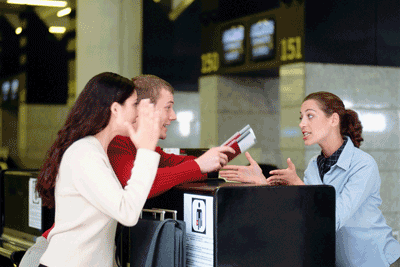 This is the point where you start asking questions.
"I'd like a refund!" you demand – but unfortunately you've got to be here another three hours for that to happen. "Well get me on the next flight!"
There isn't one until tomorrow.
You fume, as the chief banter merchant from the stag party drains another pint glass and places it atop his head, to boisterous acclaim from his compadres.
DESPAIR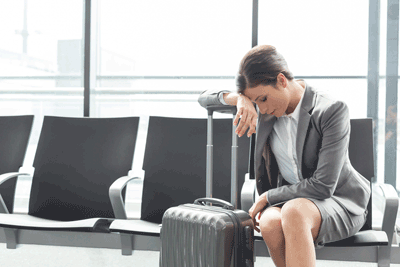 "What's the point?" you ask yourself. "I only wanted a holiday to relax. I don't even know why I bothered in the first place."
You sit, dejected, head in hands wishing for the comfort of home, and respite from the stag party, who've now started to draw attention to themselves by partaking in a sort of pretend bullfight routine.
ACCEPTANCE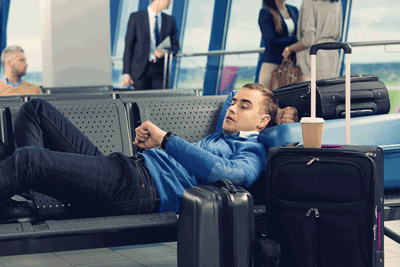 Well, you're stuck here now. You've checked your rights online and if the flight doesn't hurry up you'll be in line for compo or a refund. Nice.
You've been given a voucher for food (£10, which doesn't get you a lot in an airport but it's a start) and at least you've got a few good books to motor through.
And if the worst comes to the worst, your travel insurance will have your back.
Moreover, there's a growing sense of camaraderie with your fellow passengers – a spirit of the Blitz, we're-all-in-this-together atmosphere of seeing this mess through. A nice lady from Poole offers you a Wine Gum, which you gratefully accept.
You spot the 'executive lounge' for the complimentary drinks and nibbles you can stock up on, it looks like it could be good value.
And it'll also mean you're out of the way of the stag party for a while – their latest bout of crude antics involving an inflatable sheep have prompted a stern talking to from airport staff and a 'final warning' that they won't be allowed to board the flight if they keep on.
Viva Espana!
Tell us about your experiences of delays and cancellations on Twitter and Facebook