Muscle cars define rockabilly Americana. It'd be peachy keen if one were to bob over to the UK on a one-way ferry ride and roll right onto your driveway – so here's how to do it.
How to buy a muscle car
'Beverly Hills, that's where I want to be' wailed Weezer, obviously because there's a wicked muscle garage there.
Yes, the Beverly Hills Car Club in California is a temptress, and its inventory of project and fully-restored classic cars is an all-American dream.
A 1957 Chevrolet Bel Air with a V8 engine is a snip at $47,500 (roughly £35,000) to buy outright, whereas a mechanically sound 1957 Thunderbird E-code Ford - albeit, in need of a little TLC - could be yours for $27,500 (just under £20,500).
In the UK, you can pick up a wrecked 1964 Buick Wildcat from Mike's Muscle Car Garage for £7,000, whereas the same model, from the same year, in top nick, fetches £125,000.
Are muscle cars worth the price tag?
Classic cars have been one of the best investments of the last decade for the super-rich, according to the latest edition of the Coutts 'Objects of desire' Index. The value of classic cars fell 10.4% in 2016, but over the last 12 years has risen by 330% - holy smokes.
This is true of cars worth millions bought by the elite, like Ferraris and Bugattis, and you can see the mark up for restored muscle cars is really appealing too, but make sure you're taking on a project you can handle.
"A Mustang is a good starter car," explains UK-based Mustang Maniac's founder, Adam Longmore. His online shop imports Mustang parts every week, and sources more unusual parts for individual buyers.
"By American standards, Mustangs are small cars, and because one million would be manufactured every 18 months, Americans never thought they'd be collectable.
"But, they're hugely popular with European and UK collectors because it's easy to get the parts and most European garages will fit them."
Eyes on the state-side prize
Is it better to buy a muscle car already on British soil? For one thing, you can nip down, get eyes on the motor and even bring a mechanic with you and cost up for repairs and renovation.
And Adam cautions against buying blind, "A lot of our business is fixing up mistakes, especially if a buyer has bought and imported a dodgy car online."
If you're browsing classic cars on a Friday night after a glass of wine, get your family to hide your bank card.
If the car of your dreams beckons from California, Arizona or Texas, take five and tot up what it'll actually cost to get your hot wheels into port.
What does it cost to import a muscle car?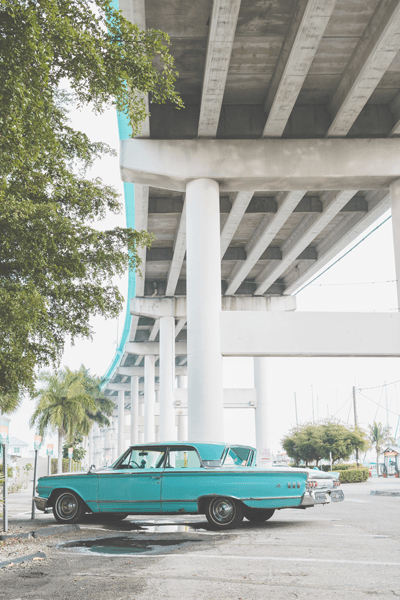 On 26 September, 2017, GoCompare ran a quote with a shipping logistics service called shipmycar.co.uk for a Surf Green dream in Beverley Hills, a 1957 Chevrolet Bel Air.
To get the quote, you need the year of manufacture, make and model of the vehicle, plus the zip code of the vendor to find the closest port.
Good news up first – because the muscle car is over 30 years old, there's no duty to pay.
But the extended shopping list included delivery from the vendor to the US port, renting a 20ft shipping container, customs and loading fees, marine insurance, car unloading in the UK (a 'handling charge'), and a container unloading charge if you choose to ship in a container.
Shipping costs for the 1957 Chevrolet Bel Air came to just under £2,500, plus VAT (£1,841), although there's some money to be saved as some of these services aren't essential. 
Destination costs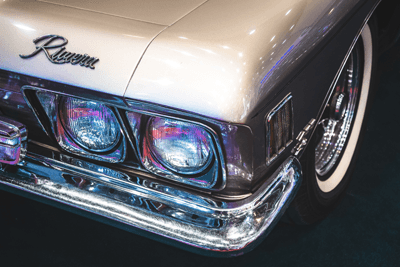 Once docked in the UK, it's homologation time. In other words, proof that the Chevvy is ready for UK roads.
That means MOTs, modifications - if necessary - road tax (but again, older cars may not need it) and DVLA registration fees.
Destination charges aren't nearly as sobering but still racked up almost £600.
Cost to renovate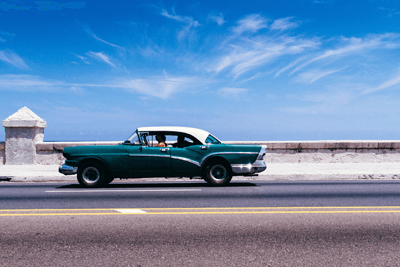 The muscle car of your dreams is finally in your garage. Now what?
You're in a better position if you've got some car engineering and mechanical know-how – the labour, at least, is free. So, your next move is to start sourcing the new parts to make it purr.
It's obvious that rare import parts are likely to be more expensive than for a Vauxhall, for example, but it's not an impossible ask. There are specialist garages and parts shops across the UK with stock that'll put the rev back in your engine.
You can pick up a 1965-66 Mustang disc brake calliper for £360, a replacement air conditioning kit for £2,000, a single all black satin wheel is £264, and if you want a Shelby hub cap, it's £30 or so. A chrome front bumper is roughly £200.
The big costs, of course, relate to the engine. If you need to replace it entirely, you may start looking at components that'll make the largest contribution to its performance. A 5.0 Ford Windsor engine – a perfect fit for the muscle Mustang – is usually between $2,000 and $3,000, but a Coyote model may be as much as $7,000.
What about restoring the original two-tone paint job? Look in muscle car forums and most say the costs could run into the tens of thousands of pounds if the original paintwork is completely corroded and flaked away.
But, forget sourcing the original paint for an authentic look: "The paint is better quality now and lets you achieve the original look, with an upgrade," says Adam. "Thanks to technology, you can colour match really accurately too."
Insurance for a mustang muscle
If your baby is polished and perfect, it's probably ready for a cruise around the cul-de-sac, but you'll need insurance before hitting the road.
You can compare classic car insurance with GoCompare, but pin them down and agree the value of your muscle motor before signing up for a policy. Read more about that in our classic car insurance guide.