A bit like a middle child, the humble van is often overlooked in favour of a bigger lorry, or a sporty car when it comes to hiring transport.
Sometimes though, an occasion arises when the versatility of a van is the only thing that will suffice. Myrtle the Mini isn't going to be able to move your worldly goods to your new home or transport four bridesmaids and a flower girl to your wedding now is she?
We're not talking about a rusty old Ford Transit here, oh no. There's a perfect van for every job, so clip in your seatbelt, pop on your sunglasses and let's take a ride down van avenue.
Moving house
Now my advice here is don't mess around thinking about how many trips it'll take you to get your stuff across town in a white van, just pull on your big boy pants and hire yourself a 7.5 tonne beast with tail lift, like the Ford Luton.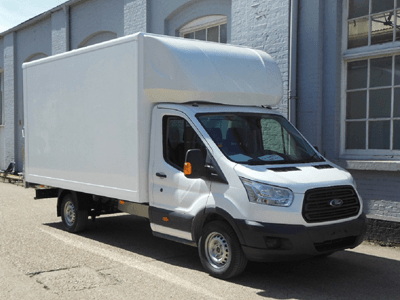 With one of these at your disposal, you'll have your furniture and belongings packed up and on the road before you can say 'free unlimited mileage'.
Having a tail lift on a van is like plumping for the electric recliner on your Lazy Boy sofa rather than the manual one. You'll get all your heavy gear in the van smoothly and safely, and it won't smack a child in the mouth if it flies back up again when you don't quite push it down far enough with your feet.
The Ford Luton: even the name sounds solid, conjuring up images of burly men in brown coats tossing boxes into the back of a van like they're candy floss.
You'll save yourself a load of time and trouble by opting for a van with a larger capacity, not to mention the fuel costs of a single trip versus multiple runs.
Playing a gig
If you're just starting out on your journey towards musical magnificence, you're going to have to put the mileage in and get yourself to gigs in working men's clubs from Blackpool to Bournemouth, and then some.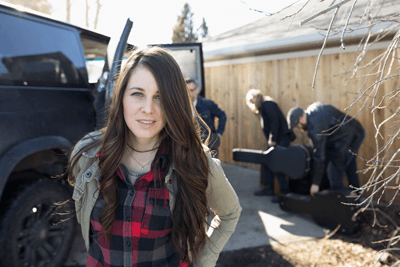 This is going to take a special kind of van, one that seven sweaty band members and all their instruments can fit in.
What you're looking for here is a splitter van or bus. A splitter has an area for aspiring musicians towards the front of the van, and a storage area for your gear at the back.
They're usually long wheel base transits, modified to carry bands and their equipment. Once you start bringing in the moolah, you can splash out on one fit for a rock star with reclining seats, wi-fi, a flat screen TV, DVD, iPod connecters, speakers and power outlets.
Getting hitched
'Roses are red
Violets are blue
To get to your wedding
Only a vintage 1958 split screen VW camper will do'
What says 'I love you' more than turning up to your wedding in a beautiful, chauffeur driven VW campervan, complete with wine fridge filled with bubbly?
The vintage VW van is a popular wedding accessory these days.
Lovingly restored to their former glory, they make a stylish addition to your big day.
Not only do you have the perfect ride for you and the bridal or groom crew, a VW looks amazing in the wedding photographs.
And how about sneaking off in it for a quick breather when you want some alone time with your newly wedded partner in crime?
Although they're a specialist hire, there are plenty of places you can get one from as long as you book far enough in advance.
Off on your holibobs
Come on, admit it. Most of us have dreamed of taking off across the outback of Australia, or winding our way through the snow-capped mountains of New Zealand's South Island in a campervan.
Now you've got a couple of options on the tidy van front for your trip away, depending on how many of you there are, and what kind of thing you'll be getting up to.
If you're donning a wetsuit and taking to the waves on your surfboard, or looking for calmer waters on which to paddle your SUP, there is no cooler way to arrive at your destination than in a VW Transporter.
The iconic van has been universally admired since 1950, with almost 200,000 of the sixth-generation T6 rolling off the production line in 2016.
Need something a bit bigger to strap your bikes onto the back of? According to the Caravan Club, 2016's top motorhome was the Rimor Koala Elite 722. Not even a moody teenager separated from their Xbox will be able to spoil a holiday in this baby.
Spacious and air conditioned, it even has solar panels which keep the battery topped up, so you're doing your bit for the environment while enjoying the freedom of the open road.
Top tips for hiring a van
Here are a few things we want to share with you about hiring a van which might make your experience just that little bit more pleasant.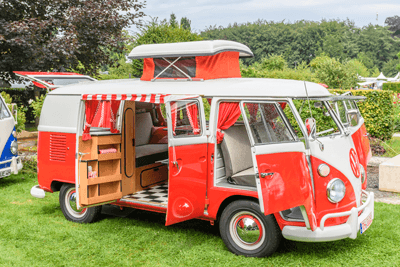 Pick the right size for the job
Take your driving licence and credit card with you when you pick up the van
Give the van a once-over and make sure any damage is noted on the contract
Make sure breakdown cover is included in the hire
Check the excess levels as they can be pretty big. You may be able to pay a waiver so you don't pay an excess if you have an accident
Don't forget it's a lot bigger than a car
When you park, leave some room to load/unload your stuff
Looking for some van-tastic insurance for your ride? Compare wheel-y good deals with GoCompare