Leaving home for university?
If you're living in a house share, get to grips with that all important life admin using our handy infographic.
Share it with your new housemates to work out who will take responsibility for what.
And remember that you won't have to pay any council tax either - win!
Click on the imagebelow to get a checklist of the bills you'll have to set up.
[link url='http://staging.gocompare.local/coveredcontent/coveredimages/639500/GOCO-Student-Info-8-8.png?version=1' fancybox]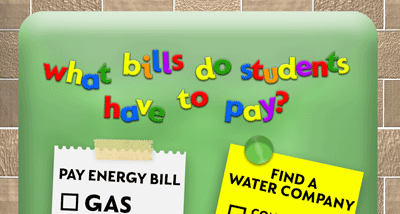 [/link]
43% of students report feeling anxious or worried over their energy bill* so why not see if you can get it cheaper? Find a great deal today!