Tech billionaire, hotelier and general fountain of business knowledge Sir Terry Matthews was at the Digital Festival in Cardiff this September, and GoCompare managed to wangle a chat with the serial entrepreneur.
Matthews has seen and done a lot in his storied career - he's grown multi-million pound businesses, built massive hotel and golf resorts like the Celtic Manor in Newport, and also set up the graduate foundation Alacrity, which provides practical business training, software skills and mentoring to university graduates.
He also holds the accolade of being the first-ever Welsh billionaire.
At 74, he's not showing any sign of slowing down, and is still enthused by start-ups and technological developments as ever.
Here's what he had to tell us…
Make mistakes count
Matthews is involved with around 100 companies at the moment, mostly in the technology sector. Having set up and invested in innumerable businesses over his career, he's learnt a lot from mistakes along the way.
"In my case, I've had a lot of experience in growing tech companies - experience tells you what's good and what's not good," says Matthews. "Often you get more out of learning what not to do than what to do."
Changes to technology might catch some people on the hop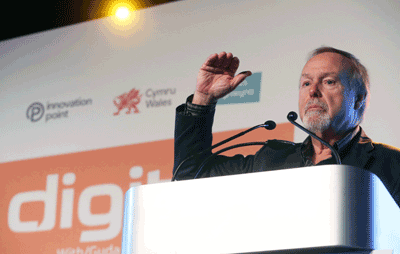 Matthews was particularly impressed by some of the data security firms which were present at Digital. It's a sector he's particularly interested in with the European General Data Protection Regulation requirements on the horizon.
"I'm impressed with a lot of the work going on in cyber security - it's a huge subject matter costing many companies massive amounts," he says. "It has massive penalties associated with it for people who don't protect personal data. It's incredibly important."
Data headaches on the horizon?
Matthews made his fortune through companies like Newbridge Networks and Mitel, and started his career with an apprenticeship at British Telecom.
He's played his own significant role in the global communications revolution, but predicts some challenges in the future - particularly because of the demand for more data from video, and the strain that 5G mobile connectivity will put upon mobile operators.
"There's a move towards free data usage," he says, "And the profit-per-bit in the mobile world continues to go down and down year after year. With 5G, the cost per bit has to come down, and also move to provide more bandwidth at the same time."
Brexit means opportunity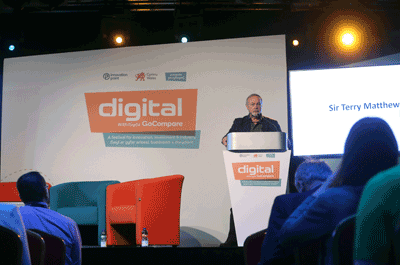 Matthews hails from Newport in south Wales, but his primary home is in Canada, which is also where some of his most successful businesses have been based.
He's an internationalist, and he's optimistic about British technology companies' prospects in a post-Brexit world.
"I don't think Brexit will affect things – people will build successful teams around themselves regardless," he says. "Companies who are already successful aren't just going to leave."
He's also confident in Britain will retain a competitive edge over its European counterparts.
"There are some really tough social laws in much of Europe around the amount of working hours you can do in a day. Take France for instance (The French government introduced laws which guaranteed workers had the 'right to disconnect' on 1 January 2017). Don't tell me that if you want to do global business that I can't do emails or make phone calls in the evening when I'm an entrepreneur. It's incompatible. It doesn't work.
"The UK, on the other hand, tends to be pretty freewheeling in regards to work ethic and what hours people want to work."
"I'm optimistic," he adds. "I think that there's a large increase in opportunities, and I think that when there are opportunities you can fill them. This (tech) is not a declining industry sector we're talking about, by any stretch of the imagination."
The value of grey hairs
One of Matthews' key messages to attendees at his opening speech at the second day of the conference was for technology businesses to tap into the experience of older people who've recently retired.
"They're literally there sat at home twiddling their thumbs waiting for something to do!" he told delegates.

Later, he would further elaborate on the benefits which older people can bring to the tech sector, which is often viewed as a young person's game.
"Experience and networks," he tells us. "If you want a good financial statement to present, then who better to do that than somebody who used to work at a major auditing company? They know exactly what investors what to see."
Comparebusiness insuranceandbusiness broadbandwith GoCompare