Cruising to college, doing nan's weekly food shop, or dropping bae off for another term at uni.
Young'uns, you've got people to see and places to be, but it's more expensive than ever to do it in your own car.
What cars are cheapest to insure for the under 25s?
Oh happy day, you've passed your test and you're finally buying a new set of wheels. It's an absolute bobby dazzler (the AUX port isn't full of crumbs!) and the asking price's a steal.
Before you take the plunge, look before you leap – one wrong purchase and car insurance could bite you on the bum.
GoCompare's data reveals that drivers between the ages of 17 and 24 are paying more for their car insurance this year.
In 2016, the average car insurance premium for a young driver was £1,520, and year-to-date, 2017, it's increased to £1,631 – that's £111 extra from your pay packet, student loan or grant.[1]
But, your premium can be cheaper than average if you shop around. Gocompare's dug around in its data banks and found the top ten cheapest cars to insure for the under 25s, using real life quotes from young people.[1]
#1 Volkswagen up!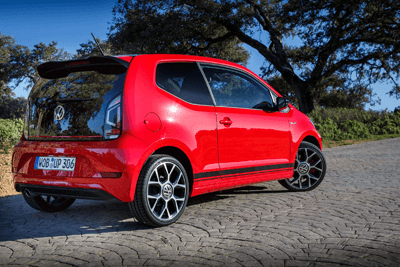 VW's charismatic city car, up!, elevates you beyond the old bangers in the classifieds. It's on the road from £9,135, hits 62mph in 14.4 seconds and runs at an efficient 68.9 mpg.[2]
As standard, it's available in 11 colours with heat insulating glass, power steering, and DAB – nice.
And, from an insurance perspective, the average cheapest premium is £954 – but this will vary based on your experience and circumstances.
#2 Fiat 500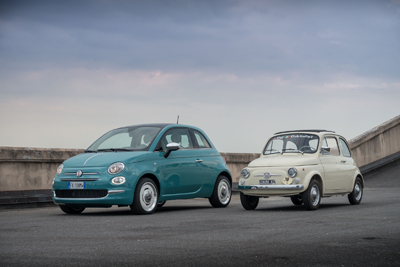 Another city car for your comparison list is the euro-chic Fiat 500. It's a self-proclaimed car for the 'perfectionist' and describes its style as smart, sassy and seductive – just be true to yourself and the car will follow.
The standard 500 POP 1.2 69hp is slightly more expensive than the VW up!, on the road from £11,615, and the average cheapest car insurance premium is £994.[2] As before, this price will fluctuate so make sure you compare before bringing one of the 500 range home.
#3 Citroen C1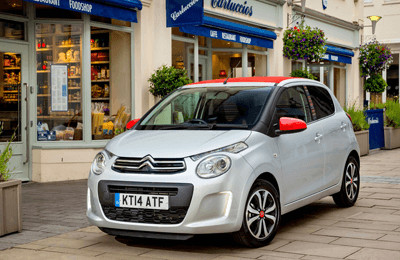 The Citroen C1 is one of the cheapest cars on our list, new on the road from £8,570.[2] It has remote central locking, air conditioning and boasts a 'spare wheel' as a selling point – make of that what you will.
The best average premium for the Citroen C1 is £1,008 – your quote may be higher or lower than this. If it does break down, parts are easy and cheap to get, minimising headaches for your insurer.
#4 Vauxhall Adam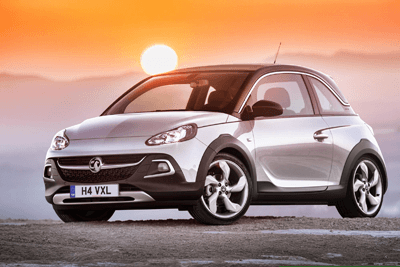 It's another comfortable city car. Are you seeing the trend here? The Adam family starts from £11,965, so it's more expensive than the Fiat, but its interior has a sportier bite so it's totally worth it.[2] The seats have side bolsters like a rally car, and it's compact at just 1.72 metres wide – put it this way, you won't sweat parallel parking next to a BMW.
The insurance creeps up a bit here - the average cheapest premium is £1,017. Your quote may be more affordable than that, but you'll never know unless you compare.
#5 Peugeot 107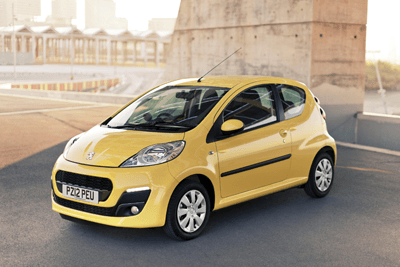 The Peugeot 107 is one of the only cars in GoCompare's top ten that isn't new on the road.
Peugeot ceased production of the 107 in 2014, but you can buy the model second hand from used car dealerships. The 107 had a facelift in 2009 to improve the exterior and interior finish, and improve the fuel economy to 62.8mpg. On the forecourt, keep an eye open for reg plates with 09 or 59.
The best average premium for a 107 for 17 to 24 year olds is £1,022 – but, be aware there may be other costs involved with buying a second hand car, for instance upgrades and repairs.
#6 Skoda Citigo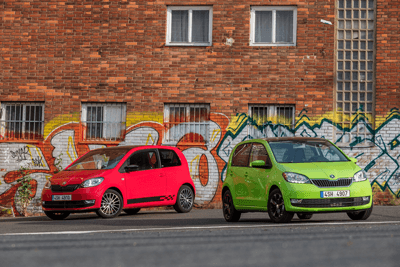 The Citigo is an award-winning, 5-door city car, starting from £8,985 on the road.[2] What Car? named it as the best city car under £10,000, so arguably, you should check this little motor out before any of the others in our top ten.
It's only sporting a 1.0 litre engine, but to make up for it there's buckets of room in the boot (959 litres with the rear seats down, to be exact), so if you're just a short drive from the beach and there's a dog to walk, the Citigo could be 'the one'.
The best average premium for a Skoda Citigo for 17 to 24 year olds is £1,031 - not the cheapest, on average, but your premium may not be as high, so compare your quotes before writing it off.
#7 Volkswagen Fox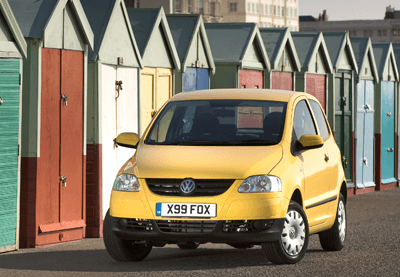 It's not the VW van of your dreams but the Fox is still worth a look.
In production up until 2011 in Europe, it was replaced by the VW up! - the first cheapest to insure, by our calculations. If the Fox takes your fancy, search dealerships and classifieds to find a 1.2 or 1.4 litre second-hand petrol model, or a 1.4 diesel engine.
The latter may be the most affordable option right now because according to the SMMT in 2017, diesel sales slumped by a third in October.
The average best premium is £1,035 for drivers under 25, but costs vary depending on your personal circumstances. Get comparing before you're swept up in an eBay auction.
#8 Hyundai i10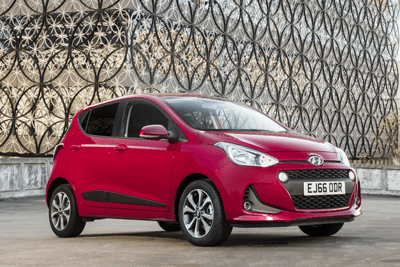 Great things come in small packages, so says Hyundai about its i10. This compact little car is new on the road for £8,995.[2]
Some i10 models have smart technology bundled inside - namely, a touch screen navigation system and live connected services, Apple CarPlay and Android Auto.
But what's really exciting is the safety tech. Thanks to a multi-function camera and a lane departure warning system, the car alerts you if you accidentally drift off course. And its forward collision warning system measures the space between your bumper and the car in front - if there's a risk of collision, you'll know about it.
It's these kind of security and safety features which may help decrease your car insurance premium. The best average quote for drivers under 25 in 2017 for the i10 is £1,036.[3] Not too shabby. 
#9 Toyota Aygo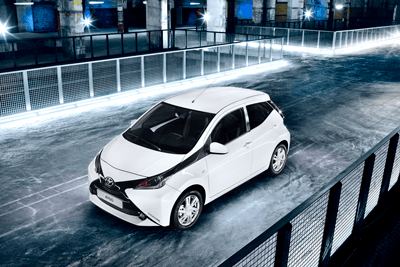 You probably won't remember the Toyota Aygo sting that topped and tailed every Hollyoaks omnibus break on Sunday mornings, but it's a motor that's been on younger drivers' radars for at least a decade.
These days, it's new on the road from £8,995 and the Aygo scooped gold in the 2017 Auto Express: Driver Power Survey for 'Best City Car'.[2] As it's setting a pretty high standard in the industry, there's no harm in taking it for a test drive.
What's so good about it? It's customisable, no surprises there, and it too has the pre-collision system, and lane departure alert, but customers seem to like it for its roominess and economy.
Even if it saves you money at the pumps, you never know what the insurance will cost unless you compare. By our working, the best average Aygo premium for young drivers is £1,044.
#10 Mazda2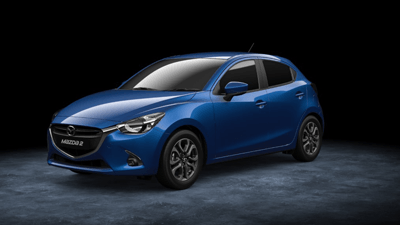 The Mazda2 is the most expensive we're going to talk about, both in the outright purchase price and annual average insurance premium. It's new on the road from £12,695 and £1,056 to insure on average for under 25s - but as always, your premium may fluctuate either side of the average, depending on your experiences behind the wheel.[2]
Little wonder the on the road price is more flamboyant. It's described as the 'sporty supermini' and the presentation is altogether more sophisticated. It's sporty and muscular, with the look of a new Ford Focus, or revamped Nissan Micra.
Enough about its good looks, how does it perform? The experience is likened to 'horse and rider', engineered to be light and strong. Under the hood is a SKYACTIV engine that boasts great performance with 105g//km CO2 emissions and 62.8mpg fuel consumption.
Which one is right for you?
These are the cheapest average cars to insure in 2017, but as we move into 2018 the front-running cars for young drivers may shift, so you've got to compare what's on the market to find the right car and policy for you.
Insurance is calculated based on your personal circumstances, so there's no hard and fast rule, especially if you're a new driver.
Shop around for car insurance with GoCompare today and see if you can bag a bargain