Darkness falls across the land, the midnight hour is close at hand, burglars and vandals are in your hood, raising hell and up to no good
Catastrophes at home reach hair-raising levels on Halloween according to Aviva. The insurer reckons malicious damage claims hit 160% in 2016, which means homeowners should take extra care in 2017.
Pranksters on your property
Halloween egging, spray paint and teepeeing pranks are the Halloween stereotypes, but damage and loss that can't be jet washed down the drain could haunt you until Christmas.
It's ghouling around that'd wake the dead – think fires, broken windows and theft.
Your Halloween home security and safety should be no different than any other night of the year, but if on reflection, it's looking like a sad clown down a drain, this is a good time to zhuzh it up.
Light 'em up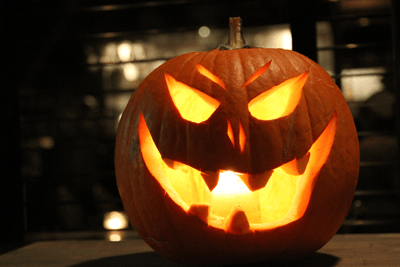 Lighting will stop masked ham burglars (and real burglars) hiding in the dark corner behind the rose bush, but also make your property welcoming and safe for under 10s who just want to dress up like a unicorn and scoff some Haribo.
Phil Stephens, managing director of online lighting specialists Socket Store has some illuminating advice: "Offer a friendly light, ideally one with an integrated PIR sensor that switches on automatically when trick-or-treaters approach," he says.
"It's also a good year-round security precaution to bask your driveway in light when visitors call.
But lights can make your home safer too: "Don't forget to swap the wax candles inside pumpkins for cheap LED substitutes. They flicker just like real candles but don't pose the dreadful fire hazards associated with fancy dress outfits and bare flames."
Lock it down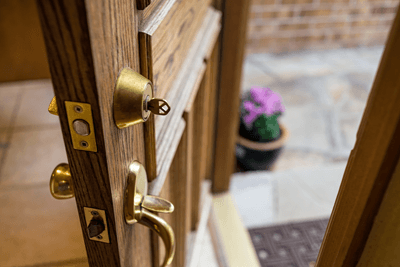 The garden is a spooky spot, especially cobwebbed garden sheds. "If you want to decorate your gardens and sheds for Halloween, remember that this will attract attention" says safe.co.uk's, Anthony Neary, "Any valuable items you have inside may be at risk.
"Lock away valuable tools inside the house if the decorated shed is in sight of the street, making sure windows are obscured and the lock is high quality.
"A hasp and closed shackle padlock will be more secure than a traditional padlock."
Raise the alarm
If no one's at home on Halloween, you may also want to invest in and set an alarm. If you fancy yourself as a Derek Acorah, you could install a security camera that'll remotely send you alerts, videos and info about any paranormal activity when you're away from the house.
"Smart home alarm systems are now available as an upgrade to a standard alarm system, which allow homeowners to control their alarm via a smartphone," explains Yale's home security expert, Stephen Roberts.
"If you're away and the alarm is triggered, it will send instant alerts to your phone, protecting your home from Halloween pranks and vandalism."
If you invest in tech, and decent locks, you may save some money when the time comes to renew your home insurance, too.
Transylvanian pet shop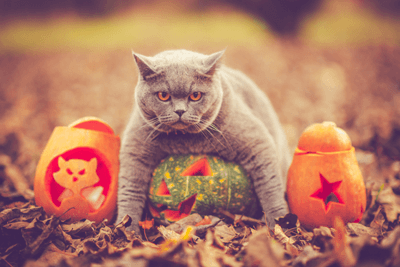 Random callers marauding in the garden and lingering at the French doors is bound to put pets on edge.
So after drawing the curtains, plug in pheromone diffusers and spritz a remedy spray – both will help soothe anxieties for cats and dogs.
You can also make tweaks to their diet, for instance, Pooch & Mutt has a range of Calm & Relaxed tube treats to soothe sensitive dogs alarmed by unfamiliar sounds and vibrations.
"It contains chamomile and valerian root" says founder, Guy Blaskey.
"Both were used in ancient Greece and Egypt to aid relaxation. We also use L-tryptophan, that helps form the 'feel good' transmitter, serotonin."
The Halloween home survival guide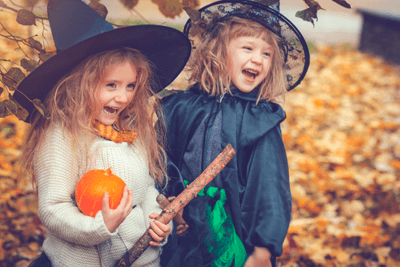 Two weeks before Halloween: Track down your window keys, test your front and back door deadlocks, flip the outdoor lights on and off, and bring in any secret keys you've got stowed under the flower pot outside. If you're missing any vital kit, nip down the DIY shop and get your home security.
The week before Halloween: Tidy up. Start parking your car in the garage, lock garden tools, mowers and toys in the shed, and bring Damion the gnome and his ornamental squad inside until this all blows over.
On Halloween: Fill your sweet bowl, pop the LEDs in the pumpkin, and switch on your floodlights, but keep doors and windows locked even if you're sat in the front room.
If you're spooked by your callers, don't answer the door, and be wary of unexpected adult Trick or Treaters, or more likely, door-to-door salespeople – they could be casing the joint.
 
If the worst happens (the windows get smashed, the garage door is dented or your best olive trees are pinched) call your insurer – your home building or contents insurance may cover you for theft or damage. Just make sure a claim's worthwhile for small items, in light of your excess.