Imagine if your commute to work didn't involve a car, train or bus. No monstrous traffic jams or awkward conversations with strangers.
Just a short, leisurely stroll down your back garden to a shed.
It's probably one of the least likely places you'd think of running a business from.
In fact, recent research from GoCompare Home showed that 63% of UK adults wanted their ideal home to have a shed for storage purposes but only 8%  would use it for an office.[1]
But having your workplace just a stone's throw away could be perfect for you.
Why the garden shed?
Living in a small town with no office space to rent, copywriter and content strategist Laura Robinson of Worditude Ltd found an ideal workplace in her shed.
"It gives me a quiet space to work in," she says. "It's somewhere I can lay out all my plans - they're pinned to the walls. And it's the perfect place for filming the videos I use in my training tutorials and on social media."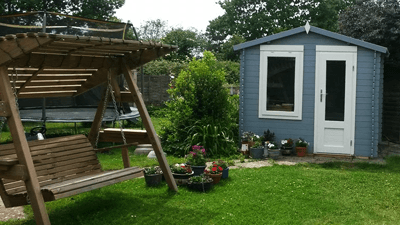 Image: Laura Robinson
If you work from home like Laura, you may find it difficult to keep work and home life separate.
But having a shed as your workplace allows you to keep your business and personal life miles apart. Well, a few feet at least.
How to make your own shed
Decided the shed life really is for you?
First things first, you'll need to get it ready for business.
If you're a dab hand at DIY, you could have a go at building your own shed from scratch.
Ryobi Tools UK has a handy step by step guide to take you through each part of the process - from preparing the ground to those finishing touches.
But even if you already have a shed that could stand up to the task, it's worth kitting it out in the right way.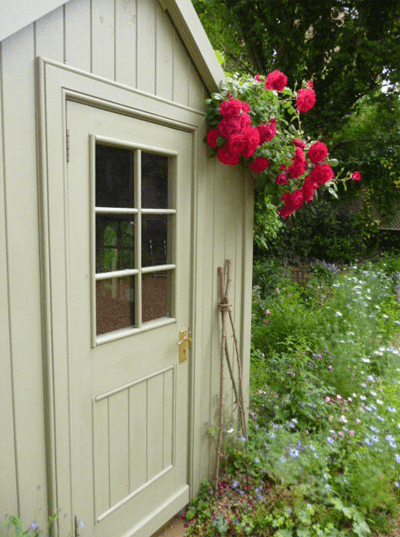 Image: Carolyn Dunster
Depending on whether you'll be using the shed as an office or a workplace, you'll need to think about what sort of things you'll require.
Zoe Collingwood uses her shed to make natural, organic bath products for her business, Betwixt Bath Creations.
She says, "''My 10x6 shed has to work really hard because it's the HQ for my small business and it also houses my condenser drier!
"I invested in special insulation and clad the inside with 12mm chipboard to protect my sensitive ingredients, such as jojoba oil and Epsom salts."
Building the right environment for you and your supplies is crucial. After all, this is where you'll be spending a lot of your time.
If you're going to be sat at a desk, you might think about buying a small heater for the colder months or making sure your broadband reaches you in the garden.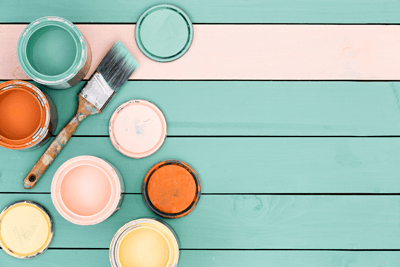 And using your shed as a craft workshop might require some compartmentalised storage units or a desk.
Once your shed is ready for action, you can start to decorate!
Decoration and jubilation
Time to get a little more creative…
How you'll decorate obviously depends on your personal taste as well as what you'll be using your shed for.
Bear in mind that you might not be able to furnish it exactly as you'd like as you might have to account for hygiene or safety issues.
Collingwood opted for a Moroccan theme while making her hygiene requirements a priority.
"Outside, I painted the shed a bright Moroccan-style blue and pale ice-blue, on the alternating shiplap. I continued the theme inside, with glass lanterns in reds, greens, and purples to cast a lovely, warm glow throughout, but also to provide enough task lighting to make my bath salts and face creams. 
"Soft furnishings have to be kept minimal for hygiene reasons but a colourful rug lifts the plain wood effect vinyl flooring."
Another 'sheddie' who finds her garden shed ideal as a workspace is florist and planting designer, Carolyn Dunster of Urban Flowers.
She says the shed is an appropriate place for her business as she uses it to condition the flowers she's planning on working with.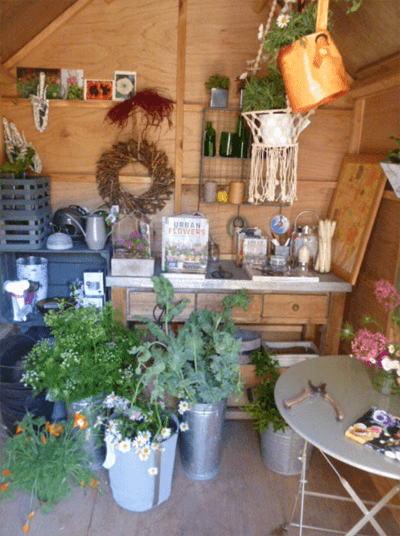 Image: Carolyn Dunster
"It's cool and dark and I can keep them in deep buckets of water overnight so they can have a good long drink before I start arranging them", she tells us.
You won't find many soft furnishings in Dunster's shed either.
"I've decorated my shed with images of beautiful flowers that inspire me and I have bunches of dried flowers hanging from the roof. It's simply furnished - some would say rustic -  I use old wooden fruit crates as shelving for storage and my beautiful potting bench doubles up as a desk."
Decorate your new workplace in a way that's convenient and practical yet cosy and inviting too.
Adding some pictures, cushions or fairy lights can all help to make a shed look more homely.
Name your new workplace
"I'm off to work in the shed, dear" doesn't sound quite right somehow. 
Choosing a more appropriate name can make your working day seem much more exciting.
The sheddies we interviewed for this article used terms like 'sh-office', 'shedquarters' and 'workshop' when referring to their sheds.
But you may want to use 'sh-tudio' or simply 'office.'
Whatever you go for, giving your shed a lovable name might make going to work just that little bit easier.
But then, it wouldn't be that hard to begin with.
Want a great deal on your home insurance? Find offers a-plenty at GoCompare