If you've always wanted a classic car but you're worried about the costs that come with it, now's your chance to snap one up. 
Recent research from GoCompare has found the cheapest cars to insure at the beginning of 2018 are actually classic models.* 
Ellis Simin, classic car restorer at Redcastle Classics, says there's a certain appeal to an old fashioned motor that newer models just don't have.  
"In a modern car, you have minimal input to the driving experience," Simin says, "whereas in a classic car, you're the one in control with next to no driving aids like ABS, parking sensors, even power steering. It's much more involved. 
"Plus, there's the ego trip that can come with it – everyone notices a classic car because it stands out so much!"
So what models should you be looking for if you want a cheap deal on your insurance? 
Daihatsu Cuore 
Car insurance doesn't favour the young. 
But if you're a young driver, cruising around in your parent's old Daihatsu Cuore, you could get away with only paying £977.91, the average cheapest premium for 18-24 year olds.[1] 
Daihatsu cars are no longer being sold across Europe but if you've got your hands on one of these nifty little run-arounds, you could be paying less for your car insurance than others in your age bracket. 
Austin Mini 
If you fancy a Mini but can't afford to insure a newer model, as it turns out an Austin Mini may be a cheaper alternative for some drivers. 
GoCompare found that drivers between the ages of 25-34 years old, paid an average annual sum of £288.19.[1] 
This vintage model is a classic Mini – in 1962, the car was branded the Austin Mini and it later became the Rover Mini in 1988. 
The Rover Mini comes out third for the same age bracket at £406.41 per year.[1]  
It's a vintage beauty that could save you a lot of money as both the Austin and Rover models feature in the top 10 cheapest vintage cars for 35-44 year olds and 55-64 year olds. 
Land Rover 88
The 88 in the name of this classic steed refers to the size of the wheel base. 
Land Rover 88 comes into the top ten cheapest cars to insure for a pretty broad age range.
55-64 year olds get the best annual average cheapest price at £241.52 but 25-34 year olds could still get a great deal with an average annual premium of just £294.65.[1] 
Originally designed for farming and defence purposes, the Land Rover 88 boasts a sturdy structure and plenty of room in the back if you're using the vehicle for work.
MGB
Who would have thought a vintage sports model would be up there in the cheapest cars to insure right now?!
Well the MG MGB, which originally came on to the market from Morris Garages in 1962, comes out on top for 35-44 year olds with an average annual premium of £222.27.[1] 
This soft-top, two door model is the cheapest on average annually for over 65's too, who may only have to pay £146.69 a year.[1] 
Perfect for cruising those country roads of a Sunday afternoon. 
Morris Minor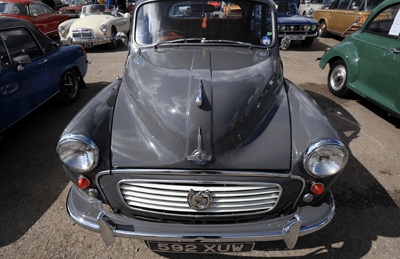 Morris Minors were once used as police cars in the UK.
Now, for 45-64 year olds, they're one of the cheapest cars to insure!
If you're aged between 45 and 54, you could expect to pay around £226.40 while 55-64 year olds may pay an average annual premium of £116.80.[1] 
Morris Minors first came out in 1948 so you could get your hands on a real vintage motor as well as a cheap insurance deal. 
MG Midget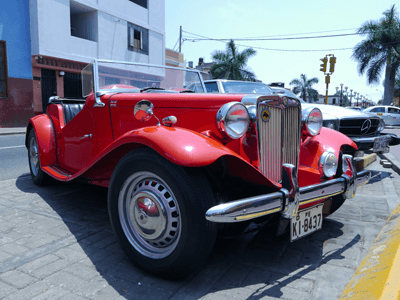 Another soft top two-seater from the guys at MG. 
On earlier models of this nifty little car from the '60s, there were no external handles or locks! 
55-64 year olds could only pay an average premium on an MG Midget of £160.06 so cruising in your handle-less ride could mean a cheap annual pay-out.[1] 
45-54 year olds may only pay £100 more too with an average price of £262.66.[1]  
Toyota Paseo 
The Paseo model was available in the UK between 1991 and 1999 but in March 2018, you can still pick one up for just over £1,000 second hand so you won't be paying too much for the actual car.
This '90s motor could only set 45-54 year olds back a sweet £274.95.[1]  
Not bad for a sleek, sporty coupe. 
Saab 900
Saab 900's were manufactured for 20 years between 1978 and 1998 and this little classic could save you a few pounds.
If you're over 65, you could only be paying £233.53 a year to insure one of these babies.[1] 
The Saab 900 is known for its wide, curved windshield which allows drivers to see more of the road. 
Plus, you can find both hatchback and sedan models so you can choose which one takes your fancy. 
Peugeot 205 
This little run-around could be a hit for over 65's as it boasts an annual average premium of only £250.54.[1] 
The Peugeot 205 was a popular car of its time when it was manufactured between 1983 and 1998. 
Available in hatchback and convertible editions, this car could keep your wallet happy too. 
Bear in mind…
You should weigh up your options when it comes to buying a classic car. 
Think about whether the car will need restoration and how much you'll be spending on fuel. 
Remember that newer cars tend to have a better fuel economy so it's worth thinking about all of the costs before you decide on a classic model.