Guide to credit cards offering air miles
Key points
Air mile cards help you earn points on your day-to-day spending that may be put towards flights, upgrades or other travel schemes
Beware of high interest rates and any annual fees
You're likely to need a good credit score to qualify
Carrying out a soft search could help you avoid damaging your credit score by applying for cards you're unlikely to be accepted for
Some credit cards allow you to collect air or flying miles as you spend, the rewards to be used either with one specific airline or in more general travel points schemes such as Avios.
The use you put the card to is not, of course, limited to travel expenditure.
The reward could come from spending on anything, perhaps your weekly shop or a new piece of furniture.
Many major airlines have their own branded credit cards, which reward you with flying miles every time you spend on them.
It's worth pointing out that the airlines themselves don't run the cards - they're actually issued and managed by credit card companies.
You can use the miles you earn to pay for flights, although you'll almost always need to pay something towards taxes and charges.
Need more information?
Alternatively, you can use the points for cabin upgrades, for example from economy class to premium economy class.
Other credit cards offer the chance to transfer your points into air miles.
If you compare credit cards through Gocompare.com you'll be presented with a table showing all available cards.
You'll then be able to narrow down your search, and amongst your options will be choosing to see just the cards offering air miles.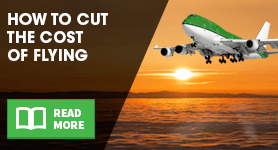 The pros of air miles credit cards
Obviously the biggest pro of air miles credit cards is earning money off flights, or obtaining cabin upgrades.
You earn these just by spending on your credit card, and many deals offer decent introductory points bonuses if you spend a certain amount on the card within a defined time period
If you use your card for business expenses you can quickly earn lots of miles or points, particularly if you're a frequent flyer and you book with your air miles card.
The cons of air miles credit cards
You should try to pay off your balance in full each month - APR rates on this sort of product tend to be high, and if the balance isn't cleared then the cost of interest repayments are likely to cancel out the value of any points you've earned.
Things to consider
Flights are not free - you'll probably have to pay taxes and charges
There may be date restrictions on the use of points
Would another sort of rewards-based card be more suitable to your needs?
Always make at least the minimum repayment to avoid being hit by charges and getting a black mark on credit records held about you.
The typically high APR means that these sort of cards are not generally regarded as the best option for borrowing - read about products that may be more suitable in our credit card guides.
Consider also any annual fee placed on the card - again, this may cancel out the benefits of any 'reward'.
Remember that flights you 'earn' by spending on your air miles card are not free - you'll almost certainly have to pay some taxes and charges.
This means that, particularly for long-haul flights, you may only make a small saving on the overall cost of the flight - consider whether you'd get more value by using the air miles for cabin upgrades, for example.
The cards may work better for short-haul flights, as some airlines and reward schemes cap the charges you have to pay.
Such benefits are often seen on internal UK flights and shorter hops to close European destinations.
What to watch out for with air mile cards
Be careful not to spend more than you need to or can afford just to earn more points, particularly in pursuit of an introductory bonus.
You should also be aware of any annual fees and any date restrictions on when you can redeem your points.
Note that some schemes will take away your points if the card hasn't been used for a certain amount of time - as always, read the terms and conditions carefully.
If you're seeking a card that gives something back for your spending, you may also want to consider whether other options such as cashback cards or rewards cards are more suited to your needs.
When you're actually overseas, remember that air miles cards may not be the best option for spending. Read our article on travel credit cards for some of the things to consider and the chance to compare cards that are tailored for overseas use.
Avoid rejection for air miles cards
Remember that all such rewards-based cards tend to only be made available to those with reasonable credit scores, so be realistic before making an application to avoid the risk of rejection and damaging your credit rating.
It's worth thinking about using Gocompare.com's smart search tool that will enable you to make a soft search for an air miles credit card. Such a soft search won't leave a mark on your credit record and will show you the deals you're likely to qualify for before you proceed with a formal application.
Availability of air mile cards
On 13 November, 2014, Gocompare.com checked the 249 credit cards listed on the matrix of independent financial researcher Defaqto.
Using these cards to pay for your long-haul flights is a great idea if used in the right way
Matt Sanders, Gocompare.com
Forty of these cards offered air miles as an incentive for spending, while a further 16 operated points schemes with the option to exchange points for air miles or similar loyalty schemes such as Avios and Virgin Atlantic Flying Club.
Some of these credit cards had introductory miles bonuses, others allowed customers access to executive lounges in airports.
In all cases taxes and surcharges had to be paid towards 'free' flights earned with air miles, while some cards had annual fees, and others demanded a minimum household income - £25,000 a year was one example.
Points were earned for every pound spent, with some cards offering one point for every £1 spent, while others offered one-and-a-half points for every £1 spent.
Expert comment
"This type of card is great if you're a frequent flyer and a high spender," said Gocompare.com's Matt Sanders.
"For example, in January 2014 you could fly from Heathrow to New York if you'd accumulated 20,000 Avios points with British Airways and paid the taxes, fees and other carrier charges.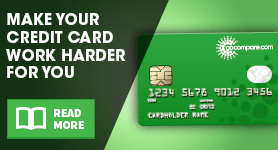 "But if you're going to use one of these cards you have to ensure that you pay off the balance at the end of each month, otherwise the points you earn from your spending will get wiped out by the interest you accrue.
"Choose your plastic wisely and make it work for you. Remember to play the credit card game - don't miss a payment, and, if possible, pay the balance at the end of every month, or you'll end up paying more money in interest payments. One slip up could damage your credit score.
"Using these cards to pay for your long-haul flights is a great idea if used in the right way, but if you aren't a big spender and don't use your card that frequently, these cards might not be the right ones for you.
"Paying an annual fee might wipe out any value you earn on them. But if you're using a credit card every day and are often jetting off, give one of them a go - you might only have to pay airport taxes and charges to secure the holiday of a lifetime!"
[SeanSocialShare]