Guide to credit cards for those with a poor credit rating
Key points
'Bad credit rating' cards typically have a low credit limit and high interest rate
Can help to rebuild a credit rating if used responsibly
Make a soft search to check your chances of acceptance before applying
Pay balance off in full every month to avoid high interest rates and the risk of further damaging your credit score
The unfortunately named bad credit cards - also known as credit cards for poor credit - are specifically designed for people who have adversely affected their credit rating.
This may have been by missing repayments or running up debts in the past.
These cards are unlikely to be the right option for you if you haven't had credit before or are in the early stages of building a credit score.
If you're in this situation and are looking to get a credit card, you may want to consider a credit builder card.
Eligibility for bad credit rating cards
While these cards are open to a wider proportion of the population than standard cards, you should be aware that not everyone will be accepted - and making a failed application will further damage your credit history.
Bear in mind that people who've had County Court Judgements † (CCJs) against them or those who've been declared bankrupt † in the past are unlikely to be accepted for a card offered through Gocompare.com.
If you have been declared bankrupt or had a CCJ against you, consider contacting a specialist provider such as Vanquis to discuss your options.
How a soft search could increase your chances
When looking for a card, think about using smart search tools that make a soft search before you proceed with an official application.
Need more information?
Such a soft search for a bad credit card will show you the cards you're likely to qualify for and won't have an impact on your credit history.
You can use smart search when looking for credit cards with Gocompare.com - just fill in your details and you'll be shown your chances of acceptance as a percentage for each card.
Pros of credit cards for bad credit ratings
This type of card allows people who may be turned away by mainstream lenders to get credit and to work on rebuilding their financial history.
This could be particularly useful if you're going away on a foreign holiday, for example, and need a card for deposits for things like car hire or excursions.
They also offer an opportunity to get your credit rating back on track if you can demonstrate you can manage the card correctly.
Cons of credit cards for bad credit ratings
One downside of these cards is that you won't get a huge credit limit. However, if you've had problems with credit card debt in the past, perhaps this isn't such a bad thing.
This type of card also generally has very high interest rates, so you'll be clobbered by big charges if you don't pay off your balance in full each month.
What to watch out for with credit cards for poor credit
The biggest thing to be aware of with this type of card is making sure you don't damage your credit rating further.
If you don't manage your card well and your credit score dips even lower, it will almost certainly stop you from getting a card for a long time.
Try not to overspend and to pay your balance off in full each month.
By doing this you should avoid high charges and you'll also gradually improve your credit rating for the future.
An improved credit score will then give you access to more attractive deals on credit cards and other financial products.
Whatever you do, try to avoid using these cards to withdraw cash - the charges will almost certainly be huge.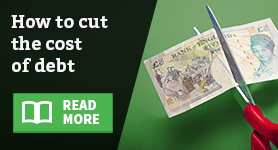 You should also be aware of any charges for using your card abroad. There may be cards available that don't charge for foreign usage, so make sure you shop around.
If you have debt problems...
If you're struggling with debt, speak to your lender as a first port of call. The lender won't want you to default on the debt, and may find a way to help.
You can also contact your local Citizens Advice Bureau, National Debtline or StepChange Debt Charity (formerly the Consumer Credit Counselling Service) for free advice.†
[SeanSocialShare]