A business credit card may be suitable if you own a business or regularly use plastic to pay expenses, but be aware of annual fees – and of the need for a good credit rating.
Key points
Business credit cards may offer benefits including rewards points, cashback and/or travel insurance
They could also offer an interest-free introductory period on balance transfers and purchases
You can separate business expenditure from personal expenditure
Beware of annual fees
Looking for a way to manage your company's expenditure in a controlled yet flexible way?  
Then you may want to consider a business credit card – also known as a company credit card.  
What is a business credit card?
A business credit card is just like a normal credit card, but it's in the name of your business rather than an individual.  
It's used by you and your employees to make purchases for the company, with the company being legally responsible for making the repayments on the card.  
And just like a personal card, you can pay the balance off in full or make a minimum monthly payment. Be aware that if you don't pay the minimum amount each month, you may be charged and you could lose any interest-free introductory deal you had.
You can pop down to the local branch of your bank and have a chat with them about the best credit card for you, or most companies have an online or telephone application process.  
Did you know...?
Many cashback and rewards cards designed for personal use will specifically exclude business spending from qualifying for rewards
Will my business be credit checked? 
Yes, your company will undergo a credit check to determine whether to offer you a card and what your credit limit will be.  
They may also look at your bank statements and assets to make sure you can afford the repayments. 
Types of business credit cards 
Credit card companies offer various cards with different features which may suit your business. Examples are: 
Air miles credit cards – if you need to travel for business you can collect air miles and get free or discounted flights 
Cashback credit cards – use your card for purchases and get back a percentage of what you spend 
Reward cards – earn points from what you spend on your card and swap them for vouchers and other rewards 
Low or interest-free cards – your company won't be charged interest on what they buy for an agreed time period, for example, six months 
Be aware, that all types of credit cards will have terms and conditions which you should read carefully before deciding which is right for you. 
Advantages of business credit cards 
If you're a new business, having a business credit card can help you build up your credit rating as long as it's used wisely.  
A company credit card can help you manage your cash flow too. For example, if you're running a bit short of cash because a customer hasn't paid their invoice, you can use your card to cover payments until the invoice is paid. Just remember that you need to at least make your minimum monthly payments and clear your balance whenever possible.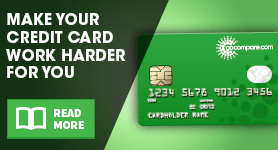 Company credit cards can also be useful when it comes to employee expenses. Your staff won't have to cover their expenses until they can claim them back. Plus, the company will save time and resources by not having to process expenses claims and payments. 
The reduction in admin extends to accounting too. You can download credit card statements straight into your accounting software rather than manually inputting receipts.  
It's also much easier to keep an eye on what your overall expenses are by checking your credit card statement at regular intervals.
Disadvantages of business credit cards  
You'll need to keep a close eye on your credit card use, or you may run up a large amount of debt, without realising it. 
Also, if you don't pay off the full balance each month, it becomes an expensive way of borrowing money depending on the interest rate for your card. 
Effectively you're relinquishing control over your finances too, by giving your employees cards. If they overspend or make unauthorised purchases, the company must still pay for them. You'll need to have a clear policy in place detailing how employees can use the company credit card.  
Lastly, it's unlikely you'll be able to use your credit card to pay all your suppliers as many will issue you with an invoice which needs to be paid by bank transfer or cheque. 
Which is the best business credit card for my business? 
There are many companies offering business credit cards and the best one for you will depend on what you need for your business.  
Things to consider
Some businesses may struggle to be accepted for a card if they don't have a credit history
Decide if the extras will benefit you or your business
Make at least the minimum repayment each month
If you don't pay off the full balance every month interest payments may well outweigh any rewards
For example, if you're going to use your card for purchases rather than travel, you may want to get a card that offers you cashback rather than travel rewards. 
Sven Schindele, Head of Banking Products at digital bank Tandem told us:† 
"Both businesses and consumers should always look to cards that suit their specific needs and give them rewards as they spend.  
"If you are regularly travelling abroad, you need to make sure you have a card with no foreign transaction fees. This should be your priority over any other rewards: the typical foreign transaction fee of up to 3% will outweigh any other perks a card might offer.  
"That being said, cashback is a great bonus that can really add up over time, as long as you're avoiding any other fees." 
Tips for choosing the right card for your business  
Choosing the right card can be a minefield given the different variations of rewards, interest rates and the sheer number of companies offering them. Here are some things to think about before deciding on which card to apply for.  
Check the APR 
The Annual Percentage Rate or APR is a combination of the interest rate and any other charges you pay for your card. The lower it is, the less you'll pay to use your card.
Introductory fees
If you have a card with a 0% interest introductory period, it's important to remember that once it ends, you'll start being charged interest, which will get expensive very quickly. Try to clear the balance before this happens. 
Find out if there are any annual fees you have to pay 
The card issuer may charge you fees for having a business credit card. They can be applied monthly or once a year, usually in the month you first took out your card. 
Missed or late payment charges 
Paying late or missing a payment usually incurs a charge which your credit card company will automatically add on to your account. Find out how much the fee is. 
See also:
Going over your credit limit 
If you spend more than you're supposed to, you'll get charged extra for it so make sure you know what it's going to cost you.  
Compare business credit cards online 
The easiest way to find the card that best suits your business is to compare cards. You'll be able to easily compare key features such as APRs, charges and rewards.  
By Kath Denton