See the advantages and disadvantages of your business accepting debit and credit card payments and find out about terminals, acquirers, merchant service agreements and charges, and more.
Key points
Weigh up the advantages and disadvantages of accepting card payments at your business
You'll need an acquirer to help process payments - choose yours with care
For small businesses, the decision on whether or not to accept card payments is an important one.
It can affect everything from the day-to-day running of your business to the profit generated.
Before making the decision, it's important to weigh up the advantages and disadvantages of card payments over the traditional cash and cheque methods.
Consider what it could do for your business – not just now, but also to help it to grow in the future.
Advantages of accepting card payments
Easier for the customer
Customers may assume that they're able to pay by card for products from your business and, if the option isn't available, it could prevent them from purchasing.
Research from Barclaycard suggests that more than one in six customers will walk away from a purchase if they're not able to pay on a card.[1]
Potential increase in profits
If customers can pay by card you may see a rise in profits as a direct result, because offering different payment options can help tap into a whole new section of the market.
Give your business more credibility
Accepting card payments may make your business appear more professional, which could give potential customers more confidence when deciding whether to purchase from you.
Less cash on the premises
If your competitors are still solely using cash and cheque payment methods, introducing card payments could help set you apart.
For small businesses such as shops and cafes, taking card payments means that you won't have to keep so much cash on site or have to deposit large amounts at the bank.
This helps keep your takings secure.
Internet and phone payments
Accepting card payments is not just for face-to-face transactions.
Debit and credit cards can also be used to pay over the phone or internet which can help to build up business further afield.
You'll also be able to take payments outside normal business hours.
Did you know...?
American Express will charge a different commission rate to Visa and/or MasterCard
Detailed statements
You'll be provided with a comprehensive statement of the payments made by card which can help you identify your customer's spending habits and peak transaction times.
This type of information could help you to adapt your marketing plans to suit your customers' needs.
Competitive advantage
If your competitors are still solely using cash and cheque payment methods, introducing card payments could help set you apart.
Or, if your competitors already accept card payments, it can help to put your business on a level playing field.
Autumn Statement 2014
"From January 2015 the majority of acquirers will offer a new service for small businesses to receive the funds from debit and credit card transactions much more quickly. Two acquirers will not meet this commitment, and the government will ask the Payment Systems Regulator (PSR) to examine whether small businesses are being disadvantaged as a result."
Receive funds quickly
Although it isn't as immediate as being paid in cash, since January 2015 it has been possible for small businesses to receive funds from all debit or credit card transactions quicker, meaning they have access to their takings faster than ever before. Make sure your acquirer offers this facility.
Disadvantages
Charges
To accept card payments you'll first have to set up an account with an acquirer, which is a bank or other financial institution that provides payment terminals and processes card transactions for you.
Acquirers charge for this service.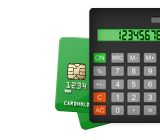 The amount you'll have to pay the acquirer for transactions is called the merchant service charge (MSC).
The MSC will depend on the types of transactions that your business will use – for example, face to face, over the phone or online – and can be negotiated with the acquirer.
Different card providers may also levy different charges. American Express, for example, will charge a different commission rate to Visa and/or MasterCard.
You might want to pass charges on to your customer in the form of percentage sale fees when they pay by debit or credit card.
However, this may negatively affect your business and discourage customers from making a purchase, so you need to weigh up whether it might be better to absorb the MSC costs yourself.
It's important to find the right acquirer based on what they offer, the amount they charge and how they'll benefit your business
Also, be aware that you'll probably be charged a one-off start-up fee when you open a new account.
Card-not-present transactions
These are classed as any payments processed not on the premises, so usually for purchases made over the phone or online.
As chip-and-pin is not used to verify the payment, extra steps have to be introduced to verify the identity of the cardholder, for example a secure payment page for online payments.
May not be cost effective
Although accepting card payments may have advantages, consider whether it's the right choice for your business.
If it's not a necessity for your customers and does not affect your sales, it may be more cost effective to only accept cash and cheques.
Finding an acquirer
Before your customers are able to pay by card you'll need to choose an acquirer to process the payments.
Acquirers will make sure that your systems and any acquirer-owned terminals are up to date with changes affecting card schemes.
They also move the money to your business account after the payment has been processed.
It's important to find the right acquirer for your company based on what they offer, the amount they charge and how they'll benefit your business.
Merchant service agreement
The acquirer will require you to sign a merchant service agreement (MSA) which contains the terms and conditions of the contract you'll be entering into.
See also:
Business credit cards
Business loans
Contactless payments
How online card payments work
This may include the card types the acquirer will accept, charges and the payment process.
Card terminals
The card terminal you should use will depend on the type of card payments that you intend to take.
Most small shops and restaurants will generally use a counter-top chip-and-pin terminal.
Either your acquirer will provide you with a terminal for taking card payments, which comes with a rental charge, or you may be able to use your own terminal. Check the options with your acquirer.
For more information on the different options available and terminal security guidelines, visit the UK card association.†
By Abbie Laughton-Coles
[SeanSocialShare]