Are charity credit cards a good way to support a great cause? Find out more with our handy guide.
Key points
Donations from charity credit cards are automatically processed by the card company
Typically only a tiny percentage of your spending is donated
Beware of high interest rates if you don't pay your balance in full every month
A charity credit card sounds like a wonderful idea. The deal is typically that every time a customer makes a payment with their card, the connected charity gets a small percentage of the transaction. 
These cards are often branded with the charity's name and often a picture, highlighting the work the charity does. 
Charity credit cards have fallen out of favour in recent years and it can actually be pretty hard to find a suitable charity credit card now. 
Instead, some credit cards now advertise their support of good causes as part of their marketing and don't link it to consumer spending. 
How do charity cards work? 
Most charity credit cards pay a fixed amount of what the cardholder spends straight to the linked cause but it's never big bucks. 
Usually, they pay 0.25%, although some do pay more. That means that you have to spend £100 for them to earn 25p. Often there's also an upfront donation when you sign up too.   
Some charity credit cards may pay a larger donation each year but it's worth reading the terms and conditions. 
Pros and cons of charity credit cards 
Charity credit cards have come in for a lot of criticism but are they ever the best option? We asked Laura Whateley, author of Money: A User's Guide, for her thoughts.  
"A charity credit card is not the best way you can give to a good cause," she says. "Unless you can guarantee you will pay off your card in full each month, you will waste far more on interest charges than the card provider will donate to charity." 
However, an industry insider told us, "Charity cards may not be the best way to give to charity but they don't rely on the user remembering to donate.  
"That means charities get money that they otherwise wouldn't." 
But what other options are there if a charity credit card isn't the right thing for you?  
Alternatives to charity credit cards 
One option is to use an app, such as Monzo, to put money aside for charity. When you spend, you have the option to round up the money to the nearest pound and automatically move a small amount into a pot – for instance, if you spent £1.57, Monzo would move 43p into your pot.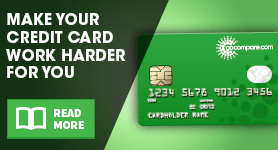 This could be a great way of saving for charity which you could then give to a good cause at the end of the month.  
Some reward and cashback credit cards may allow you to build up a balance and then choose to donate it to charity, claim it as cash or spend it with selected retailers too. 
However, you should make sure you're able to meet the monthly repayments, otherwise you could end up getting yourself into debt.  
What else should I consider? 
If you typically or even just occasionally leave a balance on your credit card then it's not a good idea to consider a cashback, reward or charity credit card. 
The high rate of interest charged by those cards would soon make it a poor choice, even if you're earning cashback, points or charitable donations. 
You might be better off considering a 0% balance transfer card or 0% purchase credit card. Both will allow a fixed period of making repayments without being charged interest. 
Some 0% cards charge no interest for more than two years, making them one of the most affordable ways to spread the cost, but watch out for when the introductory period ends as you'll start paying interest. 
Will I be accepted? 
Whatever kind of credit card you choose, it's good to know whether you're likely to be accepted before you apply. 
That's not just because it's frustrating to go through an application and be refused. It's also because applying for credit can temporarily damage your credit score. 
Lots of applications made at once can mean you're offered higher interest rates, worse terms or even refused outright. So, before you apply for the best card for you, use our free Smart Search credit card comparison tool to find out which cards you're more likely to be accepted for. 
It's quick, easy and it won't affect your credit score.  
Compare credit cards 
Remember, whatever you want a credit card for – spreading the cost, spending abroad, transferring a balance, earning something back or any of the other benefits – it's sensible to compare the different deals available to find the right one for you. 
By Felicity Hannah