Guide to finding the right credit card for your Xmas shopping
Key points
Don't let the availability of credit tempt you to overspend
A 0% credit card could help you spread the cost of Christmas
Cashback cards can reward you for your essential Xmas spending, but you'll need to pay off the full balance every month to see a benefit
Consider balance transfer cards to cut the cost of longer-term debt you may be struggling to clear
To avoid damaging your credit rating in your search for a festive-season card, try smart search before you apply
It's the most wonderful time of the year... and the most expensive, too.
In a December 2014 Gocompare.com study, 11% of UK consumers expected to carry their credit card debt through to the end of 2016.[2]
But the holiday season doesn't have to cause you worry - if you consider spreading the cost or taking advantage of reward cards, there could be ways to save money and even get a bit back.
"Organising a Christmas shopping budget is always tricky," said Gocompare.com's Matt Sanders.
"Whether you're an early shopper or a panic buyer, managing money at this time of the year is a challenge.
"But there are ways, using the credit card system, which make it easier for shoppers to plan and pay off their festive spending."
0% purchase cards for Christmas
That November pay packet doesn't seem to stretch very far when gifts, Christmas parties and numerous nights out are looming.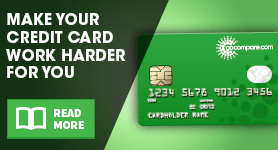 Spreading the cost across the year could be the answer.
0% purchase cards, or interest free credit cards, could help you to spread the cost of Christmas without paying an extortionate APR.
Exercise caution, though - if you miss a payment you're likely to lose the interest-free deal, meaning you'd start paying interest on the balance.
Reward and cashback cards at Christmas
Reward cards do what they say on the tin - they 'reward' you by offering goodies for spending money in the shape of air miles or vouchers in high street shops.
Be a clever credit card user and enjoy Christmas, instead of worrying how to pay for it
Matt Sanders, Gocompare.com
Cashback cards allow card holders to earn back an amount of what they spend as an annual bonus.
If you decide to take out a reward card or cashback card, you'll almost certainly need to pay off the minimum balance every month to take advantage of the gifts on offer.
But to get the most out of these cards you should really think about paying off the whole balance.
If you don't pay off your balance in full every month you could be subject to a high APR that's likely to more than cancel out any additional benefits.
These cards tend to limit the amount you can earn back in one year, and some charge an annual fee which, again, could cancel out any potential benefits.
You usually need to use these cards a lot to see significant benefits. This means using your card to pay for petrol, your weekly shop, bills and more.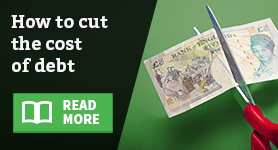 Make sure you do your research beforehand and remember that, to qualify for a reward or cashback card, you're likely to need an excellent credit rating.
Loyalty cards and festive spending
Loyalty cards can be a great way to spend in your favourite shops all year round, but they come into their own at Christmas.
Supermarkets and some big-name high street shops offer opportunities to double or even triple your points over the festive season, creating an incentive to do your big Christmas shop with them.
As ever, do your research - and be careful not to confuse loyalty cards with store cards, which could come with a debilitating APR and few incentives.
Balance transfer cards for the new year
Did you know...?
The Consumer Credit Act offers protection for purchases made on credit cards
A balance transfer card allows you to move an existing debt over to a new card, one that may charge a lower rate or give you an interest-free period.
These could be an option to consider post-Christmas, when you're looking to reduce the amount of interest you're paying.
There may be a fee for switching card providers, so check before making any commitments and calculate whether you'll save more from the interest changes.
Using smart search for Christmas cards
Although each of these types of cards can be useful for managing Christmas spending and debt, To qualify for them you're likely to need a good credit rating.
Your spending limit will depend on this, and if your rating isn't up to scratch you may not get the amount of credit you're hoping for, or you may not get a card at all.
Remember that failed applications damage your credit history, so consider making a soft search for a card before applying. This will show you the likelihood of being accepted for a particular deal without impacting on your credit history.
When you search for a card on Gocompare.com, you can use smart search. Smart search makes a soft search on your credit record and tells you the cards you're most likely to qualify for, without damaging your credit score.
Credit cards can protect Christmas purchases
Section 75 of the Consumer Credit Act covers any purchases between £100 and £30,000 made with your credit card.
This applies if your goods are faulty or the services you've paid for aren't provided.
The same applies when paying for a holiday - unlike debit cards, with credit cards you're given a safety net if anything goes wrong.
If your goods are faulty or they never arrive, the Act will provide cover - this even applies when buying goods from abroad or if the retailer goes into administration.
Take care with festive spending
"With all of these cards it's important that you plan a way to pay off the balance," said Sanders.
"A 0% introductory offer sounds great, but it's still debt that will have to be paid off.
"Make sure you've worked out a way to pay, then you won't fall foul of dropping out of the 0% period and end up paying interest on your existing debts.
"Planning your Christmas shopping by using the right credit card to suit your needs could make the whole experience a lot easier.
"Be a clever credit card user and enjoy Christmas, instead of worrying about how to pay for it."
By Emily Bater
[SeanSocialShare]