Guide to travel credit cards
Key points
Travel credit cards are typically tailored for spending abroad - many will not charge a fee for this
Most cards DO charge a fee for withdrawing cash abroad
The exchange rate will be determined by the card issuer - this may not be as good as at a bureau de change
you can avoid applying for travel credit cards you're likely to be rejected for by making a soft search
Most credit cards will charge fees if you choose to use them outside the UK, but there are some out there that don't charge you for foreign usage.
Some are exclusively tailored for taking on your travels while others include free foreign usage as one of several benefits, which might include rewarding you for your spending with air miles.
If you're organised and able to manage your monthly bills, it may be worth your while thinking about paying for your holiday on a card suitable for purchases in the UK, then using another card tailored for overseas use when you're actually on your vacation.
If you compare credit cards through Gocompare.com you'll be presented with a table showing all available cards.
You'll then be able to narrow down your search, and amongst your options will be choosing to see just cards with 'no fee for using abroad'.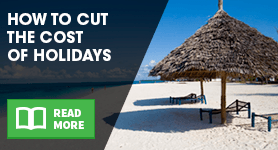 Fees for overseas use
There are two fees to be aware of when it comes to making transactions abroad on credit cards.
There's the non-sterling transaction fee, which is charged for spending on your card abroad, and the cash fee, which is charged if you withdraw cash.
Some cards that are specifically for use abroad don't charge either of these fees, but the majority just don't charge the non-sterling transaction fee.
Need more information?
However, these cards are few and far between - on 13 November, 2014, Gocompare.com checked 249 credit card products on the matrix of independent financial researcher Defaqto and found that just 19 made no charge for using a card in Europe and 18 didn't charge for use in the rest of the world.
The majority of cards charged international fees of 2.75-2.99%, with 227 cards charging this percentage for transactions made both within Europe and the rest of the world.
You should also note that if you spend money in a local currency on your card the exchange rate will be determined by your card issuer. This may not be as good as the rate you could have got via a bureau de change.
The pros of cards for use abroad
The major plus point is that, as these cards are specifically tailored for use abroad, they can be one of the most efficient ways of planning and doing your holiday spending.
Hints and tips
Always opt to pay in local currency - otherwise you may be hit by a non-sterling fee
Consider using a different card for buying your holiday to the one you use when you're away
A debit card may be a better option for withdrawing cash
Some foreign usage cards offer an interest-free introductory period on purchases. If you use this, try to pay off your spending in full by the time the 0% period ends.
There's also the convenience factor, a card perhaps negating the need to carry large quantities of cash or travellers cheques and the trouble of having to find somewhere to change your money.
A credit card may be required to hire a car or secure a hotel or flight reservation, so it can be an invaluable travel companion.
What's more, your purchases will benefit from the protection offered by the Consumer Credit Act.
Any credit card can offer you the convenience and purchase protection factors, but with a card that's designed for those planning to spend abroad you'll avoid many of the fees associated with overseas use.
The cons of cards for use abroad
Remember that the exchange rate from the local currency will be determined by your card issuer - you should expect it to be competitive, but it may not be the very best available.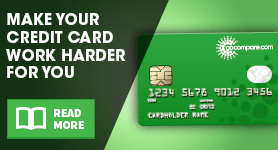 There are no other specific downsides to this particular type of card but you should, of course, watch out for the dangers that can be associated with any credit card.
Make a soft search when looking for a card to see the sort of deal you're likely to qualify for before making an application. This can help you avoid damaging your credit history.
You can do this by using Gocompare.com's smart search option, which will tell you how likely you are to be accepted for each card.
Check whether there's an annual fee and, if there is, think about whether it cancels out any benefits you may gain from the product, and whether there's a more suitable option for your needs.
Don't let the convenience of the credit tempt you into over-spending, look out for high interest rates and, if at all possible, pay off your balance in full every month to avoid racking up those interest charges.
Whatever you do, make sure you make at least the minimum repayment each month or you'll be hit by charges and you'll damage credit ratings held about you.
Dynamic Currency Conversion and other things to watch out for
You should be aware of something known as Dynamic Currency Conversion, where you're offered the choice of either paying in the local currency or in sterling.
If you do need cash, exchange it in the UK before you travel
Matt Sanders, Gocompare.com
You should always opt for the local currency, otherwise you'll be hit by a non-sterling transaction fee from the local retailer or bank.
If you want to withdraw cash abroad, you're generally better off opting for a debit card that doesn't charge foreign usage fees.
If you do use a credit card, make sure you use one that doesn't charge a cash fee and also allows you an interest-free period to pay off what you've taken out. Withdrawing cash on a credit card is generally a bad idea, though.
While we've stressed the convenience of using plastic and not having to carry a lot of cash and traveller cheques, remember that it's always good to have options - if you lose your card or you find it won't work, you'll want back-up.
Make sure you have contact information for your card provider and your travel insurance company before you travel.
Expert comment
"If you're planning on using a credit card abroad, it's important to know what you'll be charged for and where," said Gocompare.com's Matt Sanders.
"Withdrawing cash is usually the most expensive way to pay when you're abroad and it won't give you the additional protection that paying by plastic does.
"Try to avoid ATMs and use cards for purchases in restaurants, with tour operators and at attractions.
"The golden rule of using your plastic on holiday is to always repay your balance by direct debit to help reduce any potential interest accrued by your holiday purchases.
"If you do need cash, exchange it in the UK before you travel and look for a provider that offers a competitive exchange rate and doesn't charge you commission.
"Give yourself time to shop around for the best exchange rate possible, as feeling short changed is an easy way to turn a holiday of a lifetime into one you'd rather forget."
[SeanSocialShare]