What are the benefits and drawbacks of using a credit card to purchase your holiday and for your spending when you're abroad?
Key points
Paying for a holiday by credit card may offer additional protection under the Consumer Credit Act
If there's a surcharge, balance it against the rewards of additional protection, delayed payment and any rewards offered by your card
Think about taking out a card that doesn't charge fees for overseas use
Always pay in the local currency... and remember that there'll almost always be a fee for withdrawing cash on a credit card
If they're used appropriately then credit cards can be a positive boon when it comes to holiday time - but get it wrong and you could end up seriously out of pocket.
A study commissioned by GoCompare suggested a significant age gap when it came to savvy use of plastic for such spending.
In the survey, 51% of those aged 65 and over who have ever been on holiday abroad said that they usually bought their holiday using a credit card, compared to 23% of 18-to-24-year-olds.[2]
Using a credit card to pay for a holiday
When you purchase a holiday you may find that a surcharge is added if you wish to pay by credit card.
While this may seem another unnecessary expense, you should weigh the cost against the benefits provided by the Consumer Credit Act.
If you pay by credit card for a trip that costs between £100 and £30,000, the Act offers the customer valuable additional protection.
If something goes wrong, the credit card provider will be as liable as the retailer for refunding the card holder.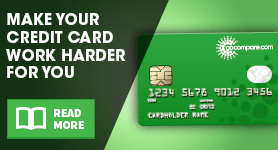 Note, though, that this may not apply to a holiday bought through a travel agent which is ATOL (Air Travel Organisers' Licensing) protected.
The protection applies even if you've only made a part-payment on the credit card - a deposit, for example - but it won't apply if you've paid on a debit card.
Such cover can be particularly valuable when holidaymakers are organising their own trip and they book flights and accommodation separately, or if they're going on a break that's not ATOL protected.
If you have a cashback or other bonus card, it's possible that the benefits you pick up by paying with plastic could go some way to covering any surcharge you have to pay.
Delaying the time when you actually have to lay out the cash for paying for your holiday may be a prime motivation for paying on plastic, but - as ever with credit cards - perhaps the most important thing is to try to pay off the entire balance of the card every month.
That way you'll avoid paying interest on the debt and will have benefited from the advantages of a credit card without taking a financial hit.
Additional travel perks with credit cards
When considering the pros and cons of credit cards, factor in the convenience of using one when travelling. For example, it may not be possible to hire a car without a card.
Some cards offer a number of other travel perks. On 13 November, 2014, GoCompare analysed the 249 credit cards listed on the matrix of independent financial researcher Defaqto.
It was found that 14 included travel accident insurance, one had travel medical insurance and travel cancellation insurance, and two had lost luggage cover and travel delay cover.
Take extra care if you're relying on this rather than dedicated travel insurance cover, though.
Check that you're eligible for the insurance offered and that it's adequate, and be aware of the problems that can be associated with doubling up on insurance cover.
Did you know...?
If you compare credit cards through GoCompare you'll be able to choose to see just cards with 'no fee for using abroad'
Using credit cards abroad
GoCompare's survey revealed some costly trends amongst young people when it came to spending abroad.
Some 30% of 18-to-24-year-olds thought that there were no fees or charges for using their credit cards overseas.
In reality, only a small number of cards offer commission-free purchases abroad, and you can be virtually certain that you'll be paying a surcharge if you want to withdraw cash.
Of the 249 credit cards GoCompare analysed on Defaqto in November 2014, just 19 made no charge for using a card in Europe and 18 didn't charge for use in the rest of the world.
The majority of cards charged international fees of 2.75-2.99%, with 227 cards charging this percentage for transactions made both within Europe and the rest of the world.
Try to avoid ATMs and use cards for purchases in restaurants, with tour operators and at attractions
Matt Sanders, GoCompare
If you compare credit cards through GoCompare you'll be presented with a table showing all available cards.
You'll then be able to narrow down your search, and amongst your options will be choosing to see just cards with 'no fee for using abroad'.
Tips for using credit cards overseas
"If you're planning on using a credit card abroad, it's important to know what you'll be charged for and where," said GoCompare's Matt Sanders.
"Withdrawing cash is usually the most expensive way to pay when you're abroad and it won't give you the additional protection that paying by plastic does.
"Try to avoid ATMs and use cards for purchases in restaurants, with tour operators and at attractions.
"The golden rule of using your plastic on holiday is to always repay your balance by direct debit to help reduce any potential interest accrued by your holiday purchases.
"If you do need cash, exchange it in the UK before you travel and look for a provider that offers a competitive exchange rate and doesn't charge you commission.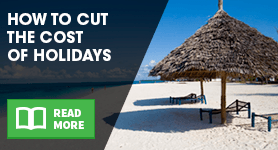 "Give yourself time to shop around for the best exchange rate possible, as feeling short changed is an easy way to turn a holiday of a lifetime into one you'd rather forget."
Matt's top tips for using plastic abroad focus on the following three areas:
Look out for ATM/foreign transaction fees
These fees can be in the region of 3% for every £100 withdrawn, so make sure you consider that before heading to the cashpoint.
Remember the interest on cash withdrawals
Some cards will have 0% balance transfer or 0% purchase rates, but this rate doesn't apply when you withdraw cash.
See also:
Cash cover on travel insurance
The rate on cash can be 11% APR or even higher and is calculated from the time you withdraw the money.
Also be aware that the 0% rates are for a limited period only and will revert back to the normal APR after a certain time, so make sure you know when your interest-free period is up.
Always check the terms and conditions of your card so you know what you are being charged for and when.
Conversions - stay local
Some cashpoints and retailers may give the option to convert your transaction to sterling on the spot. Don't do it!
You should always ask for bills in the local currency to get the best conversion rate.
By Sean Davies
[SeanSocialShare]