Strap yourself in for GoCompare's guide to instant decision credit cards
Looking for info on instant decision credit cards? We can give you the lowdown right now...
Key points
While you might get a decision in minutes, it can take up to 10 days for the credit card to arrive
If you have poor credit, a credit-builder credit card may offer more support
There are a wide range of instant decision credit cards out there
Want a credit card but don't want to wait around for weeks on end? Then you may want to consider instant decision credit cards. 
What's an instant decision credit card? 
It's a credit card which may give a quick response on whether you'll be accepted or not when you apply. May. There's no guarantee that you'll get a quick response. 
That's the only thing these cards have in common though. Just as there are many different types of credit cards, there are also many different types of instant credit cards. Air miles, low-interest, cashback options - there's all sorts out there. Shop around and compare rates to find the right one for you. 
How quickly can you get an instant decision credit card? 
It usually takes around 10 minutes to apply. It can often take less time than that to find out whether you've been successful or not. If you have been accepted then your new plastic will most likely be coming through your letterbox within 10 days. Often the postman will deliver it in four to five days. 
Did you know...?
Some issuers won't approve an application between midnight and 6am. They view it as a risky time and delay decisions to when more support is available
Sound vague enough for you? Well, that's because there are no guarantees. Some people may not meet certain eligibility criteria, and some may find their credit card application process completely different from someone else's. 
Yet just because you may be able to get a credit card quickly, it doesn't mean it's a decision to be taken lightly.
There are a wide range of credit cards and wider options when it comes to credit out there. Check the APR and interest you'll be charged and make sure you know what you're getting yourself in for with your credit card. You'll be required to make the minimum monthly payments at the very least on your card to avoid charges. 
How can smart search help?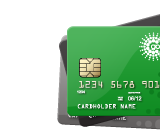 Repeated applications for credit cards can affect your credit score. Repeated rejections even more so. But there is a way of avoiding this. A smart search can provide a more in-depth look at what you might be eligible for without leaving a mark on your credit history. 
Bear in mind that a smart search won't guarantee you'd be accepted by a credit card company - that's still their call. But doing a smart search may increase the chances of you being accepted, because cards are displayed in terms of likelihood of acceptance. You'll have the option of doing this when compare instant decision credit cards. 
Instant decision credit cards for bad credit  
Bad-credit credit card issuers were among the early adopters of the instant decision process. It used to take weeks if not months to get a card. 
So there are usually credit cards out there that you could get if you have a poor credit rating. However, people with poor credit may only be offered credit cards that charge a lot in interest. There can also be other charges and restrictions on such cards too. You might want to look into credit-builder credit cards as an alternative. 
If you have debt problems...  
Struggling with debt? We'd say speaking to your lender is a good first step. It won't want you defaulting on your debt, and may offer ways to help.
You might also want to contact National Debtline, the Citizens Advice Bureau, Money Advice Service, or Turn2US.† 
Should I get an instant decision credit card? 
It's your call. Credits cards can be useful, especially if you're prompt in paying them off. Yet they aren't for everyone. Look at your finances and see if it could work for you. Then… 
Do a smart search to see what's available to you without leaving a mark on your credit score 
Research the terms and conditions 
And compare rates through GoCompare to see what's out there for you 
Borrowing on a credit card is still debt. If you're struggling with debt then an instant decision credit card may not be the best thing to use.
By Sam Easterbrook